Da-Lite 84327LSR User Manual
Displayed below is the user manual for 84327LSR by Da-Lite which is a product in the Projection Screens category. This manual has pages.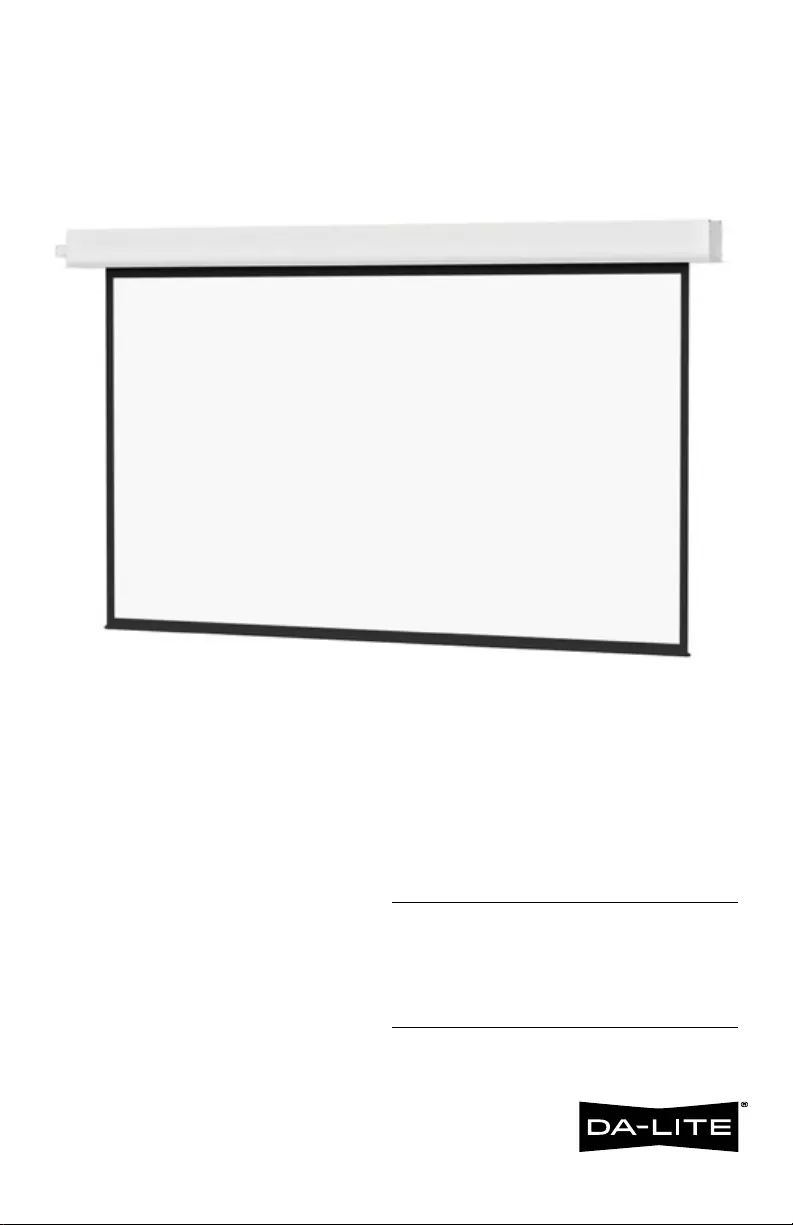 Advantage Electrol

Thank you for purchasing the
Da-Lite Advantage Electrol.
In this Owner's Manual, you will ind details regarding the general
care and cleaning of the projection surface, terms and conditions
of the Limited Five Year Warranty and information about the
screen which can be used to help identify your particular model.
At Da-Lite, we strive to continually provide you with outstanding
levels of service and the highest quality products available.
For customer service needs, warranty claims or any general
inquiry, please feel free to contact Da-Lite's Customer Care
Specialists at 574.267.8101 / 800.622.3737 or info@da-lite.com.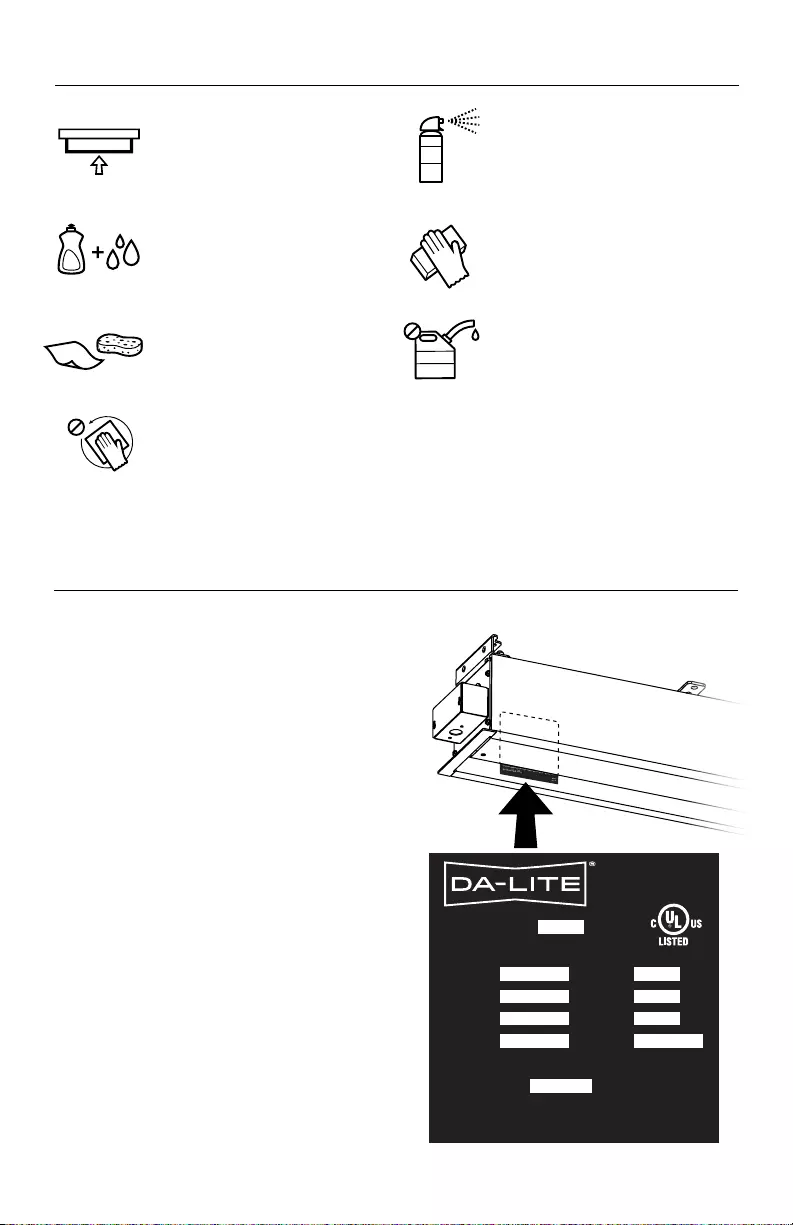 WARSAW, INDIANA 46581
MADE IN U.S.A.
DU
TY CYCLE 1 MIN. ON

/

3 MIN

.

OFF
242H
96863
MODEL#
PART#
ORDER#
DROP
ROLLER
LENGTH
CUSTOM
DATE
Minimum branch circuit conductor ampacity
for connection,
maximum branch
circuit overcurrent protective device rating to
be provided, 20a
FABRIC
in.
in.
in.
DU
T
Y
C
YC
L
E
1
MIN
.
O
N
/
3
MIN
.
OF
F
Minimum br
anch cir
cuit c
onduc
t
or ampacit
y
f
or c
onnec
tion, maximum br
anch
cir
cuit o
v
er
cur
r
ent pr
ot
ec
ti
v
e de
vic
e r
ating t
o
The product label is used to provide you
with complete information about your
projection screen. The label can be found
on your Da-Lite Advantage
®
Electrol

®

in the
location as referenced in the image to the
right. Please refer to the
Order #
and
Date
of Mfg.
when contacting Da-Lite to make
a warranty claim or to receive general
information about your projection screen.
Locating the Product Label
Care and Cleaning 0f Projection Screen Surfaces
For additional assistance, please contact
Da-Lite's Sales Partners with the following
information: type of stain, fabric type and date
of purchase.
Use a blotting action rather
than a wiping action to avoid
damaging the surface.
The screen surface can be
cleaned with water or a mild
soap and water solution.
Small marks can be removed
with a cleaning pad such as
Magic Eraser.
Always use a soft, clean, lint
free rag or sponge.
Do not scrub the screen or use
petroleum based solvents.
Use compressed air to remove
adhering particles.
AIR
Keep your screen rolled up in
its protective case when not
in use.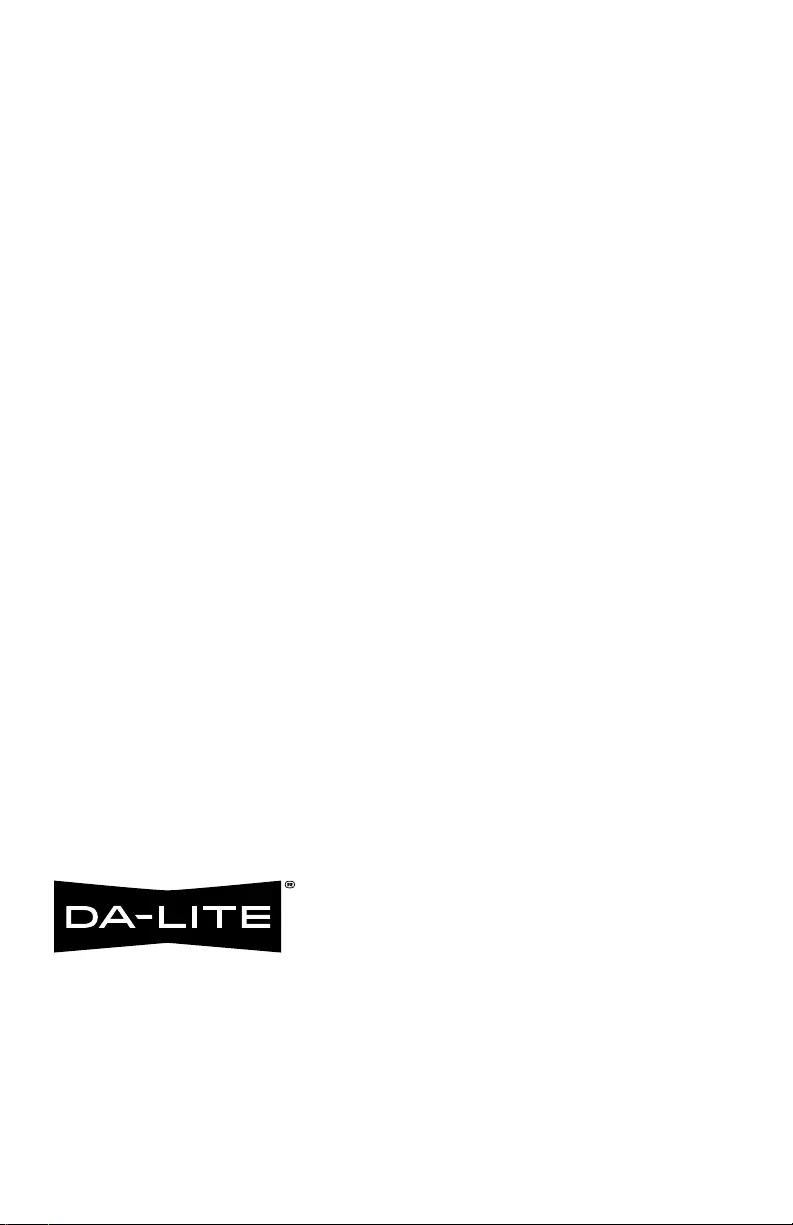 LIMITED FIVE YEAR WARRANTY ON DA-LITE TENSIONED ADVANTAGE
®
ELECTROL
®

,
ADVANTAGE
® ELECTROL®, TENSIONED LARGE ADVANTAGE® ELECTROL®, LARGE ADVANTAGE

®
ELECTROL
®, TENSIONED CONTOUR

®

ELECTROL® AND CONTOUR

®

ELECTROL®

PRODUCTS ONLY
Milestone AV Technologies LLC warrants these Da-Lite branded products to the original purchaser
only, to be free from defects in materials and workmanship for a period of ive (5) years from the
date of purchase by the original purchaser; provided they are properly operated according to
Da-Lite's instructions and are not damaged due to improper handling or treatment after shipment
from the factory.
This warranty does not apply to equipment showing evidence of misuse, abuse or accidental damage,
or which has been tampered with or repaired by a person other than authorized Da-Lite personnel.
Da-Lite's sole obligation under this warranty shall be to repair or to replace (at Da-Lite's option) the
defective part of the merchandise. Returns for service should be made to your Da-Lite dealer. If it is
necessary for the dealer to return the screen or part to Da-Lite, transportation expenses to and from
Da-Lite are payable by the purchaser and Da-Lite is not responsible for damage in shipment.
To protect yourself against damage or loss in transit, insure the product and prepay all transportation
expenses.
TO THE MAXIMUM EXTENT PERMITTED BY APPLICABLE LAW, THIS WARRANTY IS IN LIEU OF
ALL OTHER WARRANTIES, EXPRESS OR IMPLIED, INCLUDING WARRANTIES AS TO FITNESS
FOR USE AND MERCHANTABILITY.
Any implied warranties of itness for use, or merchantability,
that may be mandated by statute or rule of law are limited to the ive (5) year warranty period.
This warranty gives you speciic legal rights, and you may also have other rights, which vary from
state-to-state.
TO THE MAXIMUM EXTENT PERMITTED BY APPLICABLE LAW, NO LIABILITY IS
ASSUMED FOR EXPENSES OR DAMAGES RESULTING FROM INTERRUPTION IN OPERATION OF
EQUIPMENT, OR FOR INCIDENTAL, DIRECT, OR CONSEQUENTIAL DAMAGES OF ANY NATURE.
In the event that there is a defect in materials or workmanship of a Da-Lite product, you may contact
our Customer Care Specialists at 3100 North Detroit Street, Warsaw, IN 46582, (574) 2678101,
(800) 6223737.
IMPORTANT: THIS WARRANTY SHALL NOT BE VALID AND DA-LITE BRANDED PRODUCTS
SHALL NOT BE BOUND BY THIS WARRANTY IF THE PRODUCT IS NOT OPERATED IN
ACCORDANCE WITH THE DA-LITE WRITTEN INSTRUCTIONS.
Keep your sales receipt to prove the date of purchase and your original ownership.
23128
A Milestone AV Technologies Brand
3100 North Detroit Street
P: 574.267.8101 or 800.622.3737
F: 574.267.7804 or 877.325.4832
www.da-lite.com
© 2016 Milestone AV Technologies LLC. Printed in U.S.A.