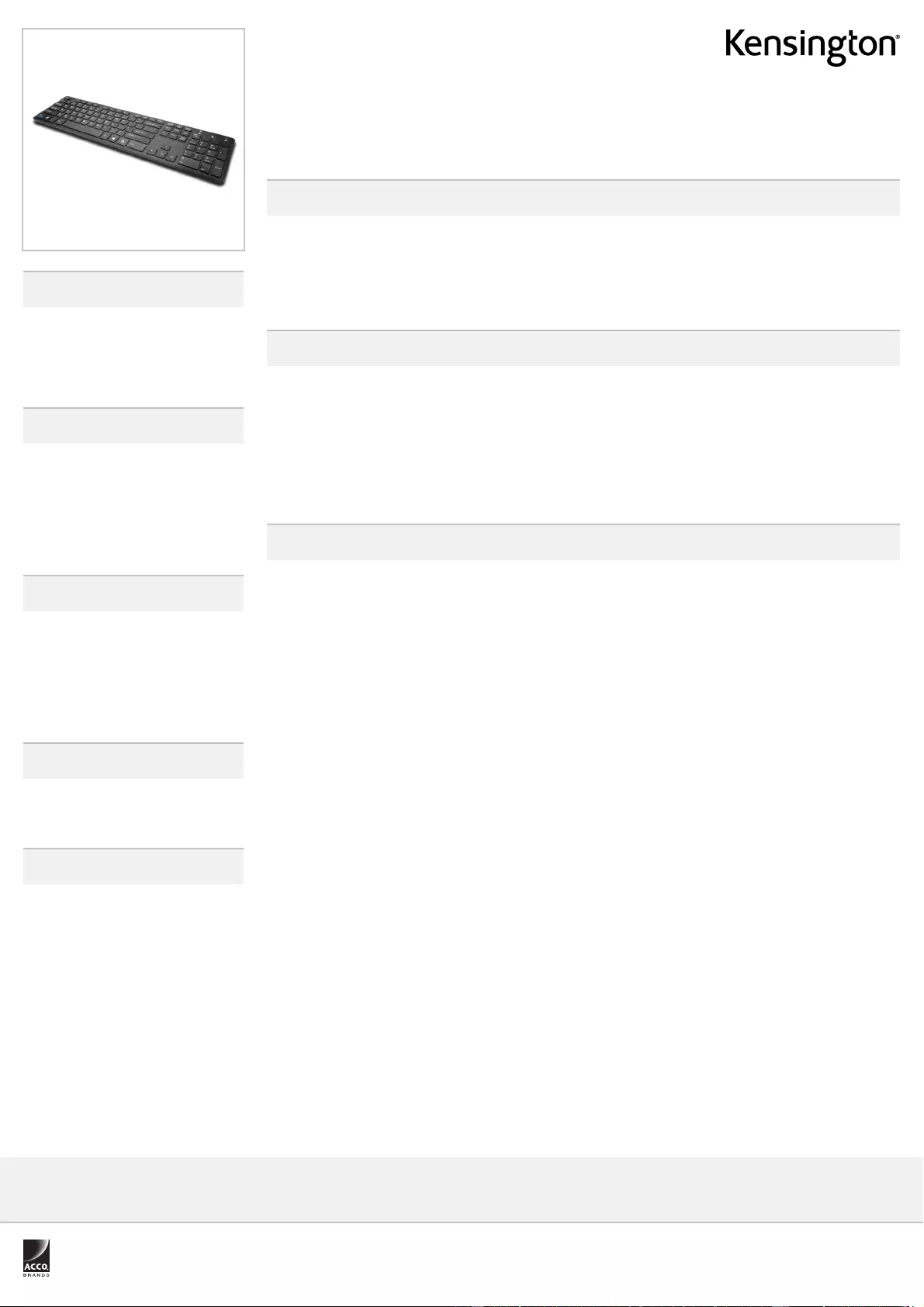 Printed on 30/04/2016 Confidential and proprietary to ACCO Brands. Images are for illustrative purposes only. Errors and omissions excepted.
www.kensington.com
KP400 Switchable Keyboard — Black
K72322UK
Product Description
When it comes to typing on a variety of devices, having a keyboard that can alternate between wired and Bluetooth
connectivity can be your new best friend. The Kensington KP400 Switchable Keyboard lets you work with a laptop,
a tablet, or even a smartphone together so you can take productivity to a new level. The keyboard is full-sized and
includes a numeric keypad, providing you a professional typing experience whether you are using it with a PC,
tablet or smartphone. The keyboard can be powered using either a detachable wired connection through a USB
port on your laptop, or with batteries when it's in Bluetooth mode. Installation is simple and easy so you can start
typing in no time at all.
Features
•
Switching buttons allows you to quickly alternate between wired and Bluetooth connection
•
Full-size keyboard layout features six rows including numeric keypad
•
Power can be supplied to the keyboard either through a USB port or with batteries
•
Compatible with Windows®
Specifications
• Compatibility
Windows 8, Windows 7, Windows 8.1,
Mac OS X 10.11, Mac OS X 10.10
• Features
Auto Power Off, Auto Wake/Sleep
• Keyboard Features
Laptop Style
• Wireless Type
Bluetooth 3.0
Product information
Retail Packaging Information
Master Case Information
Shipping Information
General information