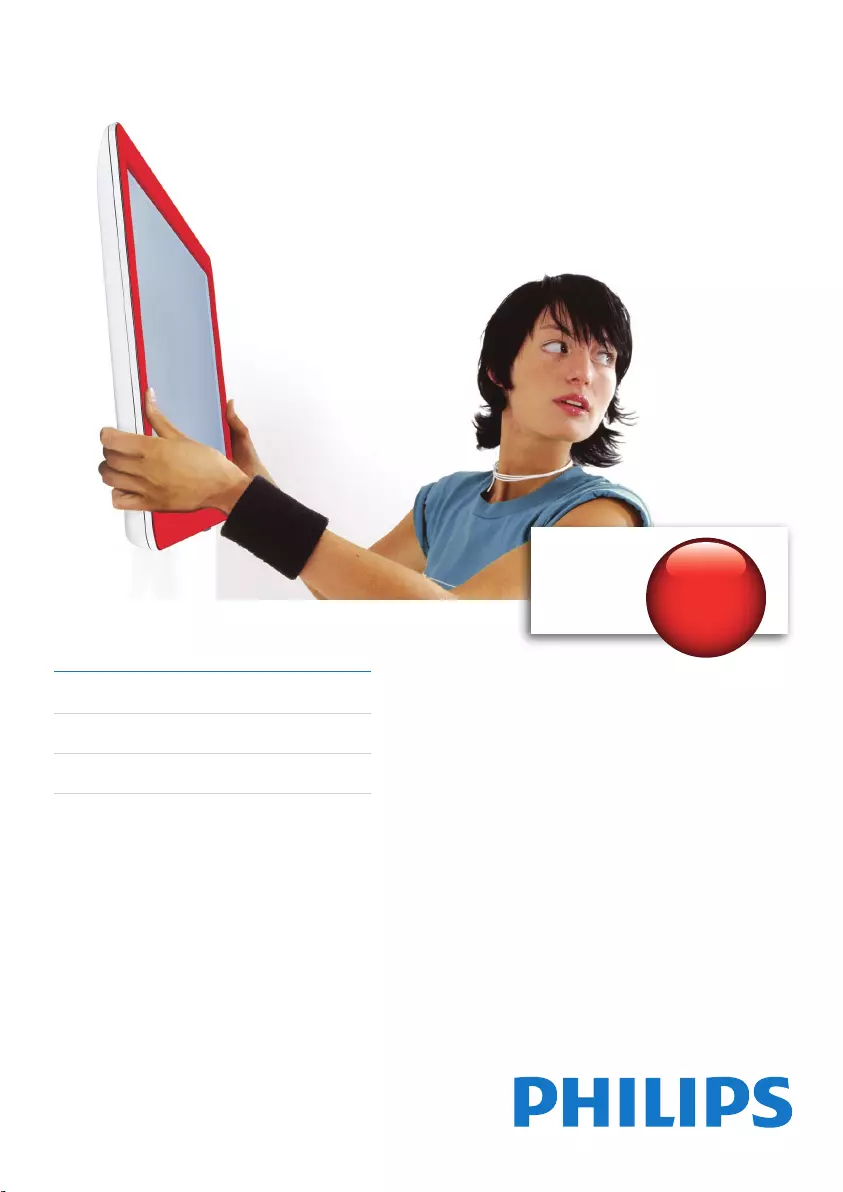 Register your product and get support at
www.philips.com/welcome
Philips
SQM6415/17
16-32" (40-81cm)
Supports
up to
sqm6415_um_US_wk10423.indd 1
2/11/2010 22:30:38 2
This product is designed strictly for installation on a vertical wall in commercial and residential buildings. It is constructed
•
of wooden wall studs (16"
(40cm)
or 24"

(60cm)

pitch), masonry (brick) or solid concrete only.
This product is designed for easy connection of cables and peripherals. Avoid exerting excessive pulling force during
•
connection or this can damage the product.
This product is designed for use with all display models that incorporate respective VESA mounting standard. Ensure the
•
displayiswithinthespeciedweightlimit.Mountinganyothertypeormodelofdisplayisapotentialsafetyrisk.Philips
declines all liability resulting from the unauthorized use of this wall mount.
This product is not designed for installation on walls constructed of metal studs or studs with a pitch exceeding 24"
•

(60cm)

.
Ifyouareunsureofyourwallcomposition,contactaqualiedinstaller.
The wall or mounting surface must be capable of supporting the combined weight of the mount and the display;
•
otherwise the structure must be reinforced.
Safety gear and proper tools must be used. Failure to do so can result in property damage and/or serious injury.
•
A minimum of two people are required for this installation. Do not attempt to install this mount alone under any
•
circumstance.
The wall mount allows a limited tilting movement if you pull on the bottom edge of the display. However, for inserting and
•
adjusting cables and connectors, we strongly advise you to dismount the display.
Follow all instructions and recommendations regarding suitable locations for mounting your display. Consult the owner's
•
manual for your display for more information.
Maintenance
After installation, brackets require regular maintenance and inspections periodically to prevent the possibility of rot,
•
deformation and looseness.
Warranty
Warranty information can be found at: www. philips.com/welcome. For technical support, send us an email with the model
•
number of the product and a detailed description of your problem to: accessorysupport@philips.com
Limited One-Year Warranty Philips warrants that this product shall be free from defects in material, workmanship and
•
assembly,undernormaluse,inaccordancewiththespecicationsandwarnings,foroneyearfromthedateofyour
purchase of this product. This warranty extends only to the original purchaser of the product, and is not transferable.
To exercise your rights under this warranty, you must provide proof of purchase in the form of an original sales receipt
that shows the product name and the date of purchase. For customer support or to obtain warranty service, please call
1-919-573-7854. THERE ARE NO OTHER EXPRESS OR IMPLIED WARRANTIES. Philips' liability is limited to repair or, at
its sole option, replacement of the product. Incidental, special and consequential damages are disclaimed where permitted
bylaw.Thiswarrantygivesyouspeciclegalrights.Youmayalsohaveotherrightsthatvaryfromstatetostate.Warranty
information can also be found at: www.philips.com/welcome
!
The maximum loading weight is 44lbs
(20kg)
. Use
heavier than that may cause injury. TV size: 16 - 32 inch
(40 - 81cm)
. See apparatus instructioins.
sqm6415_um_US_wk10423.indd 2
2/11/2010 22:30:38 3
Esteproductosehadiseñadoestrictamenteparainstalarloenunaparedverticalenedicioscomercialesyresidenciales.•
Deben estar construidos con montantes de madera (de 16"
(40 cm)

o 24"

(60 cm)

de grosor), mampostería (ladrillo o piedra)
o únicamente con hormigón.
Este producto ha sido diseñado para conectar cables y periféricos fácilmente. Evite ejercer excesiva fuerza durante la
•
conexión, ya que ello podría dañar el producto.
Este producto ha sido diseñado para utilizarlo con todos los modelos de pantalla que incorporan el estándar de montaje
•
VESAcorrespondiente.Asegúresedequelapantallaestádentrodellímitedepesoespecicado.Elmontajedecualquier
otro tipo o modelo de pantalla supondrá un riesgo potencial contra la seguridad. Philips rechaza cualquier responsabilidad
derivada de un uso inapropiado de este soporte de montaje en pared.
Este producto no ha sido diseñado para instalarlo en paredes hechas de montantes de metal o montantes con más de 24"
•
(60 cm)
degrosor.Sinoestásegurodelacomposicióndelapared,póngaseencontactoconuninstaladorcualicado.
Laparedolasuperciedemontajedebensercapacesdeaguantarelpesocombinadodelsoportedemontajeydela•
pantalla. De lo contrario, la estructura se debe reforzar.
Se debe utilizar un engranaje de seguridad y herramientas adecuadas. De lo contrario se pueden producir daños
•
materiales y/o lesiones graves.
Para llevar a cabo la instalación se necesita un mínimo de dos personas. No intente instalar este soporte de montaje sin
•
ayuda bajo ningún concepto.
El soporte de montaje en pared permite inclinar ligeramente la pantalla al tirar del borde inferior de la misma. Sin
•
embargo, para insertar y ajustar cables y conectores, le recomendamos encarecidamente que desmonte la pantalla.
Siga todas las instrucciones y recomendaciones relativas a las ubicaciones apropiadas para el montaje de la pantalla.
•
Consulte el manual de usuario de la pantalla para obtener más información.
Mantenimiento
Tras la instalación, los soportes necesitan un mantenimiento regular e inspecciones periódicas para evitar la posibilidad de
•
que se oxiden, se deformen o se suelten.
Garantía
Puede encontrar información sobre la garantía en: www. philips.com/welcome. Para obtener asistencia técnica,
•
envíenos un correo electrónico con el número de modelo del producto y la descripción detallada del problema a:
accessorysupport@philips.com
La garantía limitada de un año de Philips garantiza que este producto no tendrá ningún defecto de material, fabricación, ni
•
montaje durante un año a partir de la fecha de compra del mismo, siempre y cuando se le dé un uso normal de acuerdo
conlasespecicacionesyadvertencias.Estagarantíaseaplicaúnicamentealcompradororiginaldelproductoynoes
transferible.Parabeneciarsedelosderechosqueleotorgaestagarantía,debeproporcionarlapruebadecompra
mediante un recibo de compra original en el que se indique el nombre del producto y la fecha de compra. Para ponerse
en contacto con el servicio de atención al cliente o para obtener servicio de garantía, llame al número 1-919-573-7854.
NO EXISTEN OTRAS GARANTÍAS EXPRESAS O IMPLÍCITAS. La responsabilidad de Philips está limitada a reparar o
reemplazar el producto por decisión propia. Los daños accidentales, especiales y resultantes carecerán de validez dentro
deloslímitesdelaley.Estagarantíaleotorgaderechoslegalesespecícos.Puedequetengaotrosderechosquevaríende
una región a otra. La información acerca de la garantía también se puede consultar en: www.philips.com/welcome
!
La charge maximale est de 44lbs
(20kg)
. Une charge
plus lourde induit un risque de blessures. Taille du
téléviseur : 16 - 32"
(40 - 81cm).

Voir les instructions
concernant l'appareil.
sqm6415_um_US_wk10423.indd 3
2/11/2010 22:30:38 4
Cesupportdexationmuraleestexclusivementconçupouruneinstallationsurunmurverticaldansunbâtiment•
commercialourésidentiel.Ildoitêtreinstallésurunmurencloisonslattéesetplâtréesenbois(16"
(40 cm)

ou 24"

(60 cm)
d'écart),unmurdemaçonnerie(brique)ouunmursolideenbétonuniquement.
Ceproduitestconçudemanièreàcequevouspuissiezfacilementconnecterdescâblesetdespériphériques.N'exercer•
pasunepressiontropfortelorsquevousbranchezuncâbleouunpériphérique,celapourraitendommagerleproduit.
Ceproduitestconçupourêtreutiliséavectouslesmodèlesd'écransconformesàlanormedemontageVESA.Assurez-•
vousquel'écrannedépassepaslachargemaximumspéciée.Lemontagedetoutautremodèled'écranconstitueun
risquedesécuritépotentiel.Philipsdéclinetouteresponsabilitéencasdemauvaiseutilisationdecesupportdexation
murale.
Ceproduitn'estpasadaptéàuneinstallationsurdescloisonsenmétaloudescloisonsdontl'écartentrelesmontants•
estsupérieurà24po
(60cm)
.Sivousneconnaissezpaslacompositiondevotremur,contactezuninstallateurqualié.
Lemuroulasurfacedexationdoiventpouvoirsupporterlepoidscombinédusupportdexationetdel'écran;sice•
n'est pas le cas, la structure doit être renforcée.
Utilisez du matériel de sécurité et les outils adéquats. Sans ces précautions, vous risquez d'endommager l'appareil ou de
•
vousblessergrièvement.
Deux personnes minimum sont nécessaires pour l'installation. N'essayez en aucun cas d'installer ce support tout seul.
•
Le montage mural permet une inclinaison limitée si vous exercez une traction sur la partie inférieure de l'écran.
•
Cependant,sivoussouhaitezinséreretréglerlescâblesetlesconnecteurs,nousvousrecommandonsdedémonter
l'écran.
Suiveztouteslesinstructionsetlesrecommandationsrelativesauxsurfacesdexationadaptéespourl'installationde•
votre écran. Pour plus d'informations, reportez-vous au manuel d'utilisation de votre écran.
Entretien
Aprèsinstallation,ilestnécessaired'effectuerunevéricationetunentretienréguliersdessupportsand'évitertout
•
risque de dégradation, déformation et desserrement.
Garantie
Pour obtenir des informations sur la garantie, rendez-vous sur : www. philips.com/welcome. Pour obtenir une assistance
•
technique,envoyez-nousune-mailindiquantlaréférencedumodèleetcomportantunedescriptiondétailléeduproblème
àl'adresse:accessorysupport@philips.com
Garantielimitéeàunan:Philipsgarantitqueceproduitestexemptdedéfautsdematériau,defabricationet•
d'assemblage, dans des conditions normales d'utilisation, conformément aux caractéristiques techniques et avertissements,
pourunepérioded'unanàcompterdeladated'achatduproduit.L'extensiondecettegarantieestaccordéeuniquement
àl'acheteurd'originedeceproduitetn'estpastransférable.Pourexercerlesdroitsquivoussontconférésparla
présentegarantie,vousdevezfournirlereçuoriginalattestantdel'achatsurlequelgurelenomduproduitainsiquela
dated'achat.Pourcontacterl'assistanceclientèleoubénécierd'unservicesousgarantie,appelezle:1-919-573-7854.
AUCUNEAUTREGARANTIEEXPRESSEOUIMPLICITEN'ESTPRÉVUE.Philipss'engageuniquementàréparerouà
remplacerleproduitàsapropreconvenance.Lesdommagesaccessoires,particuliersetindirectsnesontpascouverts
parcettegarantie,etce,dansleslimitesautoriséesparlaloi.Cettegarantievouspermetdejouirdedroitsspéciques.
Vous pouvez également jouir d'autres droits, selon les États. Pour plus d'informations sur la garantie, visitez le site www.
philips.com/welcome
!
El peso de carga máximo es de 44lbs
(20kg)
. Un peso
mayor podría causar daños. Tamaño del televisor: 16 -
32"
(40 - 81cm).

Consulte las instrucciones del aparato.
sqm6415_um_US_wk10423.indd 4
2/11/2010 22:30:38

5
sqm6415_um_US_wk10423.indd 5
2/11/2010 22:30:38
#3
#2
#2
3x
3x
2x
1x
2x
2x
2x
1x
M6
6
EN
Screwdriver/electricdrill/hammer•

ES

Destornillador/taladroeléctrico/martillo•
FR
Tournevis / perceuse électrique / marteau
EN
Screwdriver/electricdrill/studnder•ES

Destornillador / taladro eléctrico / detector de montantes
•
FR

Tournevis / perceuse électrique / détecteur de montant
M4
sqm6415_um_US_wk10423.indd 6
2/11/2010 22:30:39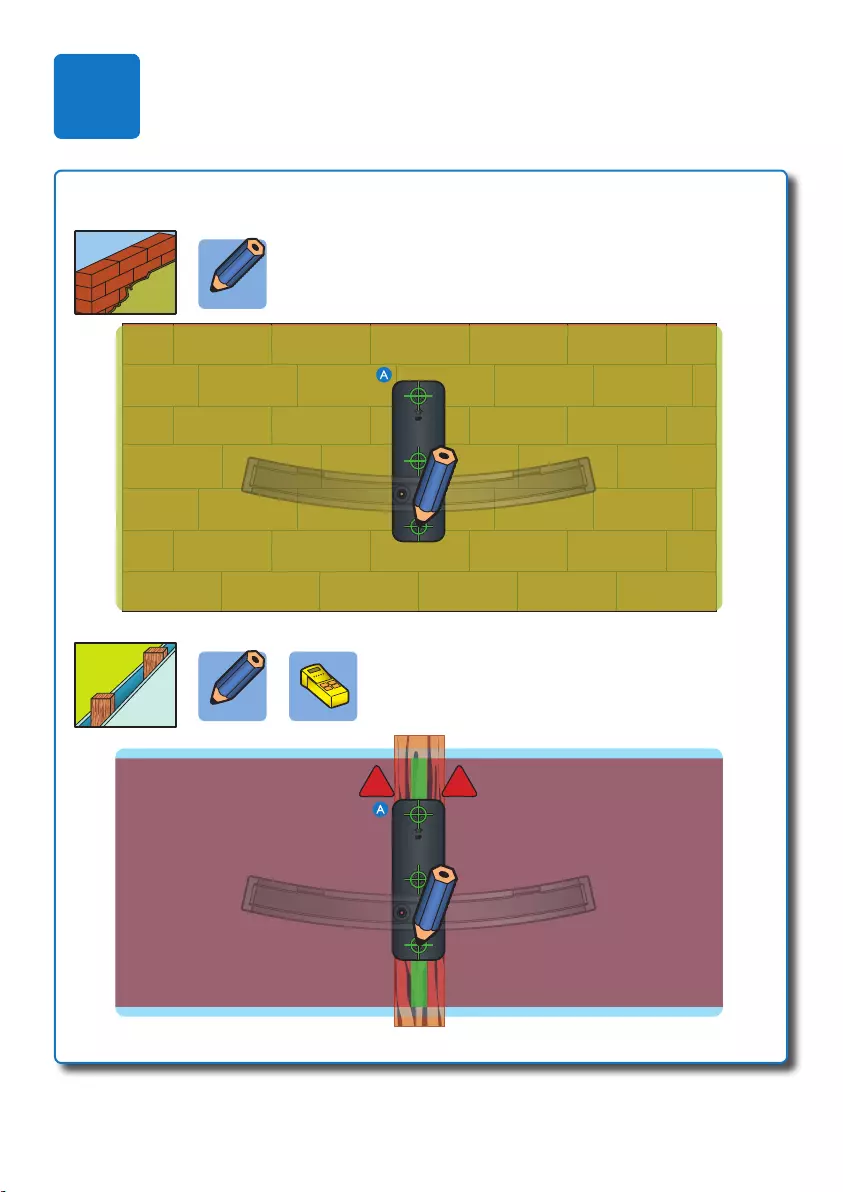 1
a
7
sqm6415_um_US_wk10423.indd 7
2/11/2010 22:30:39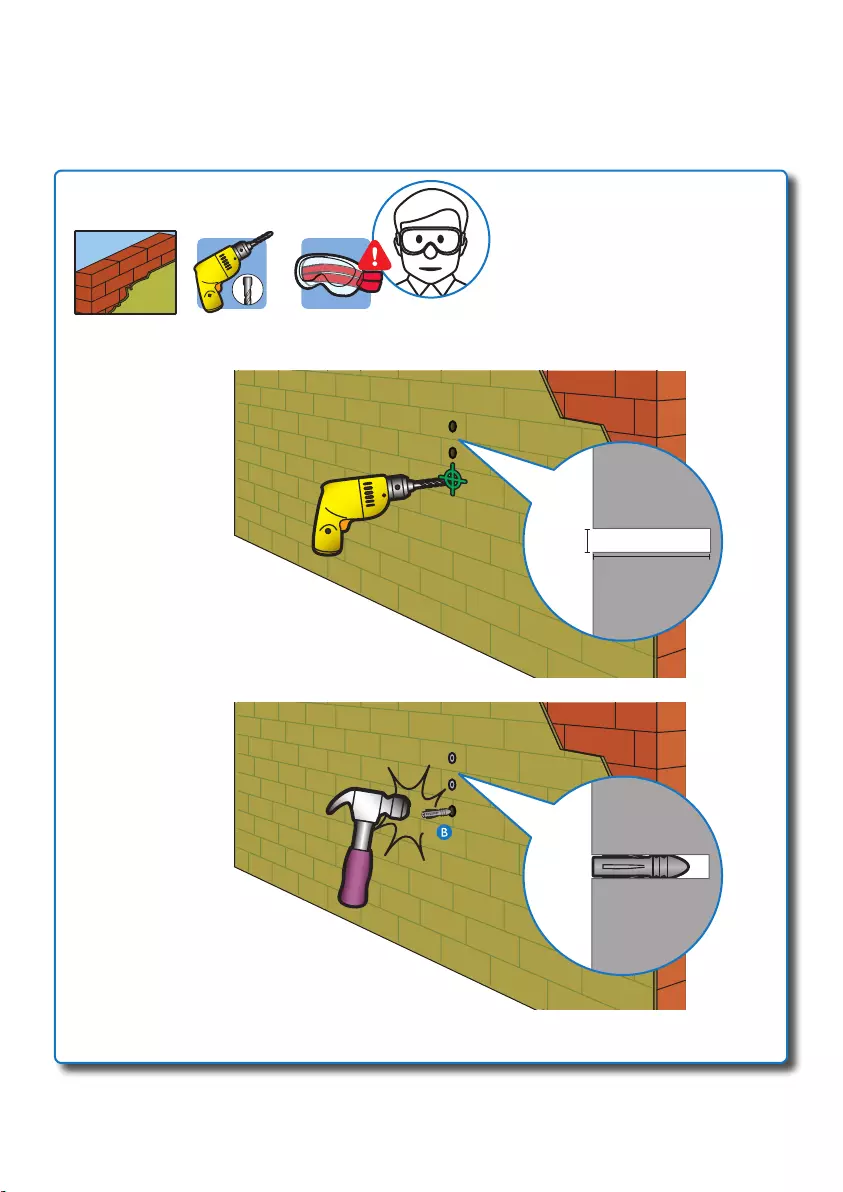 b
A
B
(8mm)
8
sqm6415_um_US_wk10423.indd 8
2/11/2010 22:30:39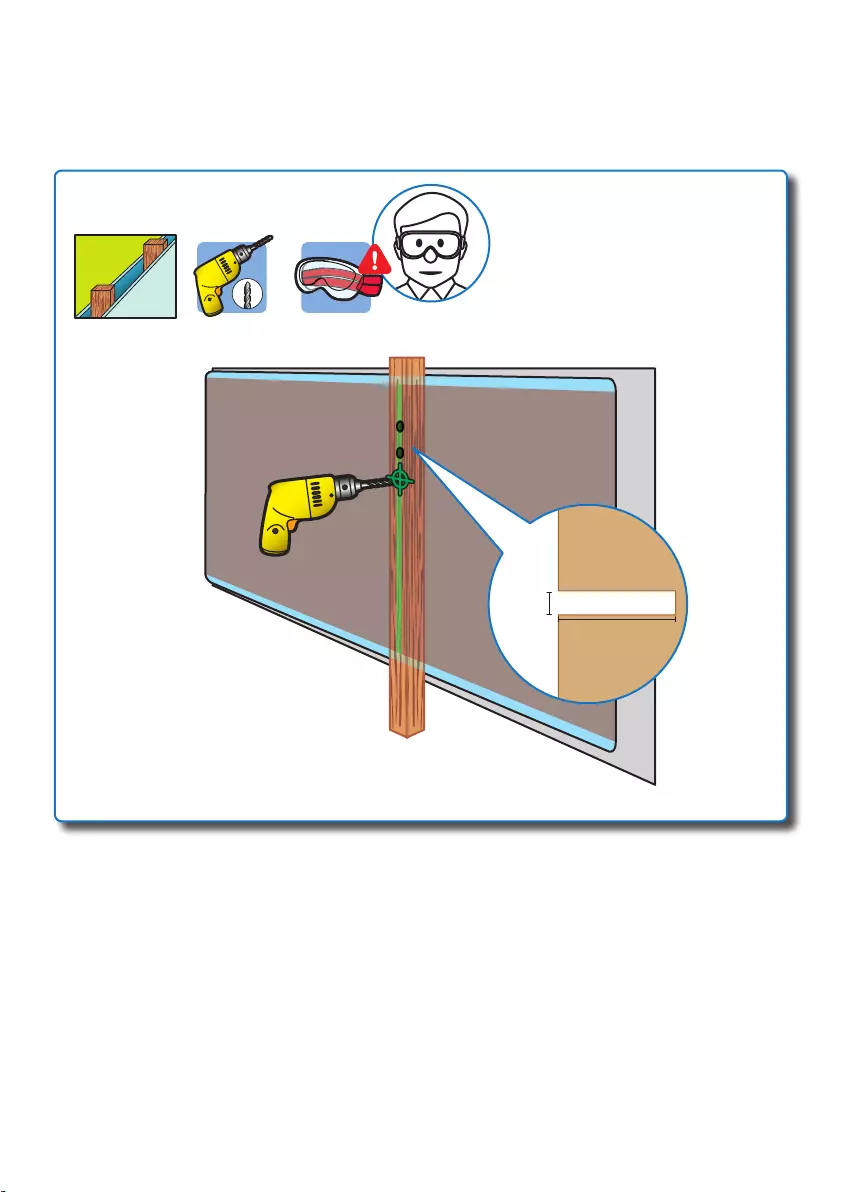 b
...
9
(5mm)
sqm6415_um_US_wk10423.indd 9
2/11/2010 22:30:40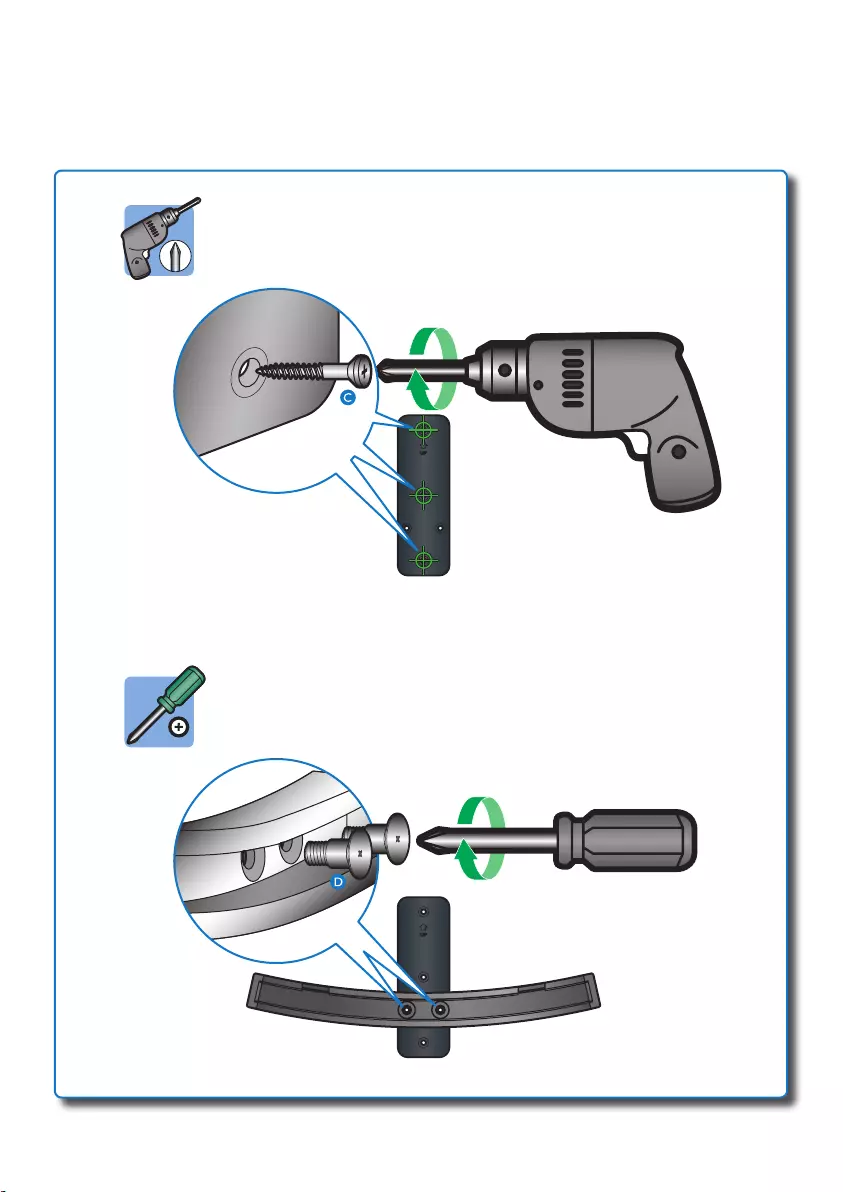 #2
c
d
10
#3
sqm6415_um_US_wk10423.indd 10
2/11/2010 22:30:40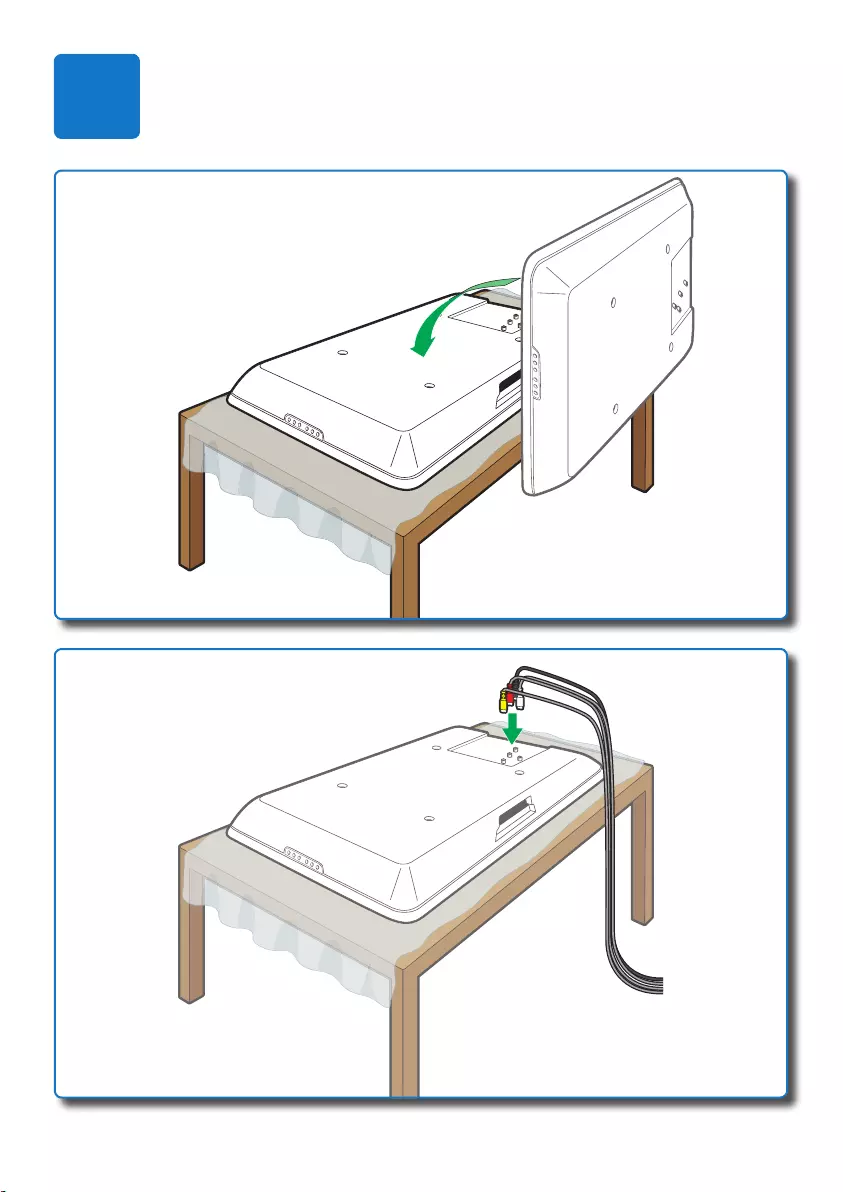 2
b
a
11
sqm6415_um_US_wk10423.indd 11
2/11/2010 22:30:40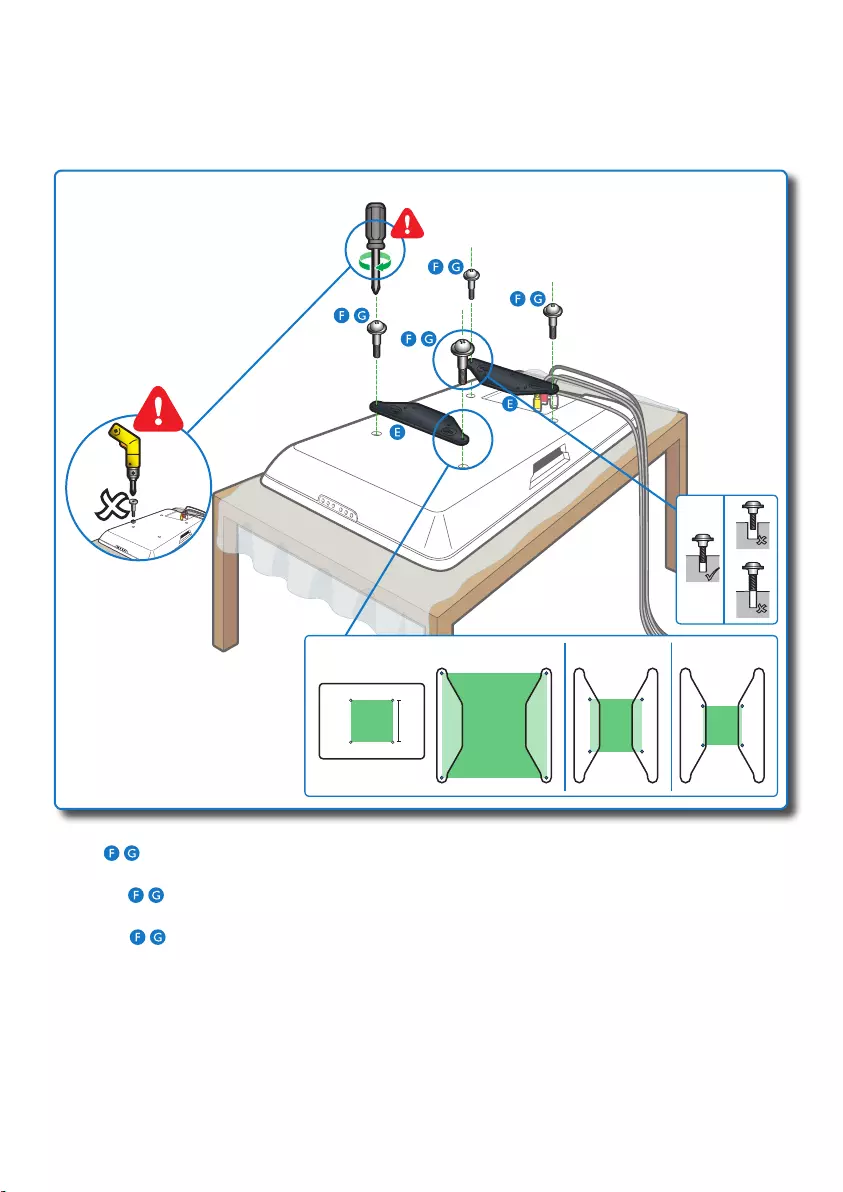 


c
8"
(200mm)
3"
(75mm)4"

(100mm)
12
EN
Try

/

, and then determine the ones with correct diameter and length. Stop forcing them into the holes if
you feel resistance to avoid damaging the display.
ES
Pruebe

/

y, a continuación, determine los que tienen una longitud y un diámetro correctos. Para evitar
quelapantallasedañe,nolosintroduzcaalafuerzaenlosoriciossiencuentraalgúntipoderesistencia.
FR
Essayez

/

,puissélectionnezlesvisayantlediamètreetlalongueurappropriés.Pournepasendommager
l'écran, n'enfoncez pas les vis dans les trous si vous sentez une résistance.
/
/
sqm6415_um_US_wk10423.indd 12
2/11/2010 22:30:41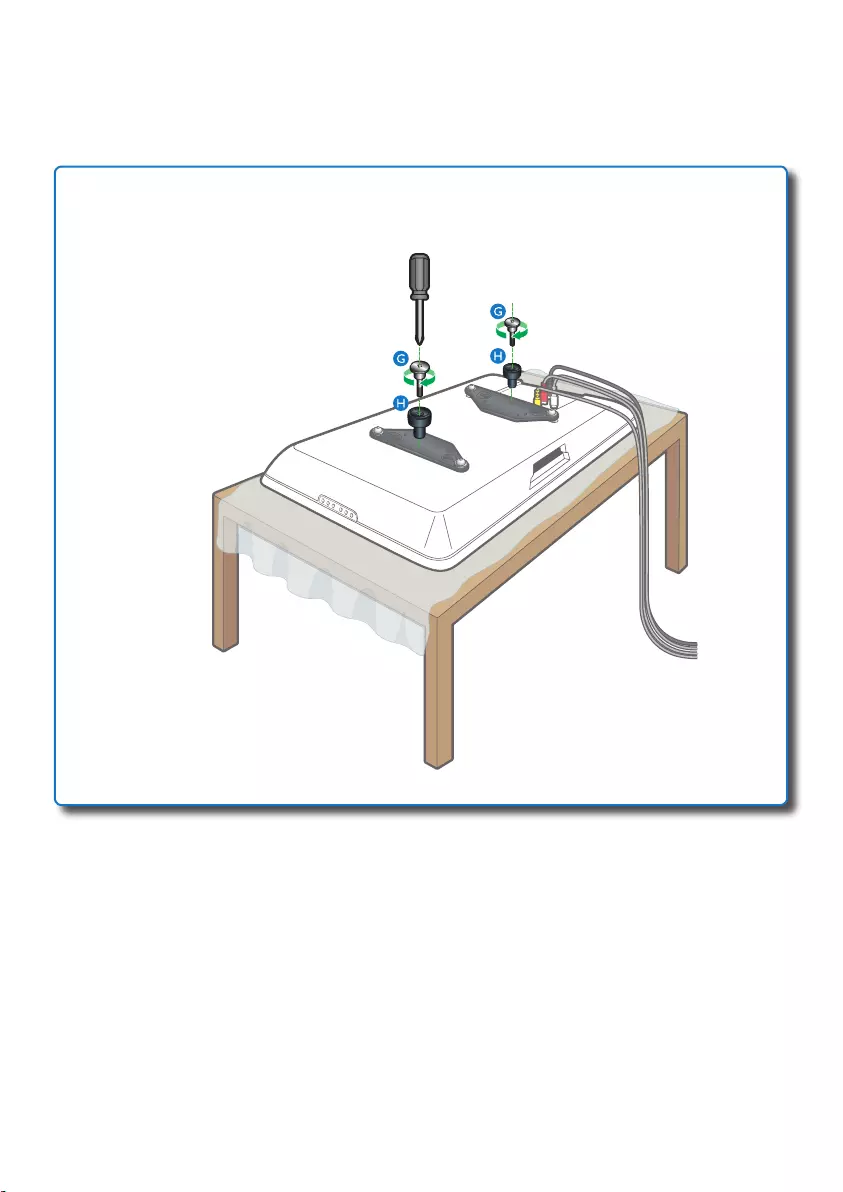 d
13
sqm6415_um_US_wk10423.indd 13
2/11/2010 22:30:41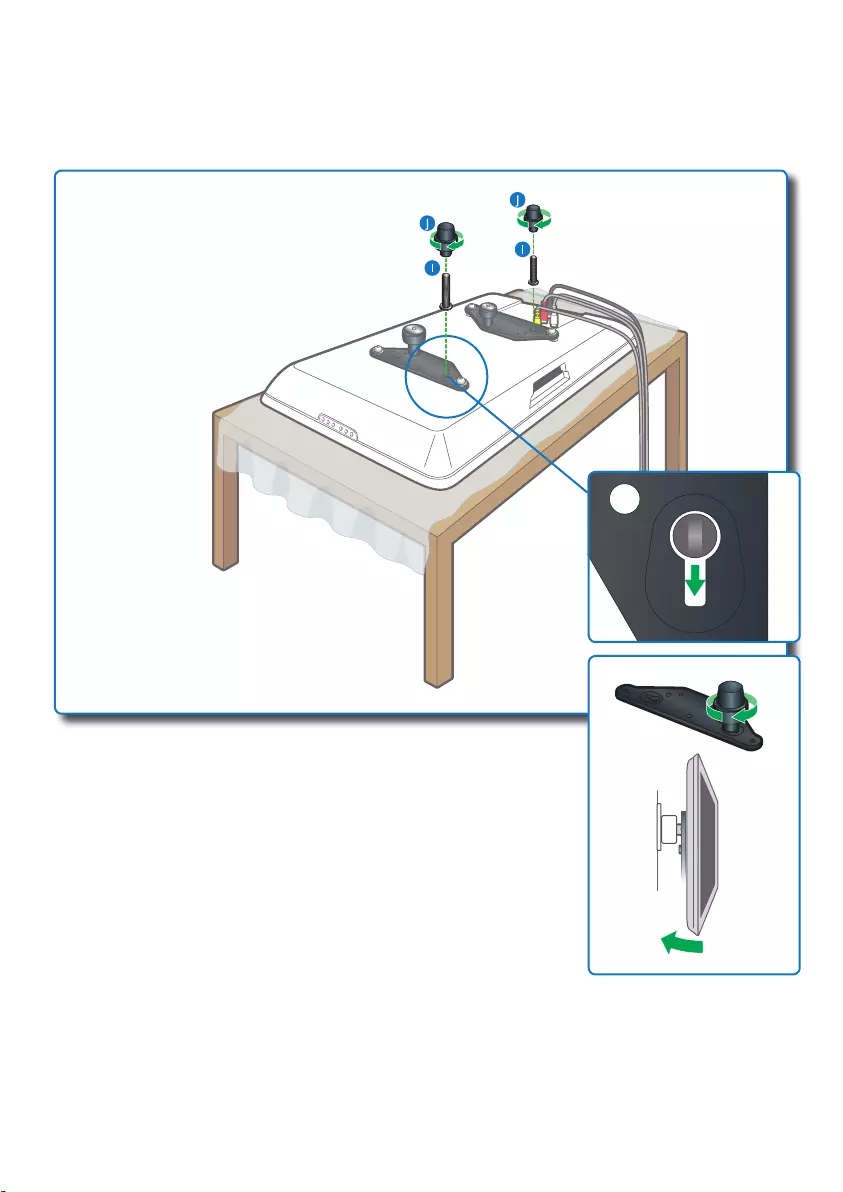 e
14
sqm6415_um_US_wk10423.indd 14
2/11/2010 22:30:42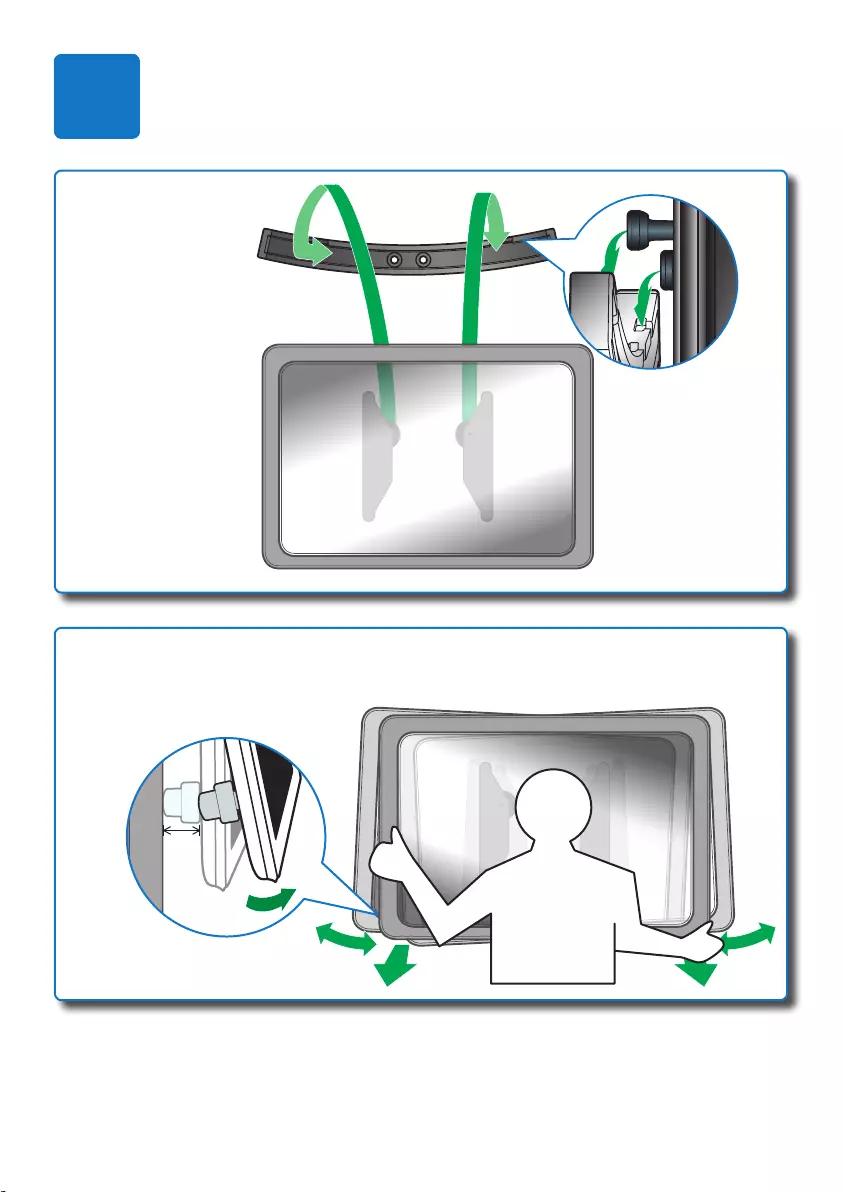 b
a
3
(25 mm)
15
EN
To allow a little extra wall space, gently lift the display and ensure the distance of the wall space is within
ES
Para dejar espacio adicional con la pared, levante la pantalla suavemente y compruebe que la distancia con la
pared es de 1"
(25mm)
como máximo.
FR
Pourobtenirunpeuplusd'espaceentrel'écranetlemur,soulevezdélicatementl'écranetenveillantàque
cet espace soit de 1"
(25amm)
maximum.
sqm6415_um_US_wk10423.indd 15
2/11/2010 22:30:42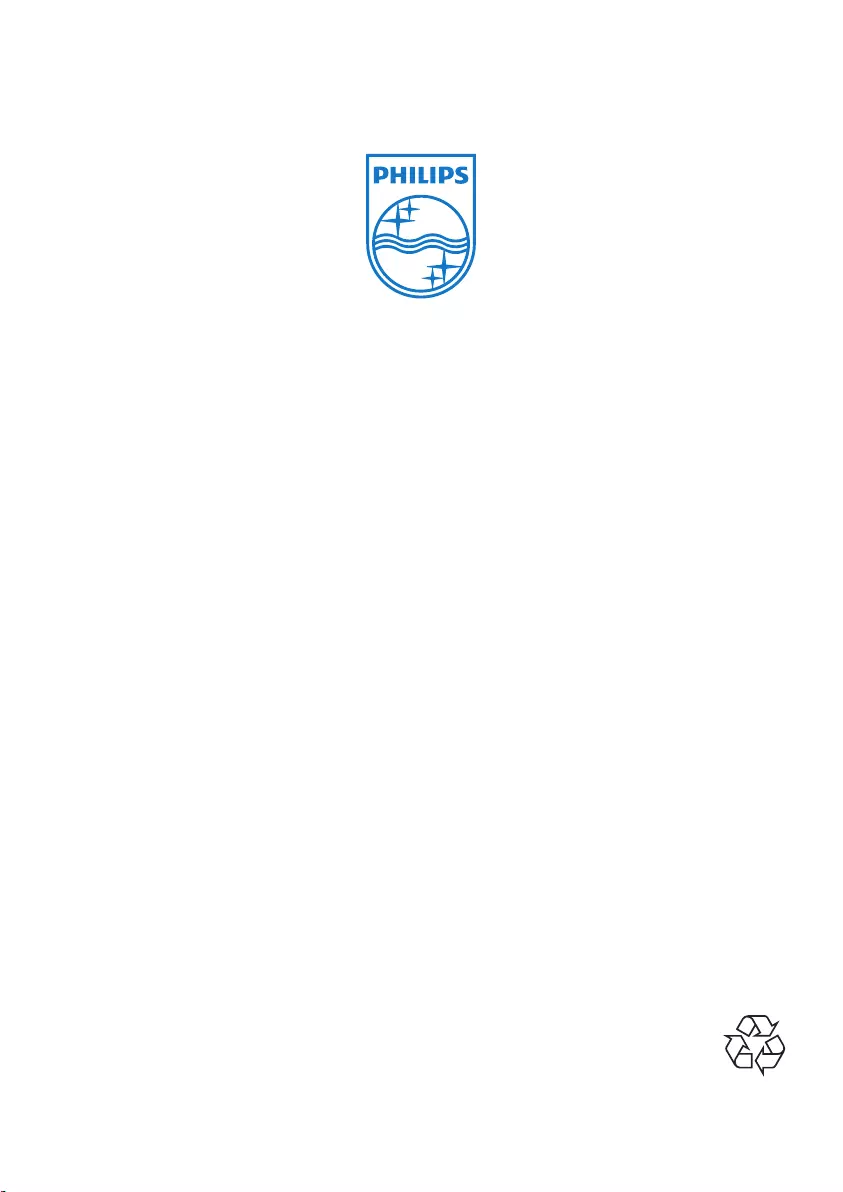 Specicationsaresubjecttochangewithoutnotice
Trademarks are the property of Koninklijke Philips Electronics N.V.
or their respective owners
2011 © Koninklijke Philips Electronics N.V. All rights reserved.
SQM6415_17_UM_V1.1
WK10442
sqm6415_um_US_wk10423.indd 16
2/11/2010 22:30:42