Saeco CA6707/00 User Manual
Displayed below is the user manual for CA6707/00 by Saeco which is a product in the Home Appliance Cleaners category. This manual has pages.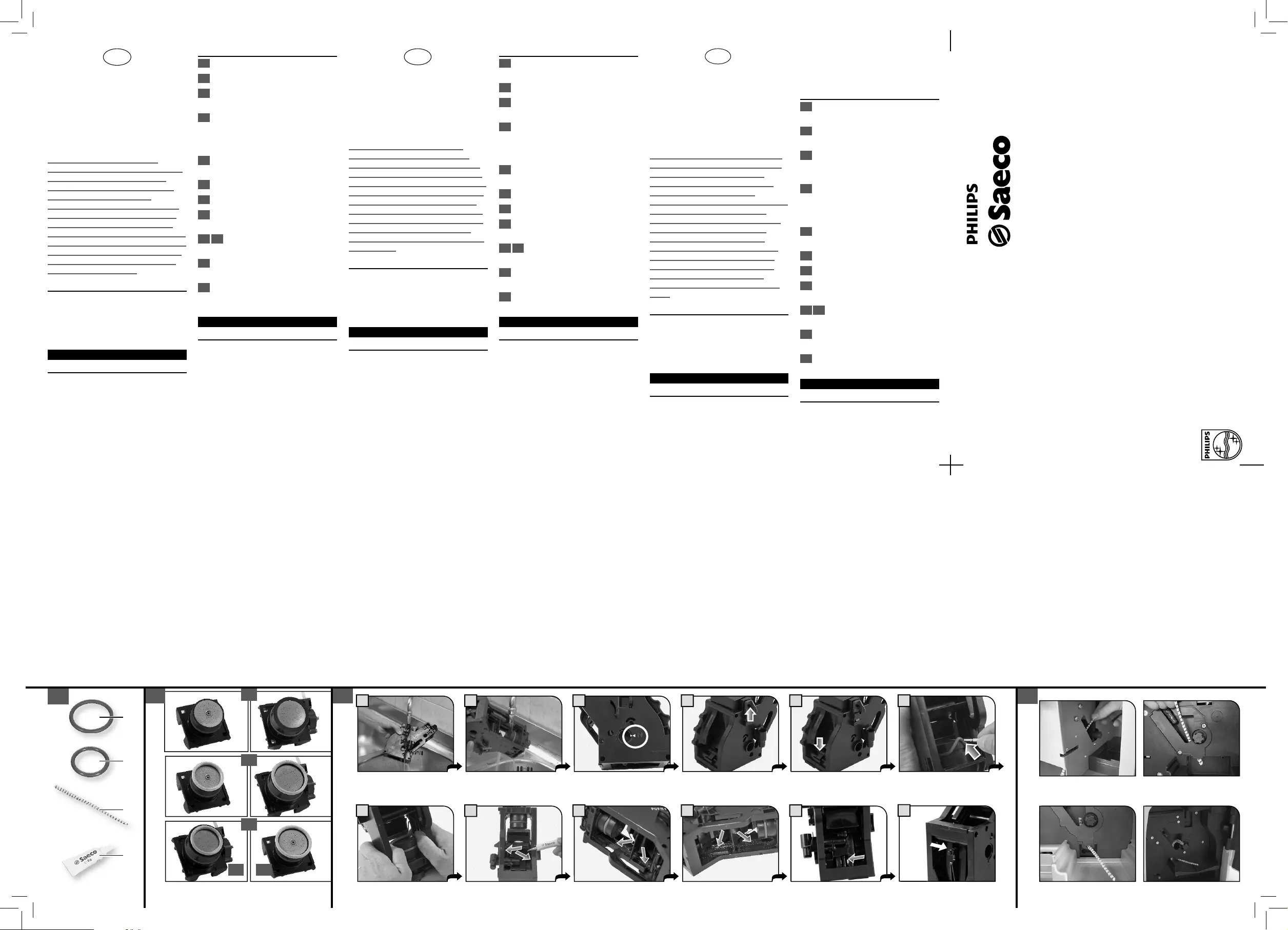 IT
Gentile Cliente,
desideriamo ringraziarla per aver acquistato il Kit di
manutenzione per le macchine da caffè automatiche
Philips Saeco.
Con questo kit potrà effettuare la manutenzione
periodica del Gruppo Caffè; questo Le consentirà di
mantenere in perfetta efficienza la Sua macchina e
degustare sempre un ottimo caffè.
Tutti i componenti devono essere utilizzati
esclusivamente per la manutenzione delle macchine
da caffè Philips Saeco. Attenersi alle norme di
sicurezza riportate sul manuale d'istruzioni della
macchina e sulle confezioni dei prodotti.
I prodotti non sono destinati ad essere utilizzati da
persone (compresi i bambini) con ridotte capacità
fisiche, mentali o sensoriali o con esperienza e/o
competenze insufficienti, a meno che non siano sotto
la supervisione di una persona responsabile della loro
sicurezza o non vengano da essa istruite sull'uso dei
prodotti. Tenere i bambini sotto supervisione, per
evitare che giochino con i prodotti.
Sezione (A)
Il Kit è composto da:
4.
Grasso per Gruppo Caffè
Manutenzione Gruppo caffè
Sezione (B)
Tutte le macchine superautomatiche Philips Saeco
sono dotate di Gruppo Caffè estraibile. Questa
tecnologia brevettata permette di pulire in profondità
le parti del Gruppo Caffè a contatto con il caffè e
l'intera zona di infusione all'interno della macchina.
Prima d'iniziare si deve verificare quale O-ring è
adatto per il Gruppo Caffè
(Fig.B5)
. Senza smontare
la parte superiore del Gruppo Caffè (nelle foto è stato
fatto solo per rendere più facile la spiegazione)
capovolgere il Gruppo Caffè e posizionare gli O-ring
sulla parte superiore per verificare qual è adatto.
O-ring corretto per il Gruppo Caffè
(Fig.B6)
O-ring NON corretto per il Gruppo Caffè
(Fig.B7)
Troppo stretto
(Fig.B7-A)
Il Gruppo Caffè deve essere lavato con acqua corrente
almeno una volta a settimana. Lubrificare il Gruppo
Caffè e sostituire l'O-ring circa ogni 500 erogazioni.
ATTENZIONE! Non lavare il Gruppo Ca
è con
detergenti che possono comprometterne il corretto
funzionamento. Non lavarlo in lavastoviglie.
13
Sezione (C)
8
Lavare il Gruppo Caffè dai residui di caffè.
9
Lavare il filtro superiore con acqua corrente.
10
Assicurarsi che il Gruppo sia in posizione di
riposo; i due riferimenti devono coincidere.
11
Assicurarsi che i componenti siano nella corretta
posizione. Il gancio mostrato deve essere nella
corretta posizione; per verificare premere con
decisione il tasto PUSH".
12
La leva posta nella parte posteriore del gruppo
deve essere a contatto con la base.
13
Rimuovere l'O-ring
14
Inserire il nuovo O-ring.
15
Lubrificare le guide del Gruppo solo con il grasso
fornito in dotazione.
16
17
Distribuire il grasso uniformemente come
indicato nell'immagine.
18
Distribuire il grasso uniformemente sulla parte
interna del perno.
19
Distribuire il grasso uniformemente sulla parte
esterna del perno.
Altri consigli per la manutenzione
Sezione (D)
Pulire con lo spazzolino in dotazione il canale dal
quale fuoriesce del liquido dopo ciascuna erogazione,
come mostrato nelle immagini. Fare attenzione alla
posizione dello spazzolino flessibile. Consigliamo di
eseguire tale operazione subito dopo la pulizia del
Gruppo Caffè.
- - - - - - - - - - - - - - - - - - - - - - - - - - - - - - - -
1
2
3
4
5
6
7
EN
Dear Customer,
Thank you for purchasing the Maintenance Kit for
Philips Saeco automatic coffee machines.
With this kit you will be able to perform scheduled
maintenance of the Brew Group so as to maintain your
machine in perfect working order and enjoy excellent co ee.
The components should only be used for the
maintenance of Philips Saeco coffee machines.
Carefully follow the safety regulations indicated in
the machine instruction manual and on the product
packages. The products are not to be used by persons
(included children) with reduced physical, mental or
sensory abilities or with scarce experience and/or
competence, unless they are supervised by a person
responsible for their safety or they are instructed by
this person on how to use these products. Keep
children under control to prevent them from playing
with the products.
Section (A)
The Kit consists of:
4.
Grease for the Brew Group
Brew Group Maintenance
Section (B)
All Philips Saeco fully automatic machines feature a
removable Brew Group. This patented technology
allows you to thoroughly clean the parts of the Brew
Group that come in contact with coffee, as well as the
entire brewing area inside the machine.
Before starting the operation, choose the most
appropriate O-ring for the Brew Group
(Fig.B5)
.
Without removing the upper part of the Brew Group
(in the pictures it has been removed to make the
explanation clearer), overturn the Brew Group and
place the O-rings on its upper part to find out which
one is the most suitable.
Suitable O-ring for the Brew Group
(Fig.B6)
Unsuitable O-ring for the Brew Group
(Fig.B7)
This is too narrow
(Fig.B7-A)
This is too wide
(Fig.B7-B)
Wash the Brew Group with running water at least
once a week. Lubricate the Brew Group and replace
the O-ring after approximately 500 brewing cycles.
WARNING! Do not wash the Brew Group with
detergents that may a ect its correct operation.
Do not wash it in the dishwasher.
Section (C)
8
Wash and remove any coffee residue from the
Brew Group.
9
Wash the upper filter with running water.
10
Make sure that the Brew group is in the rest posi-
tion; the two references should match.
11
Make sure that all components are in the correct
position. The hook shown in the picture should be in
the correct position. Press the "PUSH" button firmly
to check.
12
The lever on the rear part of the brew group
should touch the base.
13
Remove the O-ring.
14
Insert the new O-ring.
15
Lubricate the Brew Group guides with the
supplied grease only.
16
17
Apply the grease evenly as shown in the
picture.
18
Apply the grease evenly on the inner side of the
pin.
19
Apply the grease evenly on the outer side of the pin.
Other Maintenance Recommendations
Section (D)
Use the supplied brush to clean the channel from
which liquid flows out after each brewing operation,
as shown in the pictures. Pay attention to the flexible
brush position. We recommend performing this
operation immediately after the Brew Group cleaning.
- - - - - - - - - - - - - - - - - - - - - - - - - - - - - - - -
DE
Sehr geehrter Kunde,
wir danken Ihnen für den Kauf dieses Wartungssets
für die Kaffeeautomaten Philips Saeco.
Mit diesem Set können Sie die regelmäßige Wartung
der Brühgruppe vornehmen. Dadurch wird Ihre
Maschine optimal gepflegt und Sie können stets
einen köstlichen Kaffee genießen.
Alle Teile dürfen ausschließlich für die Wartung der
Kaffeemaschinen Philips Saeco verwendet werden.
Dabei sind die Sicherheitsvorschriften in der
Bedienungsanleitung der Maschine und auf den
Verpackungen der Produkte zu beachten.
Die Produkte sind nicht dazu bestimmt, von Personen
(einschließlich Kindern) mit eingeschränkten
körperlichen oder geistigen Fähigkeiten oder einer
Beeinträchtigung der Sinnesorgane bzw. von
Personen ohne ausreichende Erfahrung oder
Kompetenz verwendet zu werden, es sei denn, sie
werden von einer Person überwacht, die für ihre
Sicherheit verantwortlich ist oder sie werden im
Gebrauch der Produkte eingewiesen. Kinder
beaufsichtigen, damit sie nicht mit den Produkten
spielen.
Abschnitt (A)
Das Set besteht aus folgenden Teilen:
4.
Fett für die Brühgruppe
Wartung der Brühgruppe
Abschnitt (B)
Alle vollautomatischen Maschinen Philips Saeco sind
mit einer herausnehmbaren Brühgruppe
ausgestattet. Mit dieser patentierten Technologie
können die Teile der Brühgruppe, die mit dem Kaffee
in Berührung kommen, sowie der gesamte
Brühbereich im Inneren der Maschine gründlich
gereinigt werden.
Zunächst sollte überprüft werden, welcher O-Ring für
die Brühgruppe geeignet ist
(Abb.B5)
. Ohne den
oberen Bereich der Brühgruppe auszubauen (auf den
Bildern wurde dieser abgenommen, um das
Verständnis zu vereinfachen), die Brühgruppe
umdrehen und die O-Ringe auf dem oberen Bereich
auflegen, um zu überprüfen, welcher O-Ring geeignet
ist.
Richtiger O-Ring für die Brühgruppe
(Abb.B6)
Falscher O-Ring für die Brühgruppe
(Abb.B7)
Die Brühgruppe muss mindestens einmal wöchentlich
unter fließendem Wasser gereinigt werden. Nach ca.
500 Ausgaben sollten die Brühgruppe geschmiert und
der O-Ring ausgetauscht werden.
ACHTUNG! Die Brühgruppe nicht mit Reinigungs-
mitteln reinigen, da diese den störungsfreien
Betrieb beeinträchtigen können. Nicht in der
Spülmaschine reinigen.
Abschnitt (C)
8
Die Brühgruppe reinigen und Kaffeesatz
entfernen.
9
Den oberen Filter unter fließendem Wasser
reinigen.
10
Sicherstellen, dass sich die Brühgruppe in der
Ruhestellung befindet; die beiden Bezugspunkte
müssen übereinstimmen.
11
Sicherstellen, dass sich alle Teile in der richtigen
Position befinden. Der gezeigte Haken muss sich in
der korrekten Position befinden. Um dies zu
überprüfen, wird die Taste "PUSH" fest gedrückt.
12
Der Hebel im unteren Bereich der Gruppe muss
die Basis berühren.
13
Den O-Ring entfernen
14
Den neuen O-Ring einsetzen.
15
Die Führungen der Gruppe ausschließlich mit
dem Fett aus dem Lieferumfang schmieren.
16
17
Das Fett gleichmäßig verteilen, wie in der
Abbildung gezeigt.
18
Das Fett gleichmäßig auf die innere Seite des
Zapfens verteilen.
19
Das Fett gleichmäßig auf die äußere Seite des
Zapfens verteilen.
Sonstige Hinweise für die Wartung
Abschnitt (D)
Mit der gelieferten Bürste den Kanal reinigen, aus
dem nach jeder Ausgabe die Flüssigkeit austritt, wie
in den Abbildungen gezeigt. Dabei auf die Position
der biegsamen Bürste achten. Wir empfehlen, diesen
Vorgang unverzüglich nach der Reinigung der
Brühgruppe vorzunehmen.
- - - - - - - - - - - - - - - - - - - - - - - - - - - - - - - -
Il produttore si riserva il diritto d`apportare qualsiasi modifica senza preavviso.
The manufacturer reserves the right to change the features of the product without prior notice.
Der Hersteller behält sich das Recht vor, Änderungen jeder Art ohne Vorankündigung vorzunehmen.
Le fabricant se réserve le droit de modi
fi

er les caractéristiques de ce produit sans aucun avis préalable.
El fabricante se reserva el derecho de modi
fi

car el producto sin aviso previo.
O fabricante reserva-se o direito de efectuar quaisquer alterações sem aviso prévio.
De fabrikant behoudt zich het recht voor zonder voorafgaande berichtgeving wijzigingen aan te brengen.
15003214 - Rev.00 del 15-01-12
ISTRUZIONI PER L'USO
OPERATING INSTRUCTIONS
BEDIENUNGSANLEITUNG
MODE D'EMPLOI
INSTRUCCIONES DE USO
INSTRUÇÕES DE USO
GEBRUIKSAANWIJZING
Register your product and get support at
www.philips.com/welcome
CA6801/00
1514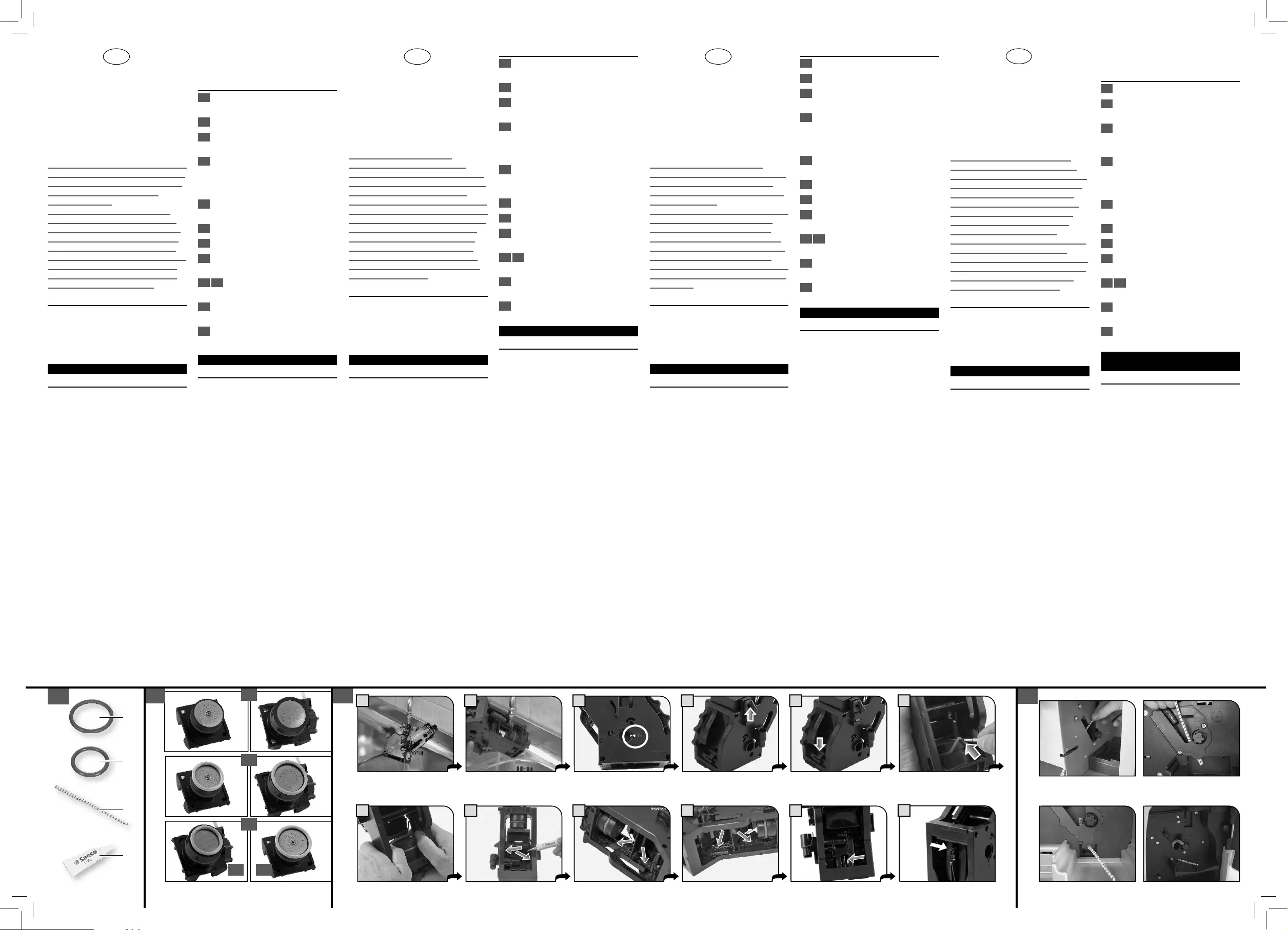 ES
Estimado Cliente,
gracias por comprar el Kit de mantenimiento para las
máquinas automáticas de café Philips Saeco.
Con este kit podrá realizar el mantenimiento
periódico del grupo de café, que le permitirá saborear
siempre un café excelente y garantizará el perfecto
funcionamiento de su máquina.
Todos los componentes deben utilizarse
exclusivamente para el mantenimiento de las
máquinas de café Philips Saeco. Observar las normas
de seguridad indicadas en el manual de instrucciones
de la máquina y en el envase de los productos.
Los productos no están destinados para ser utilizados
por personas (niños incluidos) con capacidades físicas,
mentales o sensoriales reducidas o que no dispongan
de una suficiente experiencia y/o competencias, a
menos que los utilicen bajo la supervisión de una
persona responsable de su seguridad o que sean
instruidas por dicho responsable en cómo usarlos.
Mantener fuera del alcance de los niños para evitar
que jueguen con los productos.
Sección (A)
El Kit está compuesto por:
4.
Grasa para el grupo de café
Mantenimiento del grupo de café
Sección (B)
Todas las máquinas superautomáticas Philips Saeco
disponen de un grupo de café extraíble. Esta
tecnología patentada permite limpiar en profundidad
las partes del grupo de café que están en contacto con
el café y con toda la zona de infusión en el interior de
la máquina.
Antes de empezar se debe comprobar cuál es la junta
tórica adecuada para el grupo de café
(Fig.B5)
. Sin
desmontar la parte superior del grupo de café (en las
fotos se ha desmontado para que la explicación sea
más clara) volcar el grupo de café y colocar la junta
tórica en la parte superior para comprobar si es
adecuada.
Junta tórica adecuada para el grupo de café
(Fig.B6)
Junta tórica NO adecuada para el grupo de
Demasiado estrecha
(Fig.B7-A)
Demasiado ancha
(Fig.B7-B)
El grupo de café se debe lavar con agua corriente al
menos una vez a la semana. Lubricar el grupo de café
y sustituir la junta tórica cada 500 suministros
aproximadamente.
¡ATENCIÓN! No lavar el grupo de café con
detergentes que pudieran afectar a su correcto
funcionamiento. No lavarlo en lavavajillas.
Sección (C)
8
Lavar el grupo de café eliminando los restos de
café.
9
Lavar el filtro superior con agua corriente.
10
Asegurarse de que el grupo esté en posición de
reposo; las dos marcas de referencia deben coincidir.
11
Asegurarse de que los componentes estén en la
posición correcta. El gancho que se muestra tiene que
estar en la posición correcta; para comprobarlo
presionar con firmeza el botón "PUSH".
12
La palanca que se encuentra en la parte trasera
del grupo de café tiene que estar en contacto con la
base.
13
Retirar la junta tórica
14
Introducir la junta tórica nueva.
15
Lubricar las guías del grupo de café usando la
grasa que se suministra con la máquina.
16
17
Extender la grasa de manera uniforme
como se muestra en la imagen.
18
Extender la grasa de manera uniforme en la
parte interna del tornillo.
19
Extender la grasa de manera uniforme en la
parte externa del tornillo.
Más consejos para el mantenimiento
Sección (D)
Con el cepillo suministrado limpiar el canal por el que
sale el líquido tras cada suministro, como se muestra
en las imágenes. Prestar atención a la posición del
cepillo flexible. Se aconseja realizar esta operación
inmediatamente después de limpiar el grupo de café.
- - - - - - - - - - - - - - - - - - - - - - - - - - - - - - - -
PT
Prezado Cliente,
queremos agradecer-lhe por ter comprado o kit de
manutenção para as máquinas de café automáticas
Philips Saeco.
Com este kit poderá efectuar a manutenção periódica
do Grupo Café, que lhe permitirá manter a sua
máquina em perfeita eficiência e saborear sempre um
óptimo café.
Todos os componentes devem ser utilizados
exclusivamente para a manutenção das máquinas de
café Philips Saeco. Siga as normas de segurança
descritas no manual de instruções da máquina e nas
embalagens dos produtos.
Os produtos não são destinados a serem utilizados por
pessoas (inclusive as crianças) com capacidades
físicas, mentais ou sensoriais reduzidas ou com
experiência e/ou competências insuficientes, a não
ser que não estejam sob a supervisão de uma pessoa
responsável pela segurança deles ou não sejam
ensinadas por ela sobre o uso dos produtos. Mantenha
as crianças sob supervisão, para evitar que brinquem
com os produtos.
Secção (A)
O kit é composto por:
4.
Graxa para o Grupo Café
Manutenção do Grupo Café
Secção (B)
Todas as máquinas super-automáticas Philips Saeco
estão equipadas com Grupo Café extraível. Esta
tecnologia patenteada permite limpar em
profundidade as partes do Grupo Café que estão em
contacto com o café e toda a zona de infusão no
interior da máquina.
Antes de iniciar deve verificar-se qual O-ring é
apropriado para o Grupo Café
(Fig.B5)
. Sem
desmontar a parte superior do Grupo Café
(desmontou-se nas fotografias só para tornar a
explicação mais fácil) vire ao contrário o Grupo Café e
coloque os O-ring na parte superior para verificar qual
é apropriado.
O-ring correcto para o Grupo Café
(Fig.B6)
O-ring NÃO correcto para o Grupo Café
(Fig.B7)
Demasiado apertado
(Fig.B7-A)
Demasiado largo
(Fig.B7-B)
O Grupo Café deve ser lavado com água corrente, pelo
menos, uma vez por semana. Lubrifique o Grupo Café
e substitua o O-ring aproximadamente a cada 500
distribuições.
ATENÇÃO! Não lave o Grupo Café com detergentes
que podem comprometer o correcto funciona-
mento. Não o lave na máquina de lavar louça.
13
1
2
3
4
5
6
7
1514
FR
Cher Client,
nous vous remercions d'avoir acheté le Kit d'entretien
pour les machines à café automatiques Philips Saeco.
Ce kit vous permettra d'effectuer l'entretien
périodique du Groupe de distribution. Cela vous
permettra de garder votre machine en parfait état de
fonctionnement et de savourer toujours un café
excellent.
Tous les composants doivent être utilisés uniquement
pour l'entretien des machines à café Philips Saeco. Se
conformer aux consignes de sécurité indiquées dans
le mode d'emploi de la machine et dans les
emballages des produits.
Les produits ne doivent pas être utilisés par des
personnes (y compris les enfants) ayant de faibles
capacités physiques, mentales ou sensorielles, sans
expérience et/ou aux compétences insuffisantes, à
moins qu'elles ne soient sous la supervision d'une
personne responsable de leur sécurité ou formées par
cette personne en ce qui concerne l'utilisation des
produits. Garder les enfants sous supervision, afin
d'éviter qu'ils ne jouent avec les produits.
Section (A)
Le Kit se compose de:
3.
Brosse pour le nettoyage
4.
Graisse pour le Groupe de distribution
Entretien du Groupe de distribution
Section (B)
Toutes les machines super-automatiques Philips
Saeco sont équipées de Groupe de distribution
amovible. Cette technologie brevetée permet de
nettoyer en profondeur les parties du Groupe de
distribution en contact avec le café et toute la zone
d'infusion se trouvant dans la machine.
Avant de commencer, il faut vérifier quel est le joint
torique approprié pour le Groupe de distribution
(Fig.B5)
. Sans démonter la partie supérieure du
Groupe de distribution (dans les photos, elle n'a été
enlevée que pour faciliter l'explication), renverser le
Groupe de distribution et placer les joints toriques
dans la partie supérieure pour trouver le plus
approprié.
Joint torique correct pour le Groupe de
Joint torique NON correct pour le Groupe de
Le Groupe de distribution doit être lavé à l'eau
courante au moins une fois par semaine. Lubrifier le
Groupe de distribution et remplacer le joint torique à
peu près toutes les 500 distributions.
ATTENTION! Ne pas laver le Groupe de distribution
avec des détergents qui pourraient a
ecter son
fonctionnement. Ne pas le laver au lave-vaisselle.
Section (C)
8
Laver le Groupe de distribution en éliminant tout
marc de café.
9
Laver le filtre supérieur à l'eau courante.
10
S'assurer que le Groupe est en position de repos;
les deux repères doivent coïncider.
11
S'assurer que tous les composants se trouvent
dans la bonne position. Le crochet indiqué doit être
dans la position correcte; pour vérifier, appuyer d'un
coup sec sur la touche «PUSH».
12
Le levier placé sur la partie arrière du groupe doit
être en contact avec la base.
13
Retirer le joint torique .
14
Introduire le nouveau joint torique.
15
Lubrifier les glissières du Groupe uniquement
avec la graisse fournie.
16
17
Distribuer la graisse de façon uniforme
comme le montre la figure.
18
Distribuer la graisse de façon uniforme sur la
partie intérieure du pivot.
19
Distribuer la graisse de façon uniforme sur la
partie extérieure du pivot.
D'autres conseils pour l'entretien
Section (D)
Nettoyer, à l'aide de la brosse fournie, le canal d'où
sort du liquide après chaque distribution, comme le
montrent les figures. Faire attention à la position de
la brosse flexible. Il est conseillé d'effectuer cette
opération tout de suite après avoir nettoyé le Groupe
de distribution.
Secção (C)
8
Lave o Grupo Café dos resíduos de café.
9
Lave o filtro superior com água corrente.
10
Assegure-se que o Grupo esteja em posição de
repouso; as duas referências têm de coincidir.
11
Certifique-se de que os componentes estejam na
posição correcta. O gancho apresentado deve ficar na
posição correcta; para verificar pressione firmemente
a tecla "PUSH".
12
A alavanca posicionada na parte traseira do
grupo deve ficar em contacto com a base.
13
Retire o O-ring.
14
Introduza o novo O-ring.
15
Lubrifique as guias do Grupo só com a graxa
fornecida com o aparelho.
16
17
Distribua a graxa uniformemente como
indicado na imagem.
18
Distribua a graxa uniformemente na parte
interno do pino.
19
Distribua a graxa uniformemente na parte
externa do pino.
Outros conselhos para a manutenção
Secção (D)
Limpe o tubo do qual sai o líquido com o pincel
fornecido após cada distribuição, como apresentado
nas imagens. Tenha em atenção a posição do pincel
flexível. É recomendável efectuar essa operação
imediatamente a seguir à limpeza do Grupo Café.
- - - - - - - - - - - - - - - - - - - - - - - - - - - - - - - -
NL
Geachte Klant,
wij willen u graag bedanken dat u de Onderhoudskit
voor de automatische koffiemachines van Philips
Saeco heeft aangeschaft.
Met deze kit kunt u het periodieke onderhoud van de
Centrale Koffie-unit uitvoeren; hiermee kunt u uw
machine in perfecte staat behouden en altijd van een
heerlijke koffie genieten.
Alle onderdelen dienen uitsluitend gebruikt te
worden voor het onderhoud van de Philips Saeco
koffiemachines. Houd u aan de veiligheidsvoorschrif-
ten die in de instructiehandleiding van de machine
zijn opgenomen en die op de verpakking van de
producten zijn beschreven. De producten zijn niet
bestemd om gebruikt te worden door personen
(inclusief kinderen) met verminderde fysieke,
mentale of gevoelige capaciteiten of met
onvoldoende ervaring en/of bekwaamheid, tenzij ze
onder het toezicht staan van een persoon die
verantwoordelijk is voor hun veiligheid en van wie ze
instructies verkrijgen aangaande het gebruik van de
producten. Houd kinderen onder toezicht om te
vermijden dat ze met de producten spelen.
Deel (A)
De kit bestaat uit:
4.
Smeermiddel voor de Centrale Koffie-unit
Onderhoud van de Centrale Koffie-unit
Deel (B)
Alle superautomatische machines van Philips Saeco
zijn voorzien van een uitneembare Centrale
Koffie-unit. Deze gepatenteerde technologie maakt
het mogelijk om de onderdelen van de Centrale
Koffie-unit die in contact komen met de koffie en de
gehele infusiezone in de machine grondig te reinigen.
Alvorens te beginnen, dient men na te gaan welke
O-ring geschikt is voor de Centrale Koffie-unit
(Afb.B5)
. Zonder het bovenste gedeelte van de
Centrale Koffie-unit te demonteren (op de foto is dat
alleen gedaan om de uitleg te vergemakkelijken), keer
de Centrale Koffie-unit om en plaats de O-ringen op
het bovenste gedeelte om na te gaan welke geschikt
is.
Geschikte O-ring voor de Centrale
NIET geschikte O-ring voor de Centrale
De Centrale Koffie-unit dient ten minste eenmaal per
week met stromend water te worden afgewassen.
Smeer de Centrale Koffie-unit en vervang de O-ring
bij ongeveer elke 500 afgiftes.
LET OP! Gebruik voor het reinigen van de Centrale
Ko
e-unit geen reinigingsmiddelen die het
correct functioneren in gevaar kunnen brengen.
Niet in de vaatwasmachine wassen.
Deel (C)
8
Was de koffieresten uit de Centrale Koffie-unit.
9
Was het bovenste filter onder stromend water
schoon.
10
Verzeker u ervan dat de Centrale unit in de
ruststand staat; de twee tekentjes moeten
samenvallen.
11
Controleer of de onderdelen in de goede stand
staan. De afgebeelde hendel moet op de goede stand
staan; controleer dit door krachtig op de toets "PUSH"
te drukken.
12
De hendel aan de achterzijde van de centrale
unit moet helemaal naar beneden staan.
13
Verwijder de O-ring.
14
Plaats de nieuwe O-ring.
15
Smeer de geleiders van de Centrale unit
uitsluitend met het bijgeleverde smeermiddel.
16
17
Verdeel het smeermiddel gelijkmatig zoals
aangegeven in de afbeelding.
18
Verdeel het smeermiddel gelijkmatig over de
binnenkant van de pin.
19
Verdeel het smeermiddel gelijkmatig over de
buitenkant van de pin.
Andere aanbevelingen voor het
onderhoud
Deel (D)
Reinig met het meegeleverde borsteltje het kanaal
waaruit de vloeistoffen komen na elke afgifte zoals
weergegeven in de afbeeldingen. Let op de positie
van het flexibele borsteltje. Wij raden aan om deze
handeling meteen na de reiniging van de Centrale
Koffie-unit uit te voeren.
- - - - - - - - - - - - - - - - - - - - - - - - - - - - - - - -