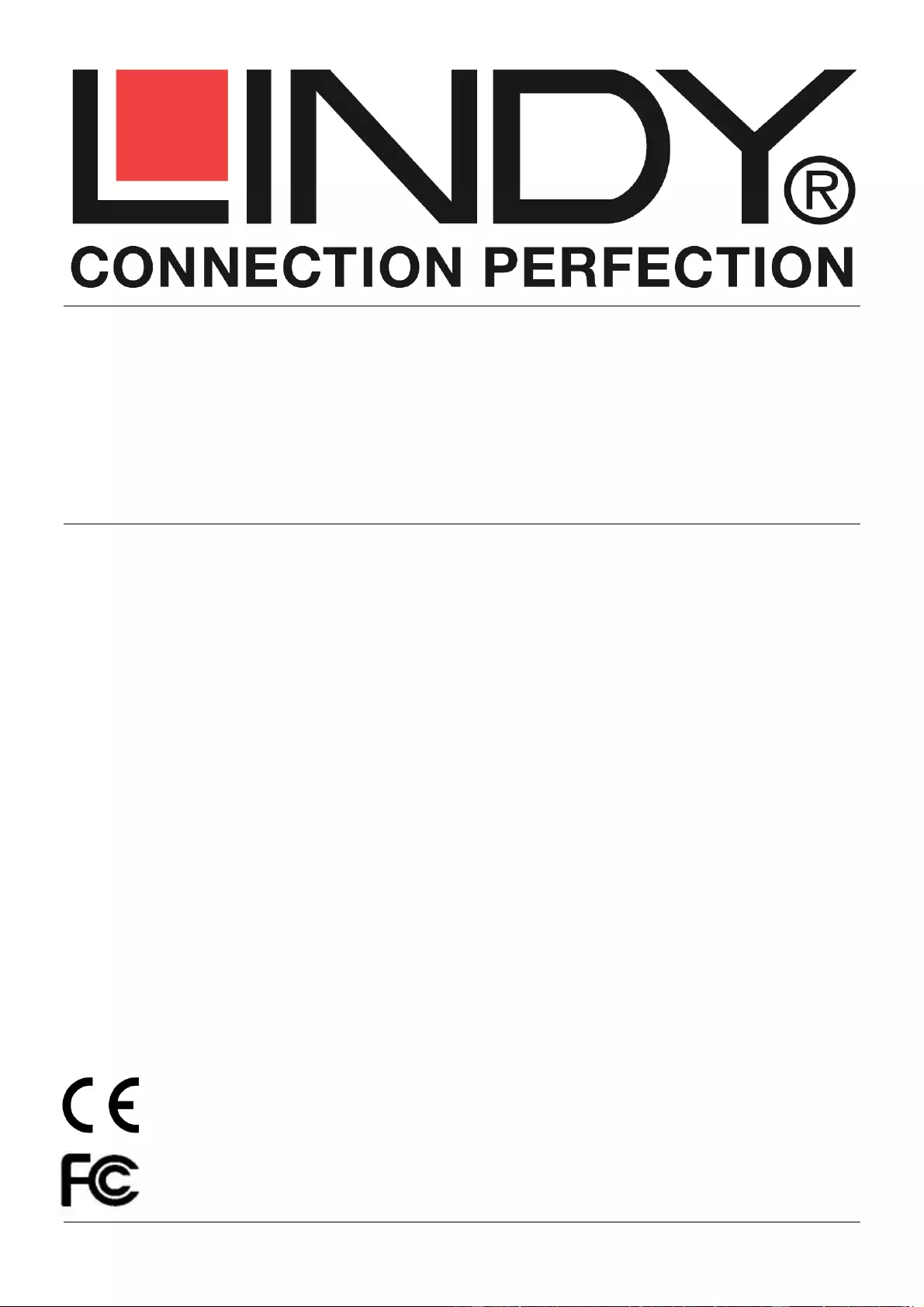 © LINDY ELECTRONICS LIMITED & LINDY-ELEKTRONIK GMB
H

–
FOURTH EDITION (March 2016)
VGA & Audio Fiber Optic Extender
Manuel Utilisateur
Français
No. 32541
Tested to Comply with
FCC Standards
For Home and Office Use!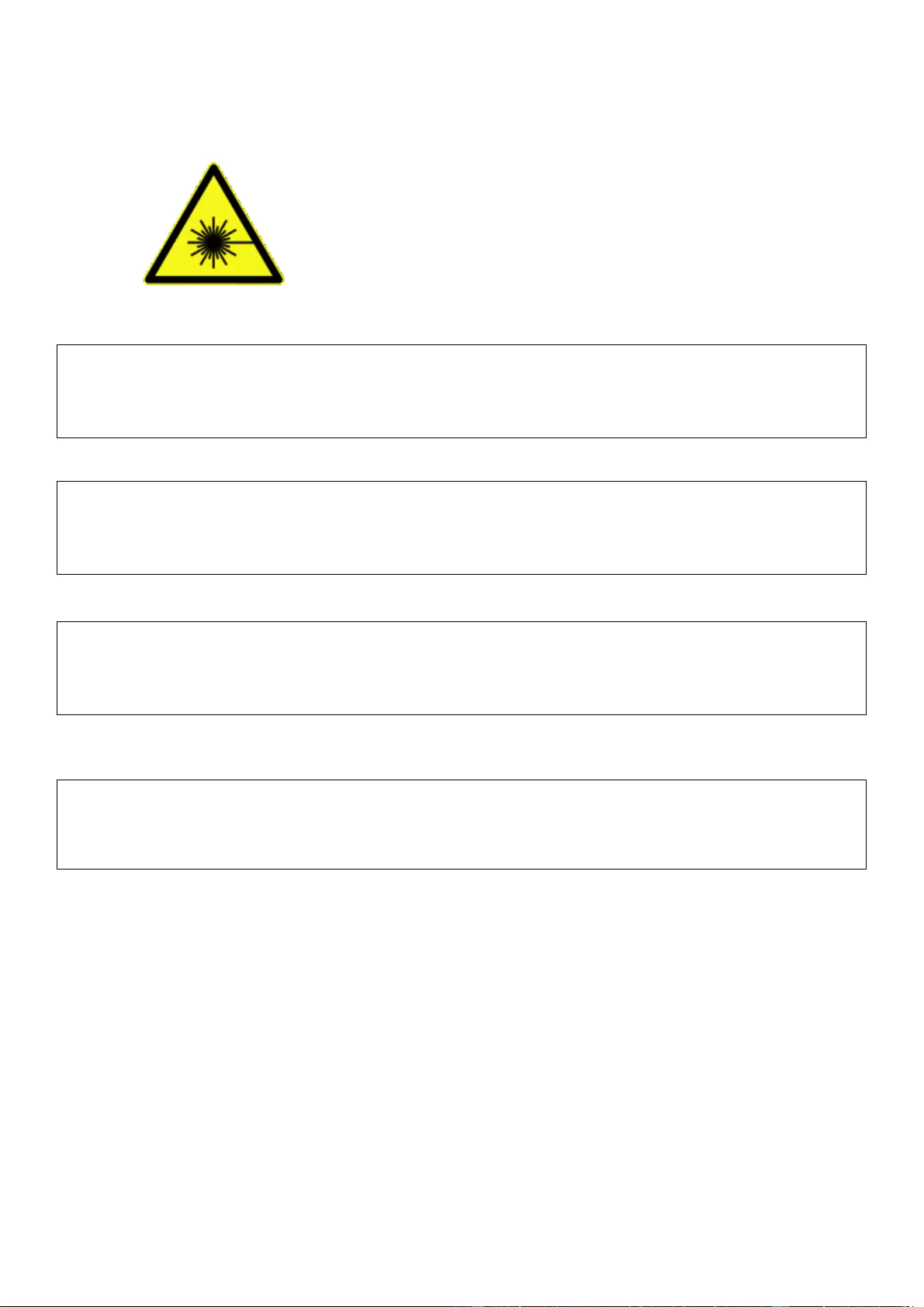 This product contains visible laser beams.
The radiation is not harmful under normal conditions.
Innerhalb dieses Produktes wird sichtbare Laserstrahlung erzeugt. Unter normalen
Bedingungen ist die Strahlung ungefährlich.
Ce produit contient un faisceau laser visible
Le rayonnement n'est pas dangereux dans le cadre d'une utilisation normale.
Questo prodotto produce raggi laser visibili.
Le radiazioni non sono dannose in normali condizioni di utilizzo.
WAVE LENGTH: 850nm
CLASS 1 LASER PRODUCT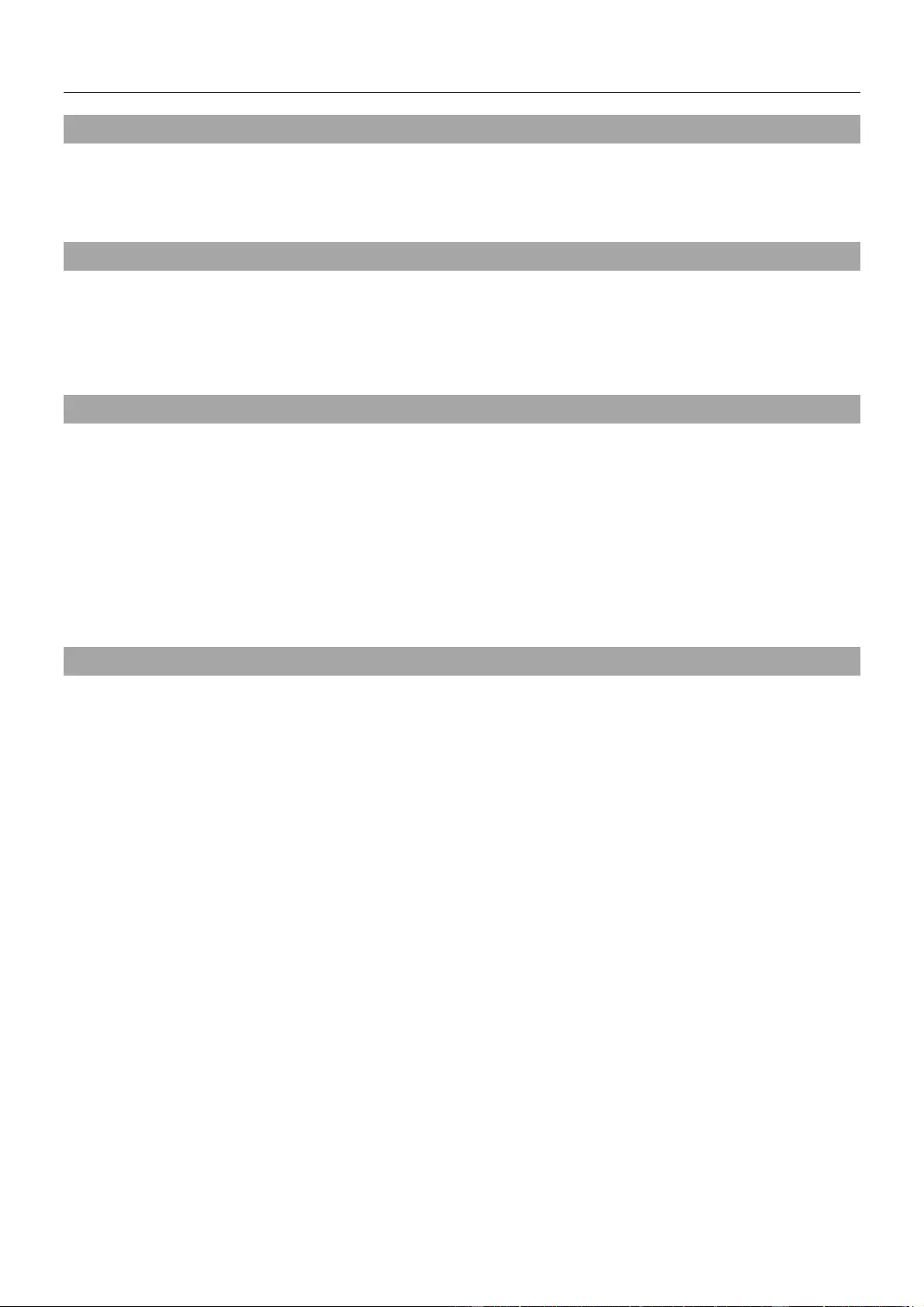 Introduction
Thank you for purchasing the LINDY VGA & Audio Fibre Optic Extender. This VGA & Audio
Extender allows you to transmit VGA signals up to resolutions of 1920x1080@60Hz, up to a
distance of 750m using 4 LC fibre optic cables or two equal length Duplex LC fibre optic cables.
Package Contents

VGA & Audio Transmitter

2 x Multi
-Country Power Adapter (5VDC)
Specification

Extends VGA & Audio signals up to 750m (OM3) or 500m (OM2) using multimode fibre
optic 4x LC or 2x LC Duplex cables with identical length

Maximum resolution 1920x1080p@60Hz

Power requirement 5VDC ~350mA per unit, DC connector: 3.5/1.35mm

Environmental Specifications: For Indoor use only:
o
Operating temperature: 0°C to 70°C
o
Storage temperature: - 20°C to 85°C
Installation
1.

Connect the VGA and audio cables of the source to the VGA & Audio input ports of the
transmitter module (TX). You can use the VGA
-
Output of the Transmitter (TX) to connect
2.
Connect the VGA and audio cables of the display/speakers to the VGA and audio output
ports of the receiver module (RX)
3.
Connect the fibre optic cables to Transmitter (TX) and Receiver (RX).
IMPORTANT:
please make sure that you plug the LC cable in the correct order. Port 1
needs to be connected to Port 1, etc. You'll find the respective port numbers on the TX
IMPORTANT:
please

make

sure

that

the

fibre

connectors

are

clean

before

plugging
them. Dust or even tiny damage like a scratch can influence the communication.
4.
Connect the included power supplies to the power input of the transmitter/receiver and to
5.
The Extender is now ready to use.
Power on your computer and display, when the computer has completed booting adjust
the resolution to match the native resolution of the display.
Important:
To prevent connection problems please ensure that the source device is adjusted to
one of the
supported resolutions,
please refer to the EDID presets at the
end of this manual.

Einführung
Vielen Dank für den Kauf des LINDY VGA und Audio Extenders. Dieser Extender ermöglicht es
Ihnen VGA-Signale mit einer Auflösung von bis zu 1920x1080p@60Hz über Entferungen von
bis zu 75
0m
mittels LWL/Fiber Optic Multimode Kabeln zu übertragen.
Lieferumfang

VGA & Audio Sendereinheit

VGA & Audio Empfängereinheit

2 Multi-Country Netzteile (5VDC)
Spezifikationen

Überträgt VGA & Audio Signale über Entfernungen von bis zu 750 Metern (OM3) oder
500 Metern (OM2) mittels 4x LC oder 2x gleichlanger Duplex LC Multimode LWL
-
Kabel

Maximale Auflösung: 1920x1080p@60Hz

Stromverbrauch: 5VDC ~350mA pro Einheit, DC Stecker: 3.5/1.35mm

Umgebungseigenschaften (Für die Verwendung in geschlossenen Räumen):
o
Betriebstemperatur: 0°C bis 70°C
o
Lagertemperatur

:

- 20°C bis 85°C
Installation
1.
Verbinden

Sie

das

VGA

-

und

Audiokabel

des

Quellgerätes

mit

dem

entsprechenden
VGA
-
und Audioeingang des Senders (TX)

.

Zusätzlich besitzt der Transmitter (TX) einen
VGA
-
Ausgang um auch dort das zu übertragende Signal abgreifen zu können.
2.
Verbinden Sie das VGA

-

und Audiokabel des Endgerätes (Monitor/Lautsprecher) mit dem
entsprechenden VGA
-
und Audioeingang des Empfängers (RX)
3.
Verbinden Sie das LWL

-

Kabel mit dem Sender (TX) und dem Empfänger (RX)
Wichtig:
Bitte

stellen

Sie

sicher,

das

s

Sie

die

LWL

-

Kabel

in

der

richtigen

Reihenfolge
an
schließen.

Port

1

muss

mit

Port

1

verbunden

werden,

etc.

Sie

finden

hierzu

die
ent
sprechen
de
n Portnummern auf dem jeweiligen Gerät (TX & RX)
Wichtig:
Bitte

stellen

Sie

vor

Anschluss

der

LWL

-

Kabel

sicher,

dass

die

LWL

-
Steckverbindungen
frei
von
Staub
sind.
Staub
oder
andere
kleine
Beschädigungen
können die Verbindung beeinträchtigen.
4.
Verbinden

Sie

im

Anschluss

die

im

Lieferumfang

enthaltenen

Netzteile

mit

dem
entsprechenden
Anschluss
des
Senders
(TX)
und
Empfängers
(RX)
und
mit
einer
entsprechenden
Steckdose.
Schalten
Sie
im
Anschluss
das
Quell
-
(z.B.
PC)
und
5.
Der Extender ist nun bereit zur Nutzung.
Wichtig:
Bitte

stellen Sie

sicher,

dass

das

Quellgerät

auf

eine

der

unterstützten Auflösungen
eingestellt ist. Ist dies nicht der Fall, kann dies zu Verbindungsproblemen führen.

Manuel Utilisateur
Français
Introduction
Merci
d'avoir
choisi
l'extender
VGA
&
Audio
Fiber
Optic
LINDY.
Cet
extender
VGA
&
Audio
vous permet de transmettre les signaux VGA à une résolution allant
jusqu'à 1920x1080@60Hz
,
jusqu'à
750m en
utilisant
de
la fibre
optique
4
LC ou
deux
fibres optique
d'égales
longueurs
Duplex LC.

Emetteur VGA & Audio (Transmitter)

Récepteur VGA & Audio (Receiver)

2 x alimentations multi
-pays (5VDC)
Spécifications

Transmet les signaux VGA & Audio jusqu'à 750m (OM3) ou 500m (OM2) en utilisant de
la fibre optique multimode 4x LC ou 2x LC Duplex de longueur identique

Résolution maximale 1920x1080p@60Hz

Alimentation requise 5VDC ~350mA par unité, connecteur DC: 3,5/1,35mm

Spécifications environ

ne

mentales: à utiliser en intérieur uniquement:
o
Température de fonctionnement: 0°C à 70°C
o
Température de stockage: - 20°C à 85°C
Installation
1.

Connectez le câble VGA et le câble audio de la source aux ports d'entrées VGA & Audio
du
module
émetteur
(transmitter
-
TX).
Vous
pouvez
utiliser
le
port
VGA
-
Output
de
l'émetteur (TX) pour transférer les signaux à un affichage local additionnel.
2.
Connectez

les

câbles

VGA

et

audio

de

l'affichage

et

des

haut

-

parleurs

aux

ports

de
sorties VGA et audio du module récepteur (receiver
-
RX)
3.
Connectez les fibres optiques à l'émetteur (TX) et au récepteur (RX).
IMPORTANT:
assurez

-

vous de brancher la fibre optique LC dans le bon ordre. Le port 1
doit être connecté au port 1, etc. Vous trouverez les numéros des ports sur les modules
IMPORTANT:
assurez

-

vous

que

les

connecteurs

de

fibre

optique

soient

exempts

de
pou
ssières

avant

de

les

brancher.

La

poussière

ou

de

légers

dommages

peuvent
influencer la transmission.
4.
Connectez

les

alimentations

fournies

aux

prises

d'alimentation

de

l'émetteur

et

du
récepteur et à des prises secteur.
5.
L'extender est prêt à être utiliser

.
IMPORTANT:
merci de vous assurer d'avoir ajusté la résolution prise en charge – dans le cas
contraire
des
problèmes
de
connexion
pourraient
apparaitraient.

Introduzione
Vi ringraziamo per aver acquistato
l'Extender
LINDY VGA & Audio su Fib
ra
Ottica
.
Questo
dispositivo consente di trasmettere segnali VGA ad una risoluzione massima di
1920x1080@60Hz
,

fino ad una distanza di 750m utilizzando un cavo in fibra ottica a 4
conduttori e connettori LC o due comuni cavi in fibra Duplex
LC
.
Contenuto della confezione

Extender VGA & Audio

-

Unità Trasmittente

Extender VGA & Audio

-

Unità Ricevente

2 x Alimentatori MultiCountry (5VDC)
Specifiche

Estende segnali VGA & Audio fino a 750m (con fibra OM3) o 500m (con fibra OM2)
utilizzando un cavo a 4fibre multimodali LC o 2 cavi Duplex LC multimodali di lunghezza

Risoluzione massima 1920x1080@60Hz

Alimentazione richiesta: 5VDC ~350mA per unità

,

connettore

DC:

3.5/1.35mm

Specifiche ambientali: Esclusivamente per utilizzo in interni:
o
Temperatura operativa:

da

0°C a 70°C
o
Temperatura di stoccaggio:

da

- 20°C a 85°C
Installazione
1.

Collegate la sorgente tramite un cavo VGA ed uno Audio alle porte VGA & Audio input
dell'unità trasmittente (TX). Potrete utilizza la porta VGA
-
Output posta sempre sull'unità
trasmittente (TX) per collegare un monitor locale.
2.
Collegate

il

vostro

schermo

e

i

diffusori

audio

all'unità

ricevente

(RX)

tramite

un'altra
coppia di cavi VGA e Audio.
3.
Collegate il cavo in Fibra Ottica all'unità trasmittente (TX) e a quella ricevente (RX).
IMPORTANTE:
assicuratevi che i singoli connettori LC siano inseriti nell'ordine corretto.
La porta dell'unità RX dovrà essere connessa alla porta 1 del ricevitore e così via. Tutte
le porte LC sono numerate su entrambi i moduli per maggior semplicità.
IMPORTANTE:
assicuratevi

che

i

connettori

in

fibra

siano puliti

prima

di inserirli

nella
rispettiva porta. La polvere o piccole abrasioni possono influenzare la comunicazione fra
4.
Collegate gli alimentatori forniti a corredo sia al ricevitore che al trasmettitore e poi alle
5.
L'Extender è ora pronto per l'utilizzo
IMPORTANTE:
assicuratevi

di

aver

impostato

la

corretta

risoluzione.

In

caso

contrario
potrebbero verificarsi dei problemi di trasmissione fra le unità.

The EDID preset timings stored in the extender are the following:

1920x1080 25/29/30Hz Interlaced. 60Hz Progressive

CE Certification
This
equipment
complies
with
the
requirements
relating
to
Electromagnetic
Compatibility
Standards
EN55022/EN55024 and the further standards cited therein. It must be used with shielded cables only.
It has been manufactured under the scope of RoHS compliance.
CE Konformitätserklärung
Dieses Produkt entspricht den einschlägigen EMV Richtlinien der
EU für IT-Equipment und darf nur
zusammen mit abgeschirmten Kabeln verwendet werden.
Diese Geräte wurden unter Berücksichtigung der RoHS Vorgaben hergestellt.
Die formelle Konformitätserklärung können wir Ihnen auf Anforderung zur Verfügung stellen
FCC Certification
This device complies with part 15 of the FCC Rules.
Operation is subject to the following two conditions:
1.
This device may not cause harmful interference, and
2. This device must accept any interference received, including interference that may cause undesired
operation.
LINDY Herstellergarantie
–
Hinweis für Kunden in Deutschland
LINDY
gewährt
für
dieses
Produkt
über
die
gesetzliche
Regelung
in
Deutschland
hinaus
eine
zweijährige Herstellergarantie ab Kaufdatum. Die detaillierten Bedingungen dieser Garantie finden Sie
auf der LINDY Website aufgelistet bei den AGBs.
Hersteller / Manufacturer (EU):
LINDY Electronics Ltd.
LINDY-Elektronik GmbH
Sadler Forster Way
Markircher Str. 20
Teesside Industrial Estate, Thornaby
68229 Mannheim
Stockton-

on

-Tees, TS17 9JY
Email: info@lindy.com , T: 0049 (0)621 470050
postmaster@lindy.co.uk

,

T: +44 (0) 1642 754000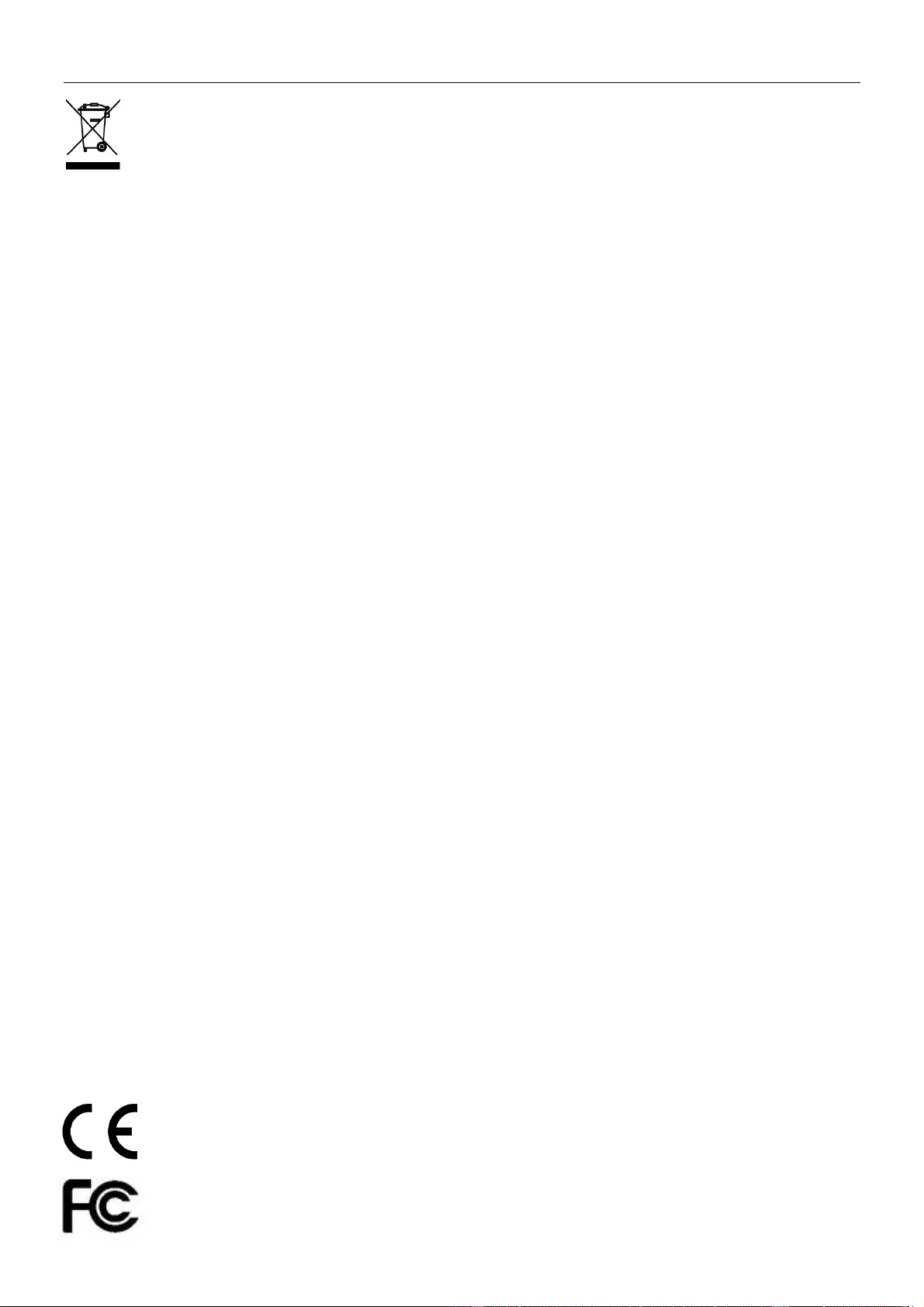 Recycling Information
WEEE (Waste of Electrical and Electronic Equipment),
Recycling of Electronic Products
Europe, United Kingdom
In 2006 the European Union introduced regulations (WEEE) for the collection and recycling of all waste
electrical
and
electronic
equipment.
It
is
no
longer
allowable
to
simply
throw
away
electrical
and
electronic equipment. Instead, these products must enter the recycling process.
Each individual EU member state has implemented the WEEE regulations into national law in slightly
different ways. Please follow your national law when you want to dispose of any electrical or electronic
products. More details can be obtained from your national WEEE recycling agency.
Germany / Deutschland
Die Europäische Union hat mit der WEEE Direktive Regelungen für die Verschrottung und das Recycling
von Elektro- und Elektronikprodukten geschaffen. Diese wurden im Elektro- und Elektronikgerätegesetz
–
El
ektroG in deutsches Recht umgesetzt. Dieses Gesetz verbietet das Entsorgen von entsprechenden,
auch alten, Elektro- und Elektronikgeräten über die Hausmülltonne! Diese Geräte müssen den lokalen
Sammelsystemen bzw. örtlichen Sammelstellen zugeführt werden! Dort werden sie kostenlos entgegen
genommen.
Die
Kosten
für
den
weiteren
Recyclingprozess
übernimmt
die
Gesamtheit
der
Gerätehersteller.
France
En 2006, l'union Européenne a introduit la nouvelle réglementation (DEEE) pour le recyclage de tout
équipement électrique et électronique.
Chaque Etat membre de l' Union Européenne a mis en application la nouvelle réglementation DEEE de
manières légèrement différentes. Veuillez suivre le décret d'application correspondant à l'élimination des
déchets électriques ou électroniques de votre pays.
Italy
Nel
2006
l'unione
europea
ha
introdotto
regolamentazioni
(WEEE)
per
la
raccolta
e
il
riciclo
di
apparecchi elettrici ed elettronici. Non è più consentito semplicemente gettare queste apparecchiature,
devono essere
riciclate. Ogni

stato membro dell' EU

ha tramutato

le direttive WEEE in leggi statali in
varie misure. Fare riferimento alle leggi del proprio Stato quando si dispone di un apparecchio elettrico o
elettronico.
Per ulteriori dettagli fare riferimento alla direttiva WEEE sul riciclaggio del proprio Stato.
Tested to Comply with
FCC Standards
For Home and Office Use!