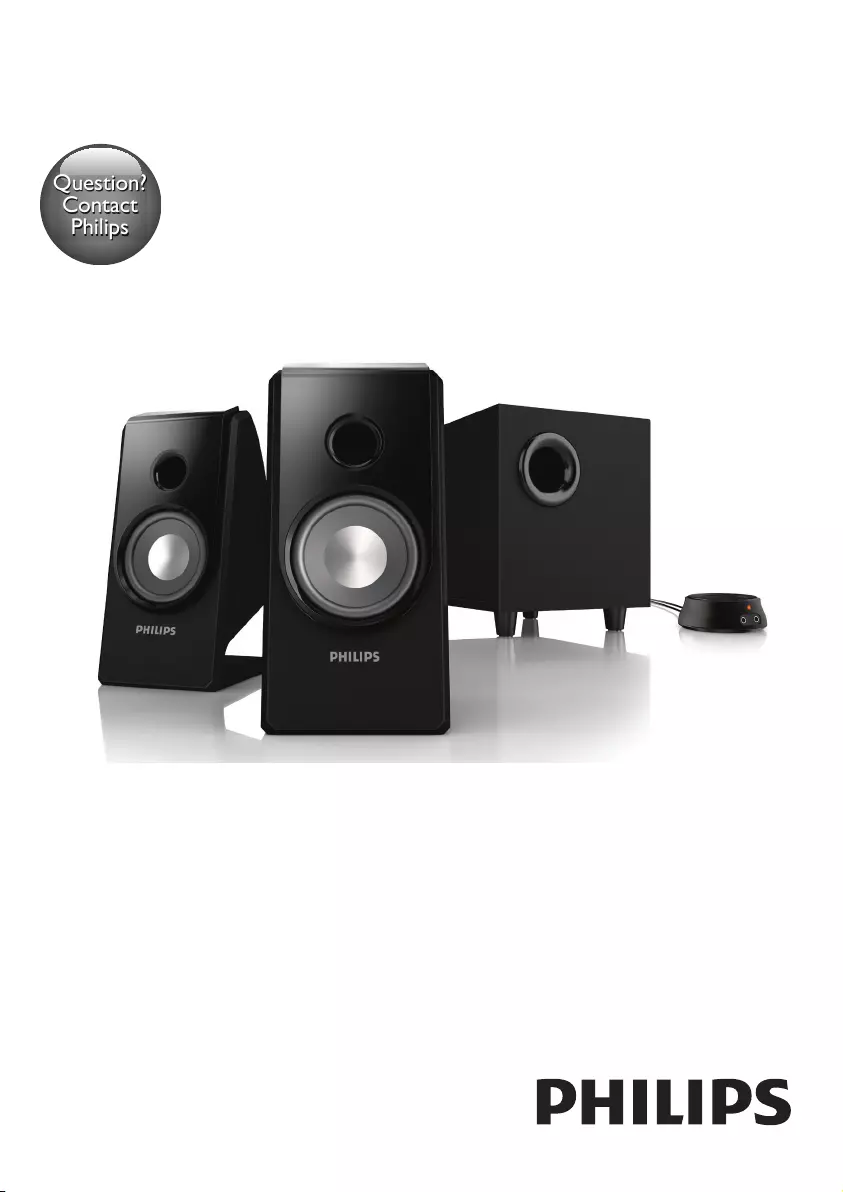 www.philips.com/welcome
User manual
Always there to help you
Register your product and get support at
SPA4355/37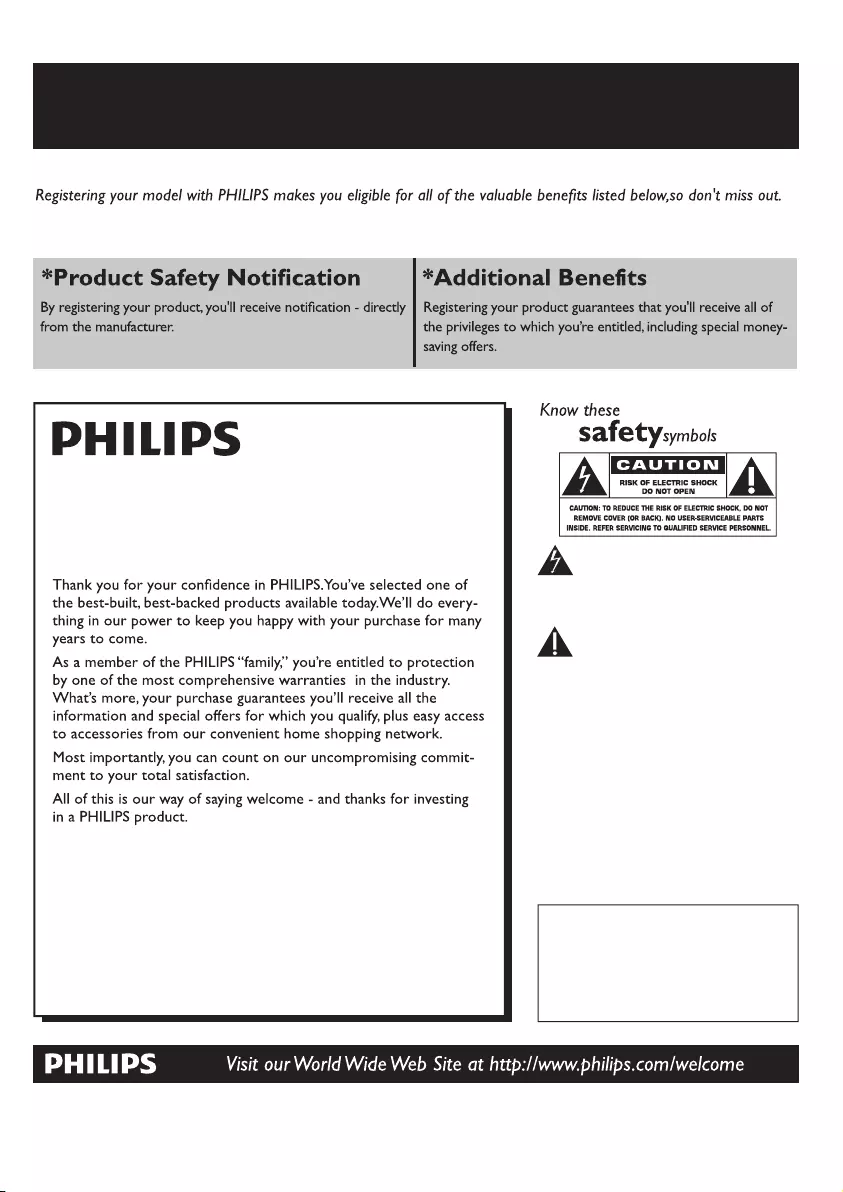 Register online at www.philips.com/
we
lcome today to
ge
t the ve

ry

most from

yo

ur purchase.
Enter below the Serial No
.w

hich is locat-
ed on the rear of the cabinet.
Retain this
information for futur
e
reference.
Model No.__________________________
Serial No.
________________________
This "bolt of lightning" indicates unin-
sulated material within
yo
ur unit may
cause an electrical shock
.F

or the safety of
ev
er

yo

ne in

yo

ur household,

please do not
The "exclamation point" calls atten-
tion to features for which
yo
u should
re
ad the enclosed literature closely to pre-
ve
nt operating and maintenance problems.
WARNING:
To

re

duce the risk of fire or
electric shock,
this apparatus should not be
exposed to rain or moistur
e
and objects
filled with liquids,
such as vases,
should not
be placed on this apparatus.
CAUTION:
To

pr

eve

nt electric shock,
match wide blade of plug to wide slot,
fully
insert.
ATTENTION
:P

our éviter les choc élec-
triques,
int
ro
duire la lame la plus large de la
fiche dans la borne correspondante de la
prise et pousser jusqu'au fond.
Congratulations on your purchas
e,
and welcome to the "family!"
Dear PHILIPS pr
oduct

ow

ne

r:
P.
S. To

ge

t the most from your PHILIPS purchase

,

be
su
re
to
re
gister online at

:
Register online at www
.philip

s.

com/welcome to ensure

: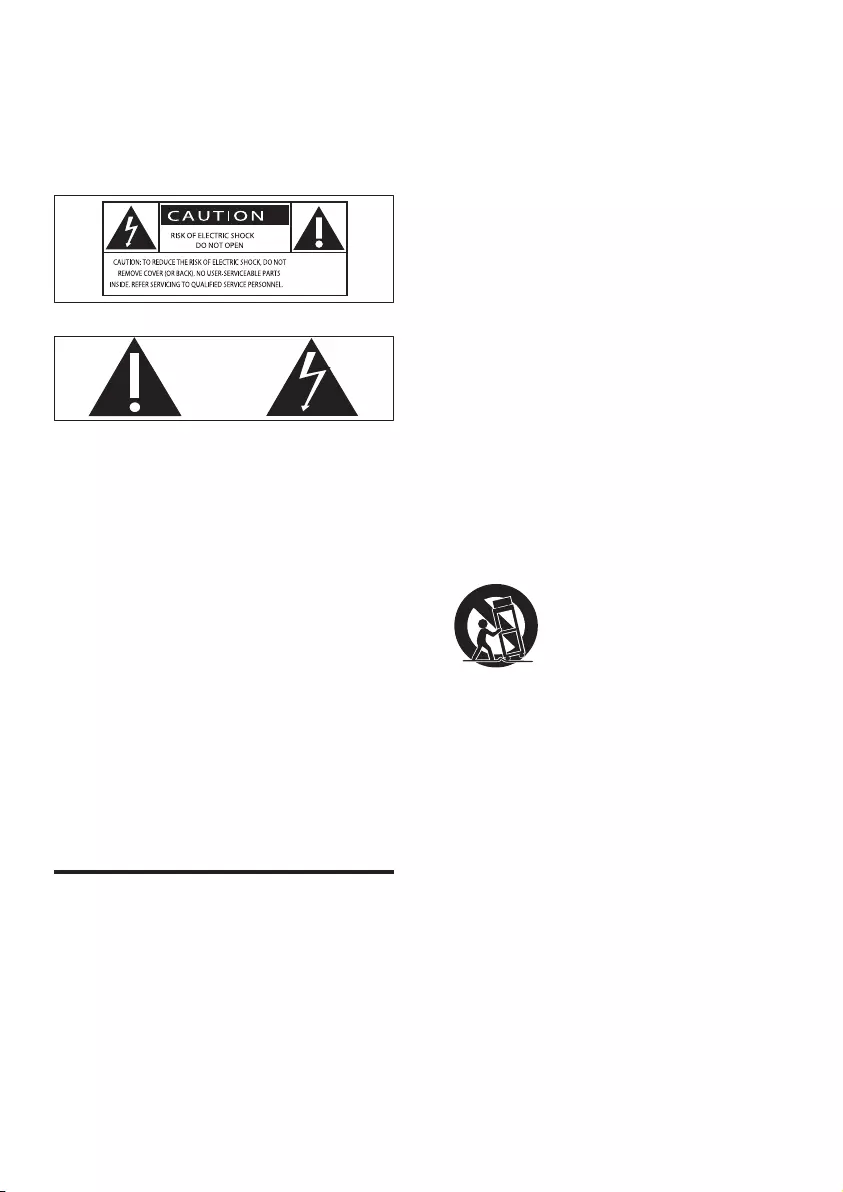 1 Important
Know these safety symbols
This 'bolt of lightning' indicates uninsulated
material within your unit may cause an electrical
shock. For the safety of everyone in your
household, please do not remove product
covering.
The 'exclamation point' calls attention to
features for which you should read the enclosed
literature closely to prevent operating and
maintenance problems.
WARNING: To reduce the risk of re or electric
shock, this apparatus should not be exposed to
rain or moisture and objects lled with liquids,
such as vases, should not be placed on this
apparatus.
CAUTION: To prevent electric shock, match
wide blade of plug to wide slot, fully insert.
Important Safety Instructions
a
Read these instructions.
b
Keep these instructions.
d
Follow all instructions.
e
Do not use this apparatus near water.
f
Clean only with dry cloth.
g
Do not block any ventilation openings.
Install in accordance with the
manufacturer's instructions.
h
Do not install near any heat sources such
as radiators, heat registers, stoves, or
other apparatus (including ampliers) that
produce heat.
i
Protect the power cord from being
walked on or pinched, particularly at
plugs, convenience receptacles, and the
point where they exit from the apparatus.
j
Only use attachments/accessories
specied by the manufacturer.
k
Use only with the cart, stand, tripod,
bracket, or table specied by the
manufacturer or sold with the apparatus.
When a cart is used, use caution when
moving the cart/apparatus combination to
avoid injury from tip-over.
l
Unplug this apparatus during lightning
storms or when unused for long periods
of time.
m
Refer all servicing to qualied service
personnel. Servicing is required when
the apparatus has been damaged in any
way, such as power-supply cord or plug
is damaged, liquid has been spilled or
objects have fallen into the apparatus, the
apparatus has been exposed to rain or
moisture, does not operate normally, or
has been dropped.
n
Apparatus shall not be exposed to
dripping or splashing. 3
English
EN
o
Do not place any sources of danger on
the apparatus (e.g. liquid lled objects,
lighted candles).
p
This product may contain lead and
mercury. Disposal of these materials
may be regulated due to environmental
considerations. For disposal or recycling
information, please contact your local
authorities or the Electronic Industries
Alliance: www.eiae.org.
q
Where the MAINS plug or an appliance
coupler is used as the disconnect device,
the disconnect device shall remain readily
operable.
Warning
•

Never remove the casing of this apparatus.
•

Never lubricate any part of this apparatus.
•

Never place this apparatus on other electrical
equipment.
Hearing safety
Listen at a moderate volume.
•
Using headphones at a high volume can
impair your hearing. This product can
produce sounds in decibel ranges that may
cause hearing loss for a normal person,
even for exposure less than a minute. The
higher decibel ranges are offered for those
that may have already experienced some
hearing loss.
•
Sound can be deceiving. Over time your
hearing 'comfort level' adapts to higher
volumes of sound. So after prolonged
listening, what sounds 'normal' can actually
be loud and harmful to your hearing. To
guard against this, set your volume to a safe
level before your hearing adapts and leave
it there.
To establish a safe volume level:
•
Set your volume control at a low setting.
•
Slowly increase the sound until you can
hear it comfortably and clearly, without
distortion.
Listen for reasonable periods of time:
•
Prolonged exposure to sound, even
at normally 'safe' levels, can also cause
hearing loss.
•
Be sure to use your equipment reasonably
and take appropriate breaks.
Be sure to observe the following guidelines
when using your headphones.
•
Listen at reasonable volumes for
reasonable periods of time.
•
Be careful not to adjust the volume as your
hearing adapts.
•
Do not turn up the volume so high that
you can't hear what's around you.
•
You should use caution or temporarily
discontinue use in potentially hazardous
situations.
Notice
Any changes or modications made to this
device that are not expressly approved by
Philips Consumer Lifestyle may void the user's
authority to operate the equipment.
Notice for the USA
This equipment has been tested and found
to comply with the limits for a Class B digital
device, pursuant to part 15 of the FCC Rules.
These limits are designed to provide reasonable
protection against harmful interference in a
residential installation. This equipment generates,
uses, and can radiate radio frequency energy
and, if not installed and used in accordance
with the instruction manual, may cause harmful
interference to radio communications. However, there is no guarantee that
interference will not occur in a particular
installation. If this equipment does cause harmful
interference to radio or television reception,
which can be determined by turning the
equipment off and on, the user is encouraged
to try to correct the interference by one or
more of the following measures:
•
Relocate the receiving antenna.
•
Increase the separation between
equipment and receiver.
•
Connect the equipment into an outlet on
a circuit different from that to which the
receiver is connected.
•
Consult the dealer or an experienced
radio/TV technician for help.
The set complies with the FCC-Rules, Part-
15. Operation is subject to the following two
conditions:
•
This device may not cause harmful
interference, and
•
This device must accept any interference
received, including interference that may
cause undesired operation.
Notice for Canada
This Class B digital apparatus complies with
Canadian ICES-003.
This device complies with Industry Canada
licence-exempt RSS standard(s): Operation
is subject to the following Two conditions:(1)
this device may not cause interference, and
(2) this device must accept any interference,
including interference that may cause undesired
operation of the device.
Disposal of your old product and
batteries
Your product is designed and manufactured
with high quality materials and components,
which can be recycled and reused.
Never dispose of your product with other
household waste. Please inform yourself about
the local rules on the separate collection of
electrical and electronic products and batteries.
The correct disposal of these products helps
prevent potentially negative consequences on
the environment and human health.
Please visit www.recycle.philips.com for
additional information on a recycling center in
your area.
Environmental information
All unnecessary packaging has been omitted.
We have tried to make the packaging easy to
separate into three materials: cardboard (box),
polystyrene foam (buffer) and polyethylene
(bags, protective foam sheet.)
Your system consists of materials which can
be recycled and reused if disassembled by
a specialized company. Please observe the
local regulations regarding the disposal of
packaging materials, exhausted batteries and old
equipment.
The making of unauthorized copies of copy-
protected material, including computer
programs, les, broadcasts and sound
recordings, may be an infringement of
copyrights and constitute a criminal offence.
This equipment should not be used for such
purposes.
Note
•

The type plate is located on the back of the device.

5
English
EN
speaker
Congratulations on your purchase and welcome
to Philips!
To fully benet from the support that Philips
offers, register your product at www.philips.
com/welcome.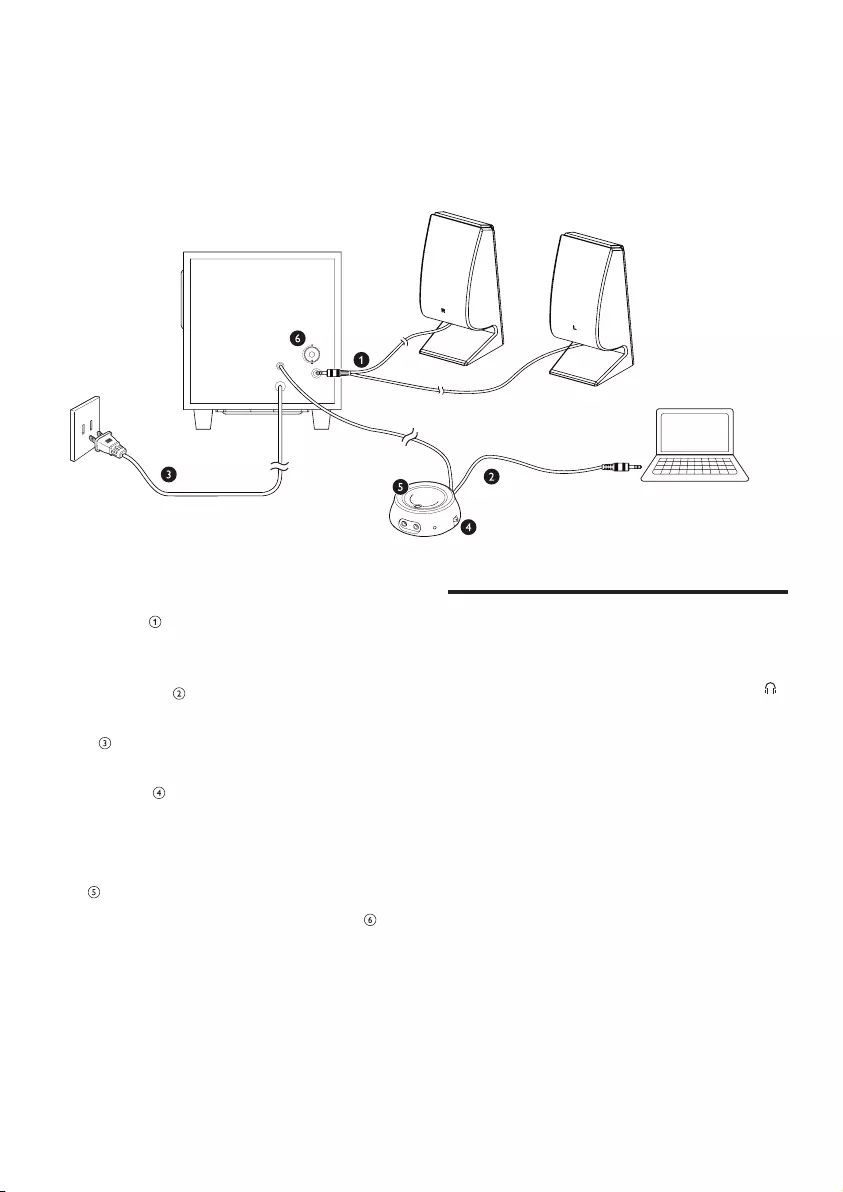 multimedia
speaker
1
Insert the speaker plug into audio output
2
Connect the audio input plug on remote
control to the audio output socket of your
3
Connect the AC plug to AC power socket
4
Turn the power button on remote control
»
Amber LED on the remote control
is on.
5
Adjust the volume by the remote control (
) or by the computer application.
6
Rotate

BASS

knob to adjust the bass (

).
7
After use, turn the power button on
remote control to
OFF
and unplug.
('99
S'
Optional function
•
To listen through a headphone:
Connect a headphone (not supplied) to the
socket.
•
To play music from an external audio
device such as an MP3 player
:
1
Connect an MP3 link cable (not supplied)
to the
AUX
socket and the headphone
socket on the device.
2
Play music from the device.

7
English
EN
4 Product
information
Specications:
AC power input
100-240V ~ 50/60Hz,
550mA
Operation power
consumption
<28W
Standby power
consumption
<0.5W
Operating temperature
0 to 40 degrees Celsius
Dimensions (W x H
x D)
Subwoofer: 190 x 200
x 225 mm
Speakers: 80 x 187 x
88 mm

5 Troubleshooting
To keep the warranty valid, never try to repair
the system yourself.
If you encounter problems when using the
product, check the following points before
requesting service. If the problem remains
unsolved, register your product and get support
at www.philips.com/support.
No sound
•

Make sure that the speaker is correctly
connected.
•

Adjust the volume of your PC.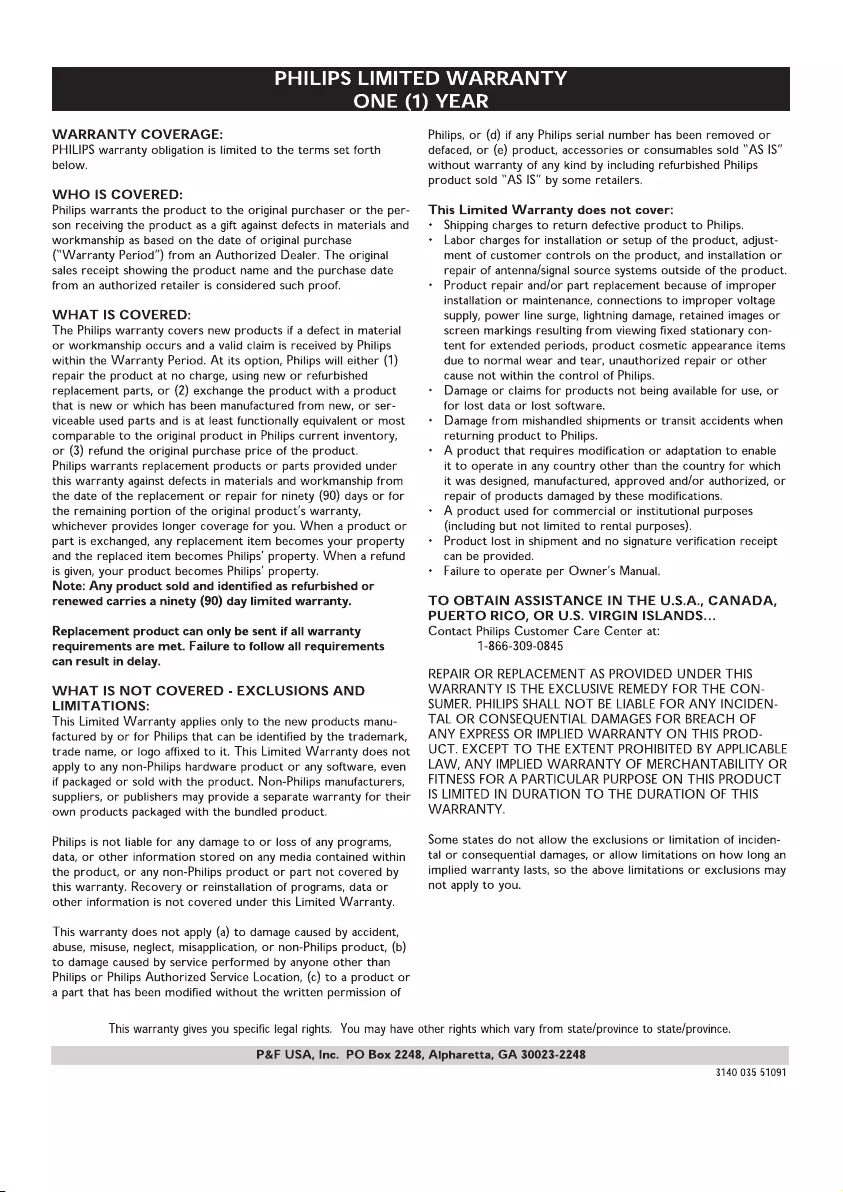 P&F USA, Inc. PO Box 2248, Alpharetta, GA 30023-2248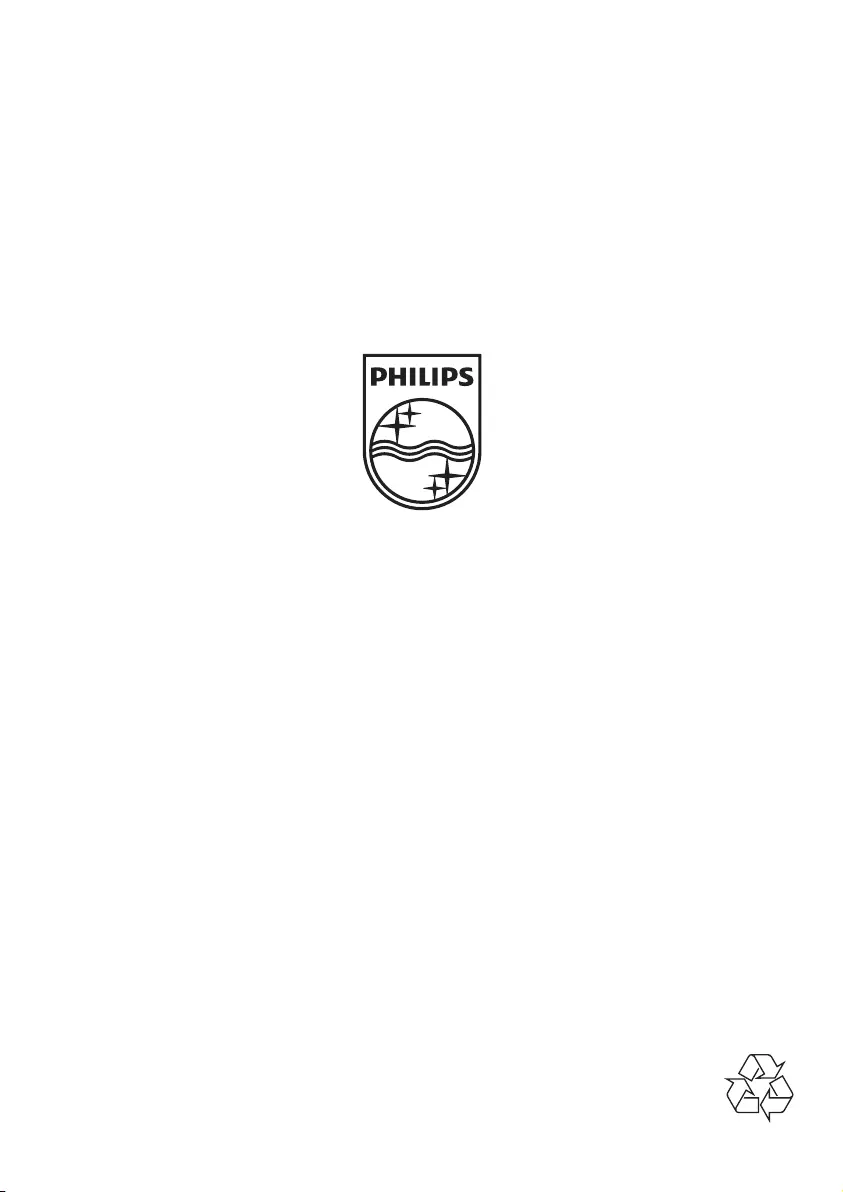 P&F USA Inc.
PO Box 2248
Alpharetta, GA 30023-2248
Phone 1 866 309 0845
Meet Philips at the Internet
http://www.philips.com/welcome
Specifications are subject to change without notice
© 2013 Koninklijke Philips Electronics N.V.
All rights reserved.
SPA4355_37_UM_EN_V1.0