Contour Design ROAM3 User Manual
Displayed below is the user manual for ROAM3 by Contour Design which is a product in the Action Sports Cameras category. This manual has pages.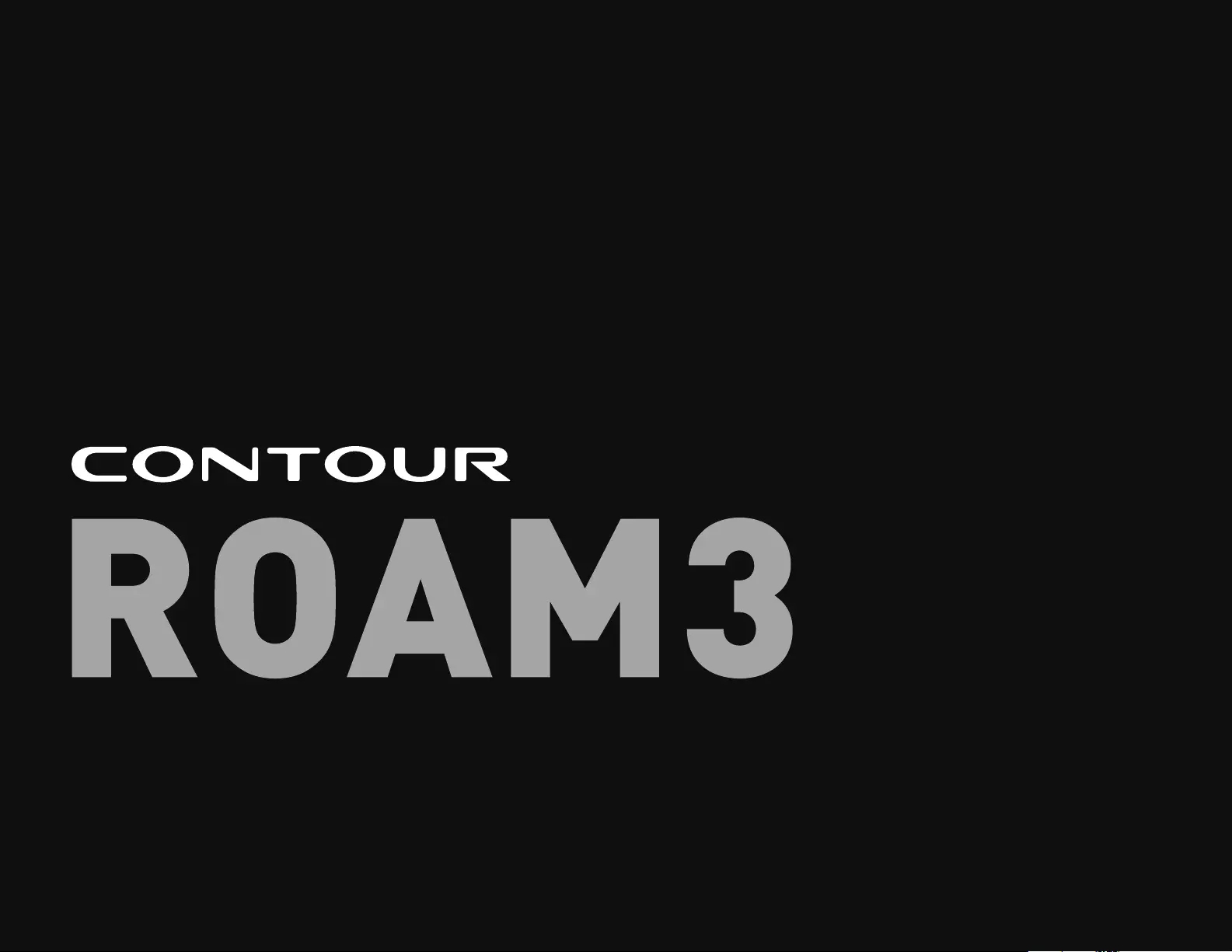 WATERPROOF HD ACTION CAMERA
USER MANUAL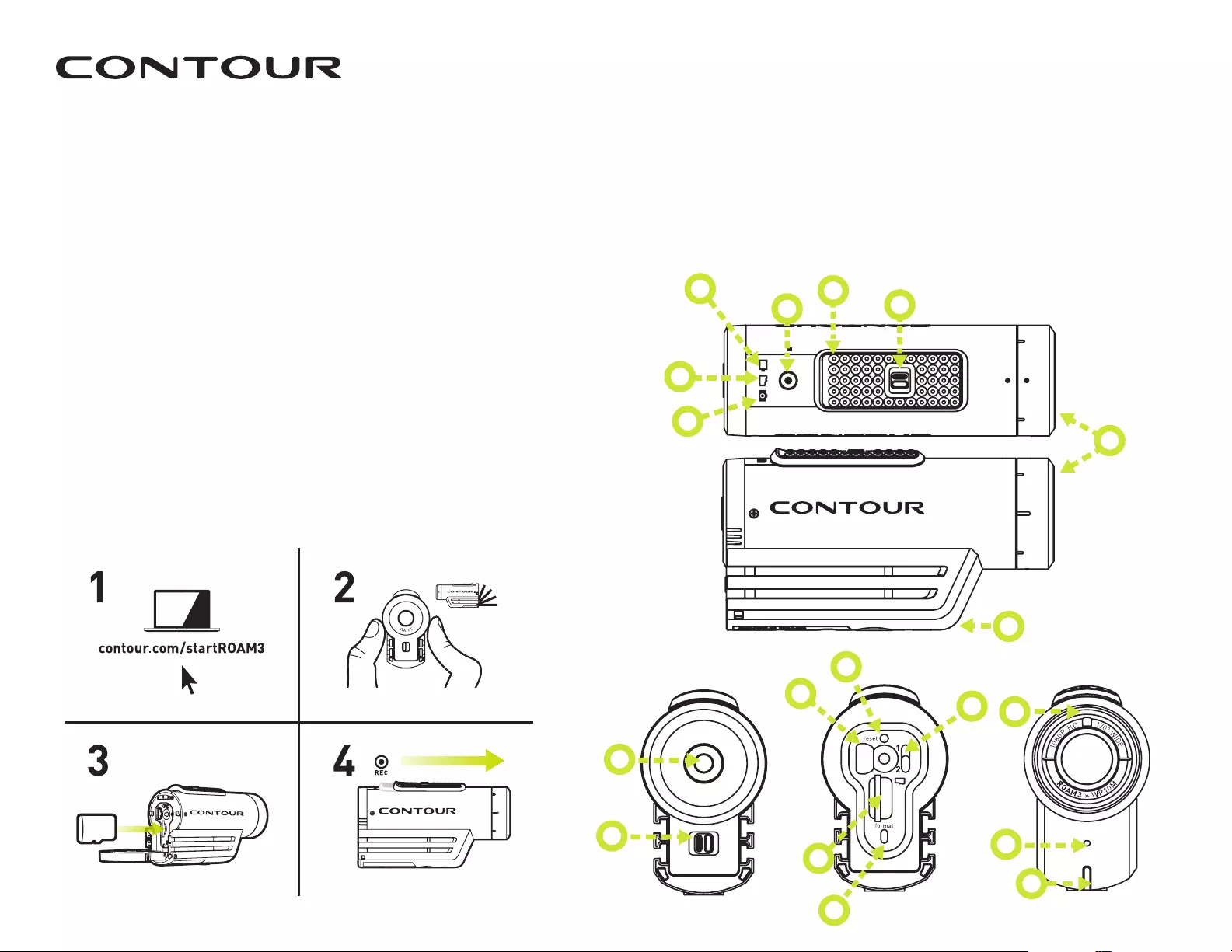 TABLE OF CONTENTS
CAMERA DIAGRAM KEY
E
Laser Line & Recording Indicator
QUICK START
1
Slide the Door Lock to the left so the
2
Slide the camera door up to open
3
Insert the microSD Card
5
Slide the Door Lock to the right
6
Slide the Record Slider
forward to record. Slide it back
7
Hold status button for three
seconds to engage photo mode
K
I
J
H
E
P
E
D
N
G
F
L
C
B
A
D
M
O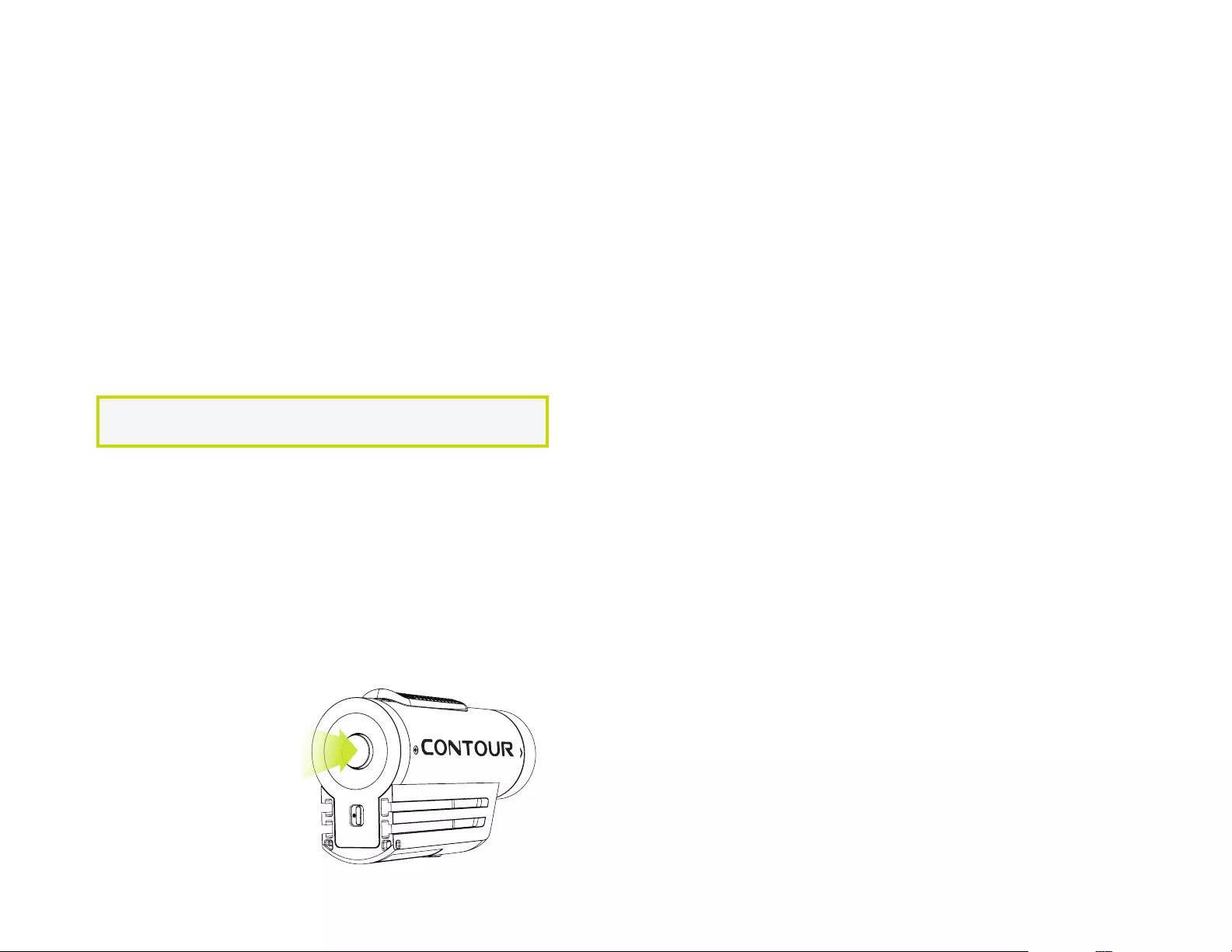 SETTING UP
Download Contour Storyteller to your PC/Mac from the Contour website. The
link below will help you set up your camera to make sure it is registered,
update the time on your camera, and get the settings dialed to your custom
configuration.
http://www.contour.com/startROAM3
CHARGING THE BATTERY
Slide the door up to open.
Connect your camera to a PC/Mac using the supplied USB Cable.
The Battery Status LED indicates the charge level of the battery. It will
change colors from red to green as the battery charges.
Charge is fully complete when the Battery Status LED turns green. This can
take up to three hours.
FORMATTING THE microSD CARD
Format the microSD Card prior to recording so your camera is able to
properly read and write to it.
Caution:
formatting the card will erase everything on it
Check that the Record Slider is in the off position. Open the back of your
camera then press and hold the Format Button until the camera beeps
(three to five seconds), then release the Format Button. The microSD Card
LED will flash while the card is formatting and then turn solid green when
the format is complete.
The ContourROAM3 is compatible with:
+ microSD compatability.
+ SDSC (standard capacity) 4GB class 4 card minimum.
+ SDHC (high capacity) class 4, 6, or 10 microSD Cards up to a maximum
capacity of 32GB.
Camera Status
Pressing the Status Button will:
+Activate the Laser Line for
15 seconds.
+ Display the current battery and
memory status.
MEMORY STATUS LED
Green: 50% or more
Yellow: 20 to 50%
Red: 20% or less
ERROR CONDITIONS
+Battery LED flashes red: the battery is almost empty.
+Memory LED flashes and there are continuous beeps: the microSD Card cannot
be accessed because the card is full, missing, or not properly formatted.
CAMERA SETTINGS
To adjust the settings on your camera, download and install the Contour Story
teller app to your PC/Mac.
http://contour.com/software/storyteller
With the camera connected to your computer, go to the Tools >> Configure
Camera menu in Contour Storyteller.
Here you can adjust:
Video:
1080p video at 30 frames per second (position 1 default)
960p video at 30 frames per second
720p video at 30 frames per second
720p video at 60 frames per second (position 2 default)
WVGA (480p) at 30 frames per second
WVGA (480p) at 60 frames per second
WVGA (480p) at 120 frames per second
Continuous Photo Mode (with photos taken every 1, 3, 5, 10, 30, or 60 seconds)
Audio
Mic sensitivity
Mic. Sensitivity
1-2 Switch
The 1-2 Switch on the back of your camera allows you to preset your Contour
ROAM3 with two different configurations that can be easily changed in the field.
The settings for each switch position can be set up using Contour Storyteller
RECORDING
+ Start Recording: Move the Record Slider Lock so that the red square is not
showing and then slide the Record Slider forward. Your camera will power on,
beep once, and the Record Status LED will turn red, indicating that the camera
is now recording a video.
+ Stop Recording: Slide the Record Slider back. Your camera will beep twice, and
the Record Status LED will switch off, indicating that your camera has stopped
recording and is powered off.
BATTERY STATUS LED
Green: 50% or more
Yellow: 20 to 50%
Red: 20% or less
Lighting
White-balance settings
Lighting Filter
Lights
LED and laser settings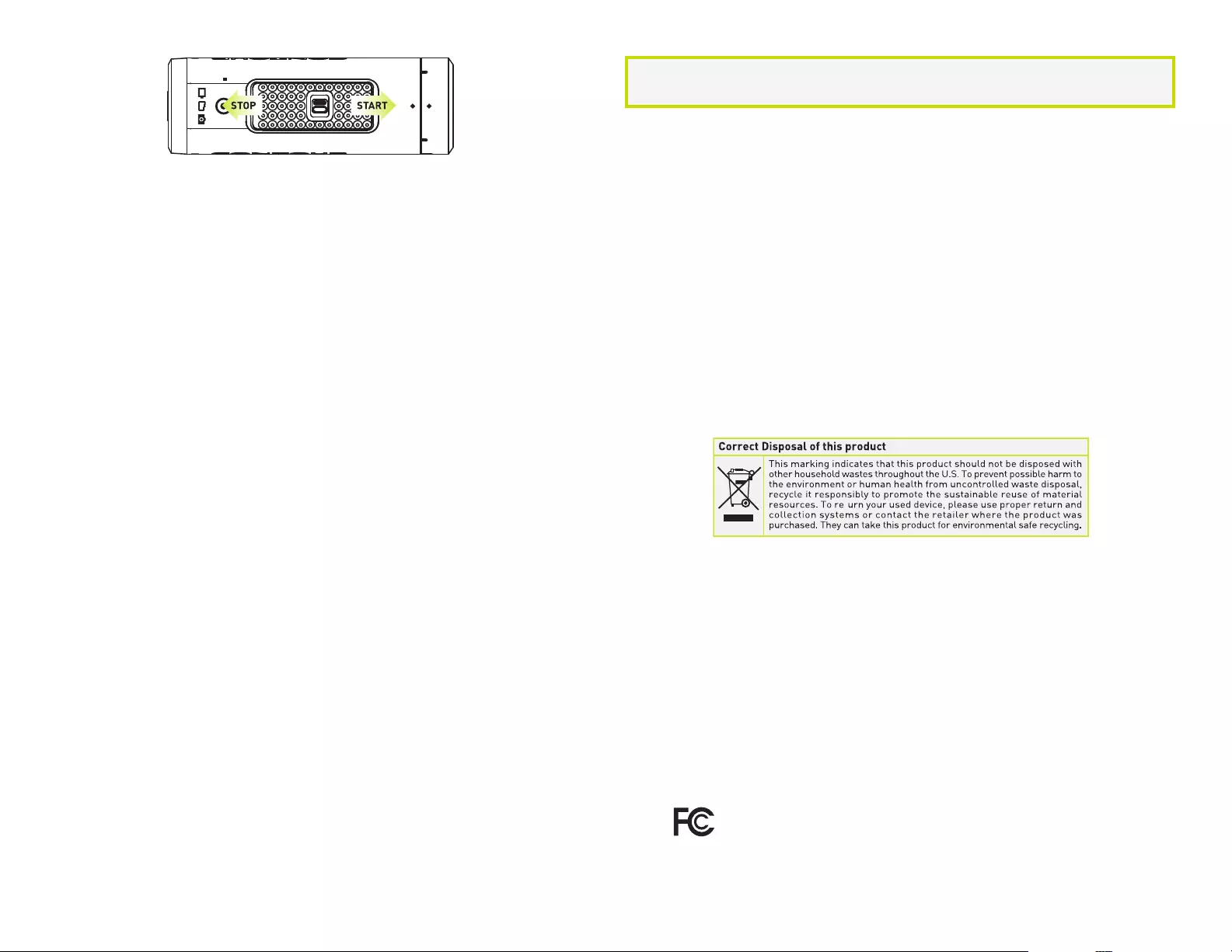 + Record Slider Lock: The small switch on top of the Record Slider is used
to keep the Record Slider from turning on or off. To move the Record Slider
forward or back, have the Record Slider Lock moved so that the red square is
not showing. To prevent the Record Slider from moving in either the record or
off positions, move the Record Slider Lock so that the red square is visible.
INSTANT PHOTO MODE
+ Activate Instant Photo Mode: Press and hold the Status Button for three
seconds. You will hear two beeps and see the photo LED turn green, indicating
that Instant Photo Mode has been activated.
+ Take photographs by pressing the Status Button. You will hear a beep and
the photo LED will flash to indicate that a photograph has been taken.
+ Turn off Instant Photo Mode: Turn off Instant Photo Mode by pressing and
holding the status button for two to four seconds. The camera will beep three
times and the photo LED will flash and then turn off, indicating that Instant
Photo Mode is turned off.
+ If a photo has not been taken for 60 seconds or longer, your camera will
automatically power down.
MOUNTING
Getting the best shot depends only on your creativity. Contour offers a wide range of
mounts that let you put the camera just about anywhere, so be creative.
Remember that your ContourROAM3 has a wide-angle lens and objects that are far
away will seem smaller than you expect in your videos.
ALIGNMENT
Your ContourROAM3 has a Laser Line that helps ensure you have the horizon properly
aligned in your videos. To use, activate the Laser Line by pressing the Status Button;
place your hand in front of the Laser Line or aim it on to a flat surface a few feet in
front of you and rotate the lens (up to 270°) until the Laser Line is horizontal. When
mounting the camera on your helmet or goggles, you may discover that you look down
more than you thought. It may take a few practice videos to find the right alignment.
ADHESIVE MOUNTS
Clean and dry the mounting surface before applying an adhesive mount. We suggest
cleaning the surface with a small amount of alcohol and applying the mount at room
temperature. Let the adhesive cure for 24 hours before use.
Read all safety information below and operating instructions
before using Contour ROAM3 camera to avoid injury
WATERPROOF
Your ContourROAM3 is waterproof to a depth of 10 meters (30 feet) without the use of
a waterproof case.
CAUTIONS AND WARRANTY
This
Important
Product
Information
Guide
contains
regulatory,
safety,
handling,
disposal and recycling information, as well as the 1 year limited warranty for your
ContourROAM3 camera. Read all safety information below and operating instructions
before using ContourROAM3 camera to avoid injury.
WARNING:
Failure
to
follow
these
safety
instructions
could
result
in
fire,
electric
shock, or other injury or damage.
BATTERY AND HANDLING
ContourROAM3
uses
a
non-removable,
non-changeable,
rechargeable
lithium-
ion, 3.7V, 1350mAh battery. The battery may present a hazard if mistreated. Do not
disassemble or crush the camera. To charge, only use the Contour USB Cable with a
high power USB port on a computer or other device that is compliant with the USB 2.0
or 1.1 standards, or a Contour wall, car, or battery charger.
DISPOSAL INFORMATION
Do not dispose of the ContourROAM3 camera in a fire. Dispose of the camera and its
internal battery in accordance with local laws and regulations.
LEASH USE: DO NOT ATTACH THE LEASH TO THE CAMERA WHEN THE CAMERA IS
MOUNTED ON HELMET OR GOGGLES, WHEN THE CAMERA WILL BE USED IN HIGH
WINDS OR AT HIGH VELOCITIES, OR IN ANY OTHER CIRCUMSTANC- ES WHEREBY
THE CAMERA COULD CAUSE INJURY OR HARM IN THE EVENT THAT IT COMES LOOSE
FROM THE MOUNT AND REMAINS TETHERED BY THE LEASH. BY ATTACHING THE
LEASH TO THE CAMERA, YOU AGREE TO WAIVE ANY CLAIMS AGAINST CONTOUR,
INC. AND ANY OF ITS AFFILIATES, AGENTS, EMPLOYEES, OFFICERS OR DIRECTORS
ARISING
FROM
THE
USE
OF
THE
LEASH.
ANY
CLAIMS
AGAINST
CONTOUR,
INC.
ANY OF ITS AFFILIATES, AGENTS, EMPLOYEES, OFFICERS OR DIRECTORS ARISING
FROM THE USE OF THE LEASH.
This device complies with Part 15 of the FCC Rules.

Operation is subject to the following two conditions:
+ This device may not cause harmful interference, and
+ This device must accept any interference received, including interference that may cause
undesired operation.
WARNING: Changes or modification to this unit not expressly approved by party responsible
for
compliance
could
void
the
user's
authority
to
operate
the
equipment.
Note:
This
equipment has been tested and found to comply with the limits for a Class B digital device,
pursuant to Part 15 of the FCC Rules. These limits are designed to provide reasonable
protection against harmful interference in a residential installation.
This equipment generates, uses and can radiate radio frequency energy and if not installed
and
used
in
accordance
with
instructions,
it
may
cause
harmful
interference
to
radio
communications. There is no guarantee that
interference
will
not occur in a particular
installation.
If
this
equipment
does
cause
harmful
interference
to
radio
or
television
reception,
which
can
be
determined
by
turning
the
equipment
off
and
on,
the
user
is
encouraged to try to correct the interference by one or more of the following measures:
+ Reorient or relocate the receiving antenna.
+ Increase separation between equipment and receiver.
+ Connect the equipment into an outlet on a circuit different from that to which the receiver
is connected.
+ Consult the dealer or an experienced radio/TV technician for help.
The CE symbol on your ContourROAM3 camera indicates that it is in compliance
with the Electromagnetic Compatibility (EMC) directive, and Limits and Methods of
Measurement of Radio Interference Characteristics of ITE.
Industry
Canada
This
Class
B
device
meets
all
requirements
of
the
Canadian
Interference-Causing Equipment Regulations.
Cet appareil numerique de la classe B respecte toutes les exigences du Reglement sur le
materiel broulleur du Canada.
Repairing
or
Modifying
Never
attempt
to
repair
or
modify
a
Contour
ROAM3
camera
yourself.
Disassembling
Contour
ROAM3
camera,
including
the
removal
of
external
screws, may cause damage that is not covered under the warranty. The Contour ROAM3
camera does
not
contain any
user-replaceable parts,
except
the
microSD
Card. RoHS
Contour ROAM3 cameras comply with the European Union's R0HS directive 2002/95/EC
and similar regulations that may be adopted by other countries for Europe an Sales.
CONTOUR,
LLC.
LIMITED
WARRANTY
Contour,
LLC.
("Manufacturer")
warrants
to
the
original end user ("Purchaser") that for the 1 year ("Warranty Period"), the Contour ROAM3
camera (excluding any third party software) and accessories ("Product") will be free from
defects in materials and workmanship when properly installed and used for its intended
purpose and in its intended operating environment. This warranty does not apply to any
Product that has been: (i) altered, repaired or modified or (ii) damaged or destroyed by
accidents or similar events or by any intentional, reckless or negligentacts or omissions of
any party. In the event of a defect, return the Product to the original place of purchase or
Manufacturer, but only after instructed to do so by Manufacturer.
Purchaser
shall
ship
and
bear
the
cost
of
shipping
the
Product
to
Manufacturer
and
Manufacturer shall bear the cost of shipping the Product back to Purchas- er after the
completion
of
service
under
this
limited
warranty.
Purchaser's
exclusive
remedy
and
Manufacturers entire liability under this warranty will be for Manufacturer at its option
to repair or replace the Product or refund purchase price less any rebates. Manufacturer
does not warrant against loss of any data (in cluding data stored on Product returned to
Manufacturer
for
service), and
assumes no
liability
for
such loss. Purchaser assumes
all liability, and as such releases Manufacturer from any liability, for any accident, injury,
damage, death, loss, illegal activity or any other claim that may occur resulting from or
during use of the Product, whether or not such use is foreseeable by Manufacturer.
ALL IMPLIED WARRANTIES OF MERCHANTABILITY OR FITNESS FOR A PAR- TICULAR
PURPOSE ARE LIMITED TO THE DURATION OF THE APPLICABLE EXPRESS WARRANTY.
ALL OTHER EXPRESS OR IMPLIED CONDITIONS, REPRESENTATIONS AND WARRANTIES,
INCLUDING
ANY
IMPLIED
WARRANTY
OF
NON-INFRINGEMENT,
ARE
DISCLAIMED.
Some jurisdictions do not allow limitations on how long an implied warranty lasts, so the
above limitation may not apply to Purchaser. This warranty gives Purchaser specific legal
rights, and Purchaser may also have other rights which vary by jurisdiction.
All third party software provided with the Product is provided "AS IS". Purchaser assumes
the entire risk as to the quality, performance, accuracy and effect of such software, and
should it prove defective, Purchaser, and not Manufacturer, assumes the entire cost of all
necessary servicing or repair.
TO THE EXTENT NOT PROHIBITED BY LAW, IN NO EVENT WILL
MANUFACTURER BE LIABLE FOR ANY LOST DATA, REVENUE OR PROFIT, OR FOR SPECIAL,
INDIRECT,
CONSEQUENTIAL,
INCIDENTAL
OR
PUNITIVE
DAMAGES,
HOWEVER
CAUSED
REGARDLESS OF THE THEORY OF LIABILITY, ARISING OUT OF OR RELATED TO THE USE OF
OR INABILITY TO USE THE PRODUCT, EVEN IF MANUFAC- TURER HAS BEEN ADVISED OF THE
POSSIBILITY OF SUCH DAMAGES. IN NO EVENT WILL MANUFACTURER'S LIABILITY EXCEED
THE AMOUNT PAID BY PURCHASER FOR THE PRODUCT.
The foregoing limitations will apply even if any warranty or remedy provided under this
Agreement fails of its essential purpose. Some jurisdictions do not allow the exclusion or
limitation of incidental or consequential damages, so the above limitation or exclusion may
not apply to Purchaser.
Contour Disclaimer All purchasers, users, and any or all parties involved or engaging in
the use of Contour, LLC. ("Contour") products agree to the following:
+ Contour does
not promote or
endorse high
risk, careless
and/or dangerous
actions
when using its products.
+ Contour is not liable for any use or misuse of Contour Products or any video captured
that may be considered illegal.
+ Contour is not responsible for any illegal actions taken while recording, attempting to
record, or editing video that was captured with our products.
+ Contour Products' primary purpose is recording legal sports activities as seen by all
Local, State, Federal, and Country laws.
Contour Hands-free Camera and/or associated software and other Contour products are
protected by copyright, international treaties, and various patents, including: U.S. patents:
D616006 and D621435. Other patents are registered or pending in the U.S. and in various
countries around the world. Visit contour. com for a list of applicable patents.
All
trademarks
and
registered
trademarks
mentioned
herein
are
recognized
as
the
property
of
their
respective
holders.
ContourROAM3
is
a
product
of
Contour,
LLC.
in
Seattle, Washington. http://contour.com ©2014 Contour, LLC. All rights reserved.
WE ARE HERE TO HELP
If service is required on your camera or accessory, contact our Technical Support team for
troubleshooting or to obtain an RMA Number (Return Materials Authorization) if needed.
You will be asked to provide a proof of purchase at this time.
Please do not send any product back to Contour without first obtaining an RMA Number or
Sales Return Authorization directly from Contour. Contour will, at its
sole discretion,
replace or repair the product.
Email: support@contour.com Web: http://contour.com/support