Philips AVENT SCD150/71 User Manual
Displayed below is the user manual for SCD150/71 by Philips AVENT which is a product in the Thermal Bags category. This manual has pages.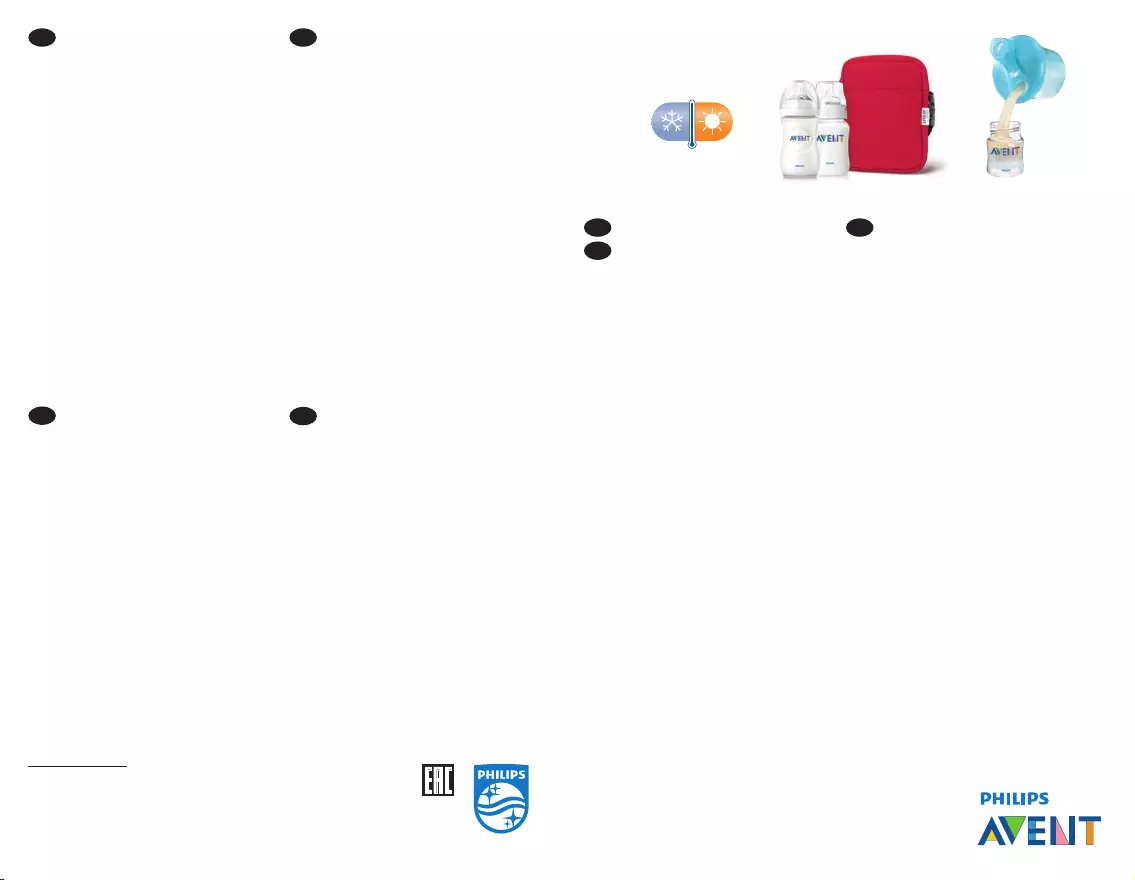 PL
Przeznaczona do przechowywania butelek Philips
AVENT, pojemników
VIA i

Magicznych

kubków-
niekapków ze SCHŁODZONYM pokarmem/
mieszanką LUB przegotowaną GORĄCĄ wodą,
do 4 godzin. NIE WOLNO przechowywać
WRZĄTKU/BARDZO GORĄCEJ wody,
ponieważ może to spowodować zniszczenie
wewnętrznej okładziny Termotorby.
Termotorbę można myć wilgotną ściereczką przy
użyciu delikatnych środków myjących. Należy
wycierać wnętrze termotorby po każdym użyciu.
NIE WOLNO zanurzać w wodzie. Unikać
pozostawiania na pełnym słońcu. W ekstremalnych
temperaturach działanie produktu może być
zakłócone.Przechowywać poza zasięgiem dzieci.
Aby uniknąć ryzyka zepsucia się mieszanki,
producenci mieszanek mlecznych zalecają ich
przygotowanie bezpośrednio przed podaniem
dziecku. Należy wsypać odmierzoną ilość
mieszanki w proszku do przegotowanej ciepłej
wody. Należy ZAWSZE sprawdzać temperaturę
wody. Gotowy, ciepły pokarm podać w ciągu
1 godziny, później wyrzucić. Do przewożenia
odmierzonych porcji mieszanki służy pojemnik
do mleka w proszku Philips AVENT.
Jeśli chcesz uzyskać więcej informacji o
produktach Philips AVENT zadzwoń:
Tel: 22 397 15 06
Philips AVENT
biberonlar, VIA
Kaplar ve Magic
sihirli bardaklar için özel tasarlanmıştır. SOĞUK,
sağılmış
anne sütünü / formül mamayı VEYA
kaynatılmış SICAK suyu 4 saate kadar saklamak
içindir. Ürünün astarını eritebileceğinden,
KAYNAR/ÇOK SICAK su koymayın.
Thermabag haf sabunlu nemli bezle silinerek
temizlenebilir. Her kullanımdan sonra, varsa astardaki
süt damlalarını silin. thermabag' i suya sokmayın.
Doğrudan güneş ışığı altında bırakmayın. Çok
yüksek sıcaklıklarda thermabag' in işlevi etkilenebilir.
Çocukların erişiminden uzak tutun.
Bebek formül mama üreticileri, dışarıda
bulunduğunuz sürece besinin bozulmaması için
mamanın, ihtiyaç olduğunda hemen öğün öncesinde
yapılmasını önermektedirler. Bebeğinizin beslenme
zamanı geldiğinde, kaynatılmış ılık suya gerekli formül
mamayı ekleyin ve karıştırın. Her zaman bebeğinize
vermeden önce besinin ısısını kontrol edin. Artan
mamalar 1 saat sonra atılmalıdır. Gerekli öğünler için
ölçülmüş formül mamayı yanınızda taşımak amacıyla
Philips AVENT mama ölçek kabını kullanabilirsiniz.
Philips AVENT yardım için yanınızda:
Tel: 444 7 445
TR
Thermabag je vhodný pro kojenecké láhve Philips
AVENT, VIA
systém a kouzelné hrnečky

Magic cup. Je
vhodný pro uskladnění studeného mateřského mléka
nebo horké vody až po dobu 4 hodin. Nevkládejte
nádoby s vroucí nebo velmi horkou vodu, která by
mohla způsobit roztavení vnitřního potahu.
Thermabag můžete vyčistit vlhkou tkaninou
s mýdlovou vodou. Čistěte všechny nečistoty
na vnitřním potahu po každém použití.
Nenamáčejte celý thermabag do vody.
Vyvarujte se ponechání thermabag na přímém
slunci. Extrémně vysoké teploty mohou ovlivnit
jeho funkci. Uchovávejte jej mimo dosah dětí.
Výrobci sušené dětské stravy doporučují
připravit pokrm až před krmením.
Dlouhodobým skladováním hotového pokrmu
vzniká riziko rozkladu mléka. Sušené mléko
přidejte do převařené vody, až když chcete Vaše
dítě nakrmit.Před použitím vždy kontrolujte
teplotu vody. Tepelně upravenou stravu, kterou
nespotřebujete během jedné hodiny, vyhod'te.
Při cestování použijte pro správné odměření
dávky dávkovač sušeného mléka Philips AVENT.
Dalši informace o Philips AVENT:
Tel: 286 854 441-3
CZ
Az Philips AVENT cumis üvegek, a VIA poharak és
Varázsitatók tárolására alkalmas. A HIDEG lefejt
anyatej/tápszer, VAGY a MELEG víz hőmérsékletét
4 órán át megtartja. NE tároljon benne
FORRÁSBAN LÉVŐ VAGY NAGYON FORRÓ
VIZET, mert a belseje megolvadhat.
A thermabag termosztáska könnyen tisztítható
langyos, szappanos vízzel, vagy nedves ruhával.
A belsejét mindig gondosan tisztítsa meg az
esetlegesen kicsöpögő tejtől. NE áztassa vízbe! Ne
tegye ki erős napsütésnek! Szélsőséges hőmérsékleti
viszonyok között a thermabag hőtartó képessége
változhat. Tartsa távol a gyermekektől!
A tápszer gyártó cégek azt javasolják, hogy a baba
ételét csak akkor készítse el, amikor szükséges,
nehogy tönkre menjen. Etetés előtt adja a
tápszert a már előre felforralt vízhez. MINDIG
ellenőrizze a víz hőmérsékletét az étel elkészítése
előtt! A meleg, elkészített ételt egy órán belül
használja fel, azután öntse ki. Az előkészített
tápszert megfelelő adagokban az Philips AVENT
tejpor adagolóban tudja tárolni és szállítani.
Philips AVENT elérhetősége,
ha segítségre van szüksége:
Tel: 06 1 700 81 52
HU
Designed to hold Philips AVENT bottles, milk
storage cups and spout cups. For storage of
COLD expressed breast milk/formula OR
pre-boiled HOT water for up to 4 hours. DO
NOT store BOILING/VERY HOT water as this
will cause the lining to melt.
The thermabag/thermal tote can be wiped
clean with mild soapy water on a damp cloth.
Clean the internal lining of any milk spills after
each use. DO NOT soak the thermabag/
thermal tote in water. Avoid leaving in direct
sunlight. In extreme temperatures, the
performance of the thermabag/thermal tote
may be affected. Keep out of reach of children.
Infant formula manufacturers recommend
feeds be made up when needed, to avoid
the risk of the milk going off while you are
out and about. Add formula milk powder
to the pre-boiled warm water when your
baby is ready to feed. ALWAYS check the
water temperature before use. Use warm
made-up feeds within one hour, then discard.
To transport pre-measured doses of formula,
use the Philips AVENT milk powder/powder
formula dispenser.
Philips AVENT is here to help:
GB: 0844 33 80 489 5 pence/minute
IRL: 0818 21 01 41 national call rate
AU: 1300 363 391 (option 3)
USA: call toll-free 1.800.54.AVENT
USA: Philips Consumer Lifestyle, a Division of
Philips Electronics North America Corporation,
P.O. Box 10313, Stamford, CT 06904.
GB
Conçu pour contenir biberons Philips AVENT,
pots VIA et tasses Philips AVENT Magic. Pour la
conservation de lait maternel ou articiel FROID
ou bien d'eau CHAUDE pendant 4 heures. NE PAS
y placer d'eau BOUILLANTE / TRÈS CHAUDE qui
risquerait de faire fondre la doublure.
Le thermabag / thermal tote est un sac isotherme
qui se nettoie à l'eau légèrement savonneuse,
avec un chiffon. Essuyez les éventuelles
éclaboussures de lait sur la doublure après chaque
utilisation. NE PAS immerger le thermabag/thermal
tote dans l'eau. Évitez de l'exposer aux rayons du
soleil. Des extrêmes de températures peuvent
affecter les performances du thermabag/thermal
tote. Tenir hors de portée des enfants.
Les fabricants de lait articiel conseillent de
préparer les biberons au dernier moment, pour
éviter la prolifération de microbes dans le lait
pendant vos déplacements. Versez le lait en poudre
dans de l'eau chaude juste avant la tétée. Vériez
TOUJOURS la température de l'eau avant de
l'employer. Ne donnez pas un biberon de lait tenu
au chaud plus d'une heure après sa préparation.
Pour transporter des doses de poudre pré-
mesurées, utilisez le doseur de lait Philips AVENT.
Philips AVENT est là pour vous aider:
FR : 01 57 32 40 51 (coût d'un appel local sauf
surcoût éventuel selon opérateur)
CH: 056 266 56 56 tarif réseau xe Suisse
BE: 070 700 036 (€.15/min)
LU: 070 700 036 (coût d'un appel local)
CA/USA : Appelez sans frais au : 1.800.54.AVENT
Canada: Philips Electronics Ltd, 281 Hillmount Road,
Markham, ON L6C 2S3.
FR
EN
4213.354.3580.2
Trademarks owned by the Philips Group. © 2013 Koninklijke Philips N.V. All Rights Reserved.
Las marcas son propiedad del Philips Group. © 2013 Koninklijke Philips N.V. Todos los Derechos Reservados.
Les marques de commerce sont la propriété du Groupe Philips. © 2013 Koninklijke Philips N.V. Tous droits réservés.
www.philips.com/AVENT
Philips Consumer Lifestyle BV, Tussendiepen 4, 9206 AD Drachten, The Netherlands
Trademarks owned by the Philips Group.
©2014 Koninklijke Philips N.V. All rights reserved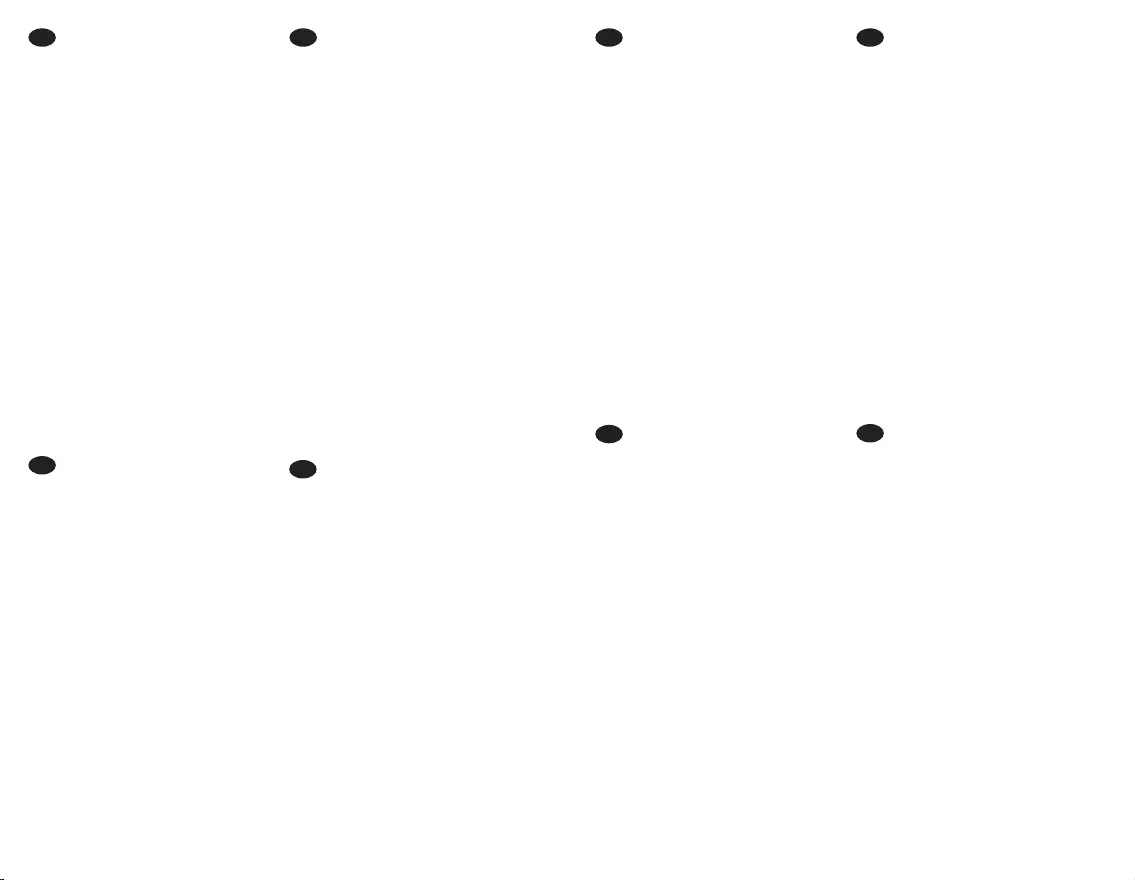 DE
Speziell entwickelt für Philips AVENT Flaschen, VIA
und Magic Becher. Zur Aufbewahrung von KALTER
abgepumpter Muttermilch/ Milchpulvernahrung
ODER vorher abgekochtem, HEISSEM Wasser – bis
zu 4 Stunden. Bewahren Sie KEIN KOCHENDES
ODER SEHR HEISSES Wasser im Thermabag auf,
da dies das Futter schmelzen kann.
Das Thermabag kann mit einem mit milder
Seifenlauge getränkten Lappen feucht abgewischt
werden. Entfernen Sie bitte nach jeder Benutzung
etwaige Milchreste vom Innenfutter. Das
Thermabag NICHT in Wasser einweichen.
Vermeiden Sie es, das thermabag in direkter
Sonneneinstrahlung aufzubewahren. Bei extremen
Temperaturen kann die Leistung des Thermabag
beeinträchtigt werden. Von Kindern fernhalten.
Milchpulverhersteller empfehlen, Mahlzeiten erst kurz
vor Gebrauch zuzubereiten, um zu verhindern, dass
die Milch schlecht wird, während Sie unterwegs sind.
Mischen Sie Milchpulver mit vorher abgekochtem,
warmem Wasser, wenn Ihr Baby bereit ist für seine
Mahlzeit. Überprüfen Sie vor JEDER Benutzung
die Wassertemperatur. Warme, fertig zubereitete
Mahlzeiten innerhalb einer Stunde aufbrauchen,
Reste danach wegschütten. Benutzen Sie den Philips
AVENT Milchpulverspender, um vorher abgemessene
Portionen Milchpulver zu transportieren.
Philips AVENT hilft Ihnen gerne weiter unter:
DE: 040 80 80 10 9 80 (Mobiltarife können abweichen)
AT: 01 546 325 103 (Mobiltarife können abweichen)
CH: 056 266 56 56 Schweizer Festnetztarif
De thermabag is geschikt voor Philips AVENT
Zuigessen, VIA en Magic drinkbekers en houdt
KOUDE moedermelk/essenvoeding maximaal 4
uur koel OF WARM water tot 4 uur warm. Plaats
geen essen/bekers met kokend water in de tas,
het gebruik van te heet water kan beschadiging
van de voering tot gevolg hebben.
De thermabag kan worden schoongemaakt met een
vochtig doekje. Wanneer melk in de tas is gemorst,
maak dan de binnenvoering na gebruik schoon. Laat de
thermabag niet in water weken. Niet in direct zonlicht
bewaren. Bij extreme temperaturen kunnen de
isolerende eigenschappen van de thermabag worden
beïnvloed. Buiten het bereik van kinderen houden.
Fabrikanten van melkpoeder adviseren om melk
vlak voor gebruik aan te maken. Op deze manier
kan de melk onderweg niet bederven. Wanneer u
uw kindje wilt voeden voegt u de melkpoeder toe
aan voorgekookt warm water. Controleer ALTIJD
de temperatuur van de voeding vóór het voeden.
Gebruik warme melk aangemaakt met melkpoeder
binnen één uur, daarna weggooien. Gebruik de Philips
AVENT melkpoeder reisbox voor het vervoeren van
afgemeten hoeveelheden melkpoeder.
Philips AVENT is er om u te helpen:
Telefoonnummer Philips AVENT informatielijn:
NL: 0900-2021177 (€.10/min)
BE: 070 700 036 (€.15/min)
ES
NL
Ideata per contenere i biberon Philips AVENT, VIA
e la Tazza Magica. Per mantenere il latte materno
o articiale FREDDO, o l'acqua precedentemente
bollita
CALDA, no a 4 ore. Fare attenzione che
l'acqua non sia troppo calda o bollente, potrebbe far
fondere e deformare la rivestitura interna.
La borsa termica -thermabag di Philips AVENT
può essere pulita con un panno inumidito con
acqua
leggermente saponata. Dopo l'uso si consiglia
di pulire il rivestimento interno da residui o perdite
di latte. NON immergere la borsa termica nell'acqua.
Non esporre direttamente alla luce del sole. Eventuali
temperature estreme potrebbero alterare le proprietà
della borsa termica. Tenere fuori dalla portata dei bambini.
I produttori di latte articiale raccomandano di
preparare le poppate solo quando è necessario,
per evitare che il latte perda le sue proprietà o si
alteri mentre sei fuori. Aggiungere latte articiale in
polvere ad acqua calda precedentemente bollita
solo quando il bimbo vuole la poppata. Controllare
sempre la temperatura dell'acqua prima di
preparare la poppata. Gettare il latte articiale già
preparato e inutilizzato dopo un'ora. Per trasportare
le dosi pre-misurate di latte articiale, usare il
dosatore di latte in polvere Philips AVENT.
Philips AVENT é qui per aiutarti:
IT: 02 45 27 90 74 chiamata nazionale
(potrebbero essere applicati costi addizionali se
previsti dal tuo piano tariffario)
CH: 056 266 56 56 chiamata nazionale
IT
PT
Desenhado para transportar biberões Philips
AVENT, Sistema VIA e Cops Mágicos. Para
armazenamento de leite materno frio, leite em
pó frio ou água fervida quente até 4 horas. Não
armazene àgua a ferver porque pode danicar o
interior do thermabag.
O thermabag pode ser limpo com um pano
húmido. Limpe o interior de possivéis salpicos
depois de cada utilização. Não coloque o thermabag
em contacto com àgua. Evite o contacto directo
com a luz solar. Com temperaturas ambiente muito
elevadas a performance do thermabag pode ser
afectada. Manter afastado das crianças.
Os fabricantes de leite em pó recomendam,
preparar o leite só quando for para dar ao bebé,
para evitar que se estrague. Adicione água já
fervida e quente ao leite em pó, só quando for
dar ao bebé. Vericar sempre a temperatura do
líquido antes de dar ao bebé. Biberões quentes
já preparados consumir dentro de uma hora,
senão deite fora. Para transportar as doses do
leite em pó, use o dispensador de leite em pó
da Philips AVENT.
Com Philips AVENT estamos para ajudar:
Numero verde em Portugal Tel: 707 780 226
(Consulte custos adicionais com o seu operador)
Designad speciellt för Philips AVENT askor,
VIA och Magic cups. För förvaring av KALL
utpumpadbröstmjölk/modersmjölksersättning
ELLER förkokt VARMT vatten i upp till 4
timmar. Förvara INTE KOKANDE/MYCKET
VARMT vatten i produkten eftersom detta kan
orsaka att plasten smälter.
Thermabag kan torkas ren med en trasa med
mild såpa och vatten. Torka bort utspilld mjölk
på insidan efter varje användning. Doppa INTE
thermabag i vatten. Undvik att utsätta den för
solljus. I extrema temperaturer kan utseendet
på thermabag förändras. Förvaras utom
räckhåll för barn.
Producenter av modersmjölksersättning
rekommenderar att man blandar tíll maten
direkt när den ska ätas, för att undvika risken att
mjölken surnar när du är ute och reser.Blanda
mjölkpulvret med förkokt varmt vatten när
din baby är redo att äta. Kontrollera ALLTID
vattentemperaturen föreanvändning. Använd
uppvärmd mat inom en timme, kasta den sedan.
Använd Philips AVENT mjölkpulverdoserare för
att transportera uppmätta doser av mjölkpulver.
Philips AVENT nns till för att hjälpa:
Marknadsförs av Valora Trade Sweden AB,
Stockholm. Tlf: 0857 92 90 67 (national samtal)
SV
Designet for å oppbevare Philips AVENT asker,
VIA and Magic cups. For oppbevaring av KALD
brystmelk/morsmelkerstatning ELLER kokt
VARMT vann i inntil 4 timer. IKKE oppbevar
KOKENDE/VELDIG VARMT vann da dette vil
medføre at fôret smelter.
Thermabag kan tørkes ren ved bruk av mildt
såpevann på en fuktig klut. Vask fôret på innsiden
rent for melkesøl etter bruk. IKKE gjør thermabag
gjennomvåt. Unngå å etterlate thermabag i direkte
sollys. Ved ekstreme temperaturer vil yteevnen til
thermabag kunne påvirkes. Holdes i avstand fra barn.
Produsenter av morsmelkerstatning anbefaler
at måltider lages ved behov, dette for å unngå
at melken blir sur når man er ute på tur.
Tilsett morsmelkerstatning i kokt og varmt
vann når barnet ditt skal ha mat. Sjekk ALLTID
temperaturen på vannet før bruk. Bruk erdiglaget
morsmelkerstatning innen en time, og kast
restene. For å transportere ferdig oppmålte doser
med morsmelkerstatning, bruk Philips AVENT
melkepulver/morsmelkerstaning dispenser.
For mer informasjon om den komplette
Philips AVENT serien av asker og
Tlf: 22 97 19 50 nasjonal takst (mobiler varierer)
NO
Вмещает бутылочки Philips AVENT,
контейнеры VIA, Волшебные чашки. Можно
хранить ХОЛОДНОЕ грудное молоко
или молочную смесь, а также ГОРЯЧУЮ
кипяченую воду в течение 4 часов.
Поддерживать Термосумку в чистоте
очень просто, достаточно протирать ее
тканью, смоченной в мыльной воде. После
каждого применения очищайте внутреннюю
поверхность от капель молока. НЕ СТИРАЙТЕ
Термосумку. Не оставляйте Термосумку на
солнце. Воздействие очень высоких и очень
низких температур может отрицательно
сказаться на свойствах Термосумки. Храните в
месте, недоступном для детей.
Производители детских молочных смесей
рекомендуют каждый раз готовить ровно
столько питания, сколько ребёнок способен
съесть за один приём. Когда придет время
кормить малыша, растворите сухую смесь
в кипяченой воде. ВСЕГДА проверяйте
температуру питания перед кормлением.
Остатки молочной смеси, которые не
будут использованы в течение часа, следует
вылить.Заранее отмеренные количества
сухой смеси можно взять с собой в
дозаторе молочной смеси.
Официальный дистрибьютор
ОЛТРИ Трейдинг 8 800-200-08-80;
8 800-200-08-83 – консультации
по вопросам грудного вскармливания
RU
Diseñado para llevar Philips AVENT Magic, vasos
VIA y biberones Philips AVENT. Para conservar
leche materna o preparada FRIA, o agua CALIENTE
durante cuatro horas. NO guardar el agua
HIRVIENDO O EXCESIVAMENTE CALIENTE
porque puede derretir el forro.
Thermabag/thermal tote puede limpiarse con
un trapo húmedo y jabón neutro. Después
de cada uso, limpiar el interior para eliminar la
leche que se haya derramado. NUNCA sumerja
thermabag/thermal tote en agua. No exponer a
la luz directa del sol. En temperaturas exteriores
extremas, el rendimiento de thermabag/thermal
tote puede verse afectado. Mantener fuera del
alcance de los niños.
Los fabricantes de leche infantil recomiendan
preparar los alimentos cuando se vayan a consumir,
para evitar el riesgo de que la leche se estropee.
Añada la leche en polvo al agua caliente justo
antes de alimentar al bebé. SIEMPRE comprobar
la temperatura del biberón antes de alimentar
al bebé. Después de preparar el biberón, no
mantenga la leche caliente más de una hora y tire el
alimento sobrante. Para llevar las dosis de leche, use
el dosicador de leche en polvo de Philips AVENT.
Philips AVENT está aquí para ayudarle:
ES: 902 881 082 (consulte coste adicional
con su operador) USA: llame gratuítamente:
1.800.54.AVENT MX: (525) 528 3494
USA: Philips Consumer Lifestyle, a Division of
Philips Electronics North America Corporation,
P.O. Box 10313, Stamford, CT 06904.